Do you ever wonder about the antique mantel clock that's reminiscent of Cogsworth from the Disney classic Beauty and the Beast? This relic doubles as a timepiece and an ornament, but you already knew that.
So, if you're here, it's because the beauty of the antique mantel clock has sparked your interest. Not to worry, here we've put together everything you need to know about antique mantel clocks and how to identify the true relics from the copies.
The History of the Antique Mantel Clock
The antique mantel clock is so-called because it sits on the fireplace mantel. Some people call it a Cherub Clock because its French casing typically had bronzed celestial figures. Others call it a "Mantle Clock" or "Mantelpiece."
Historians trace the origin of the antique mantel clock to 18th century France during the Napoleon Era.
Aristocrats needed a timepiece that wasn't as imposing as the Grandfather's Clock so, the clockmakers made the antique mantel clock. It is important you know that the original French empire-style timepiece was an elaborate art décor housing the clock.
The antique mantel clock made its way to the United States of America by the 19th century.
Although the most popular name amongst the American style is Eli Terry, the Willard brothers were the first clockmakers to replicate the timepiece. Simon Willard made weight-driven antique mantel clocks between the 1840s-1901.
Because Willards used expensive materials, the antique mantel clocks remained exclusive until Terry overtook with his mass-produced timepieces. Terry wanted the average man to access the mantelpiece so, he used cheaper materials.
He got his wish because antique mantel clocks became popular in the U.S.
Terry's design revolutionized the production of antique mantel clocks in America. Before long, more clockmakers were replicating the timepiece with personal twists. Terry's former partner Seth Thomas also joined the trend creating the common "Black Mantel Clock."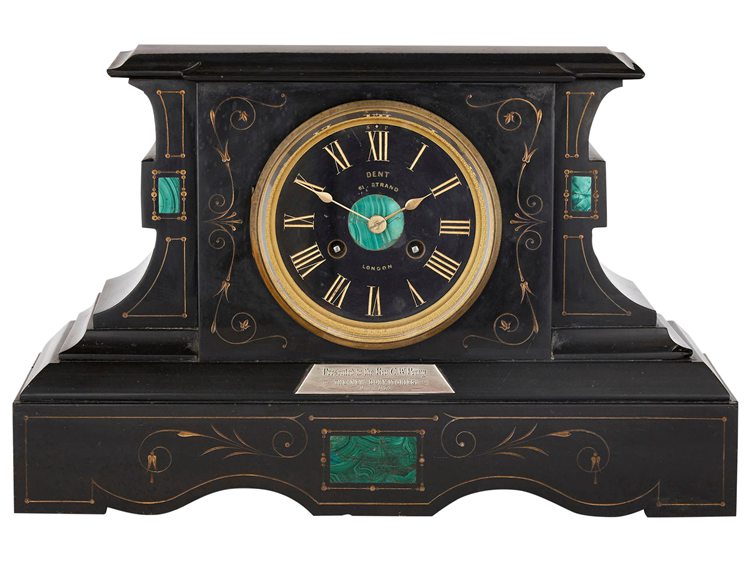 Types of Antique Mantel Clocks
A quick way to identify antique mantel clocks is by understanding the different types. Long before manufacturers started leaving signatures on their products, they had unique styles. Experienced collectors can tell a brand by looking at the design, and now you would too.
Ansonia
This antique mantel clock design belongs to two centuries – mid 19th century and early 20th century. The Ansonia brand is one of the few that made Porcelain frames. They're a rare find, so they cost much money.
Bracket
This 17th-century French antique mantel clock has a timepiece placed in a square case. There are different variations of this design, including Atmos and Torsion.
Atmos
This Switzerland design uses temperature variations to tell the time. It has a sealed capsule that holds a gas mixture that reacts to temperature change.
Torsion
This clock runs a spinning pendulum that rotates clockwise and anticlockwise based on force.
Steeple
The Steeple is a gothic-style 19th-century antique mantel clock. Its frame resembles a church steeple – the clock is in a tower frame – hence the unique name.
Skeleton
This antique mantel clock has no framed case, and it's bare like a Skeleton. You can see the mechanisms of the dial in the open.
Tambour
This antique mantel clock is a 20th-century British production. It has a round face encased in an upright drum tapered to an extended base. Close your eyes, think of an Ohm sign Ω, then imagine the clock placed in the "O" while the base sits on the mantel.
Art Décor
Art décor clocks are French/Swiss geometric designs. Their production time spread between the 1930s to the 1960s. It's tricky classifying them as antiques, though, because they aren't 100 years old yet. Perhaps we can consider them in the next ten years.
Identifying Antique Mantel Clocks
At this point, you should have sufficient knowledge of antique clocks, so identifying one should be a piece of cake. But there are a few more hurdles to jump. Once you study the fine print, you'll assess an antique mantel clock like a seasoned collector.
You must observe three things when appraising an antique mantel clock: the materials used, the style, and the manufacturer.
Materials
You see, materials are a dead giveaway of production time. Some things didn't exist centuries ago. By scrutinizing the material, you can tell if an item is a dub. With antique mantel clocks, using material as your focal point for an appraisal is easy.
Below is a timeline of materials clockmakers used from the 17th century to the 20th century.
Bronze and Brass
Wood
Thick wooden encased antique mantel clocks are American designs. Terry used wood finished with black enamel between 1880-1931. The finish gave the cheap material a smooth texture.
American clockmakers used Mahogany, Cherry, and Oakwoods for their casing between 1820 to 1905. By 1905, they switched to Plywood.
Porcelain
Porcelain antique mantel clocks are late 19th century and early 20th century developments. The clockmaker Ansonia was one of the few to make them. They're rare because of their fragility, so they come at a cost.
Stone
Because stone-cased antique mantel clocks were heavy, they didn't have handles. This design was typically stationary, so it served a more decorative purpose. Clockmakers in France used materials like Onyx, Marble, and Slate.
Metal
Metal antique mantel clocks are 20th-century materials. It's a typical vintage American style. Remember, only items a hundred years old and above qualify as antiques. Those below 100 years old but more than 50 years are vintage.
Frenchmen used enamel and metal for their clock's dials (the moving hand). American designers thought it was expensive for a simple part, so they used cheaper materials for their dials.
Plastic
The 1930s-1950s saw the rise in plastic mantel clocks. Manufacturers used Bakelite, Catelin, and Adamantine to design their casing. The finish on adamantine can look like marble, onyx, or slate, so beware.
Style
Did you know you can check your antique mantel clock for the manufacturing year?
Well, only the American designs because they started the mass-production. This event led to clockmakers adding a Country Stamp to their inventions in 1896. It helped with identification then and is still quite handy today
N.B: Clocks older than 1896 don't have country stamps.
Other than the manufacturing dates, the practice of writing anniversary dates on labels is another American thing.
Please note that antique mantel clocks have unique dating methods – they write years in reverse and represent months with letters A-L. "A" is Jan., "B" is Feb., and so on until "L", Dec., so January 1793 would be "3971A."
Since the electroplating process started post-1836, you should know what year your antique mantel clock isn't once you notice any signs of electroplating.
Movement
In Antique Mantel Clock language, "movement," is the mechanism of the timepiece. Antique clocks have Mechanical movements, while vintage clocks use Quartz movements. Unlike modern battery-powered designs, you have to wind the antique mantel clock with a key at intervals.
Typical antique mantel clocks are "8-day" wounds – you wound them once in eight days. However, there are also "14-day" and "31days" designs, but they cost more because of rarity.
You can determine the date through the dial with a Regulating Square. Pre-1901 antique mantel clocks have +12 readings, while post-1901 designs read below the dial's center. That's because the ones produced after 1901 are 89 models.
Manufacturer
Howard Miller and Session are post-War clockmakers. Other notable names before the 20th century are Raingo Fres, Howell&James, Jacob Petit, Mougin, P. Japy & Cie. The 20th century saw clockmakers like Seth Thomas, Simon Willard, Eli Terry, and Ansonia.
To identify the manufacturer of an antique mantel clock, check the clock's face for the manufacturer's name.
Antique Mantel Cocks Value Guide
Now to the final step in your training – how do you know when to bid higher or fold? Antique mantel clocks sell between $100-$10,000 depending on certain qualities.
Movement
Keywound antique mantel clocks are high-value items because they're older. "14-day" and "31-day" movements will even cost more money.
Chime
Note that people use Chime interchangeably to mean "gong" and "melody." Be sure to confirm which one a seller is referring to when they use the word. Antique mantel clocks have between one to three keyholes on their faces.
A single hole is for wounding; two holes means there's a chime on the hour and half-hour, while three holes include a melodious chime on the hour. More holes mean more money (we don't make the rules.)
NB: You can manually turn off the Chime.
Other features to Look Out For
Additional features that add increase the value of an antique mantel clock are;
Numbered faces
Day/Date display
Picture framed casings
As you can imagine, they're rare finds, so following the rule of thumb, they cost more money than the common mass-produced designs.
Concluding Thoughts
Please give yourself a round of applause; you made it to the guide. You can identify and value antique mantel clocks now. Before you go, let's refresh your memory with a few key points;
Wooden antique mantel clocks are American-made.
Antique mantel clocks pre-19th century are French, Swiss, or German.
Materials are a major giveaway of the production era.
Rare designs attract higher costs.