Set up all the Farm Animals on a Race like the Back at the Barnyard,
But "Nothing Runs Like a Deere".
Nothing runs smoothly at its own pace and more efficiently on a Farmland than a John Deere Tractor Series Model.
Keep on reading to the end to unlock a Special Gift concerning surprising facts for you down below.
These beasts have been one of the greatest tractors ever made in the history of Farming and Agriculture including Livestock and the production of hay.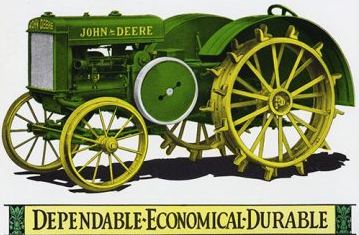 The John Deere Tractors began their journey right in the early 18th Century.
It all started with a Noble American Blacksmith Known as John Deere.
Born in Rutland, Vermont on the 7th of February, 1804, John Deere had a great passion for the work of art through Machinery and Manufactured equipment to make human labor easier on the farmland.
His first realistic equipment was the first steel plow.
The steel Plow was made originally as a farm tool used to turn and loosen the soil before Seeds are well planted for easy access and distribution of nutrients.
He made this artistic device in 1837 when he was 33 years of age.
John Deere started his Company Journey a few years after he moved to Grand Detour, Illinois in the 1830s.
His Company became known as Deere and Company in 1842 producing a hundred pieces of this Steel Plow as its first Official Demand.
In 1852, Deere and Company already had about 4000 productions of The Iconic Steel Plow to be Produced each Year.
By 1857, the company had a yearly output of 10,000 Steel Plows Produced as there had been very high Demand Year in, Year out.
Unfortunately, this Legend died at the age of 82 in 1886.
Nevertheless, The Company was headed by his son Charles Deere who was brought into partnership by his Father in 1858.
The Company was then registered officially as the
Deere and Company in 1868.
Charles Deere had a great vision for Deere and Company.
He had beliefs and great compassion for the company as it was becoming a great Investment and a very successful business too.
But he died at the age of 72 in 1907 due to failing health.
The Company was later headed by a Man called William Butterworth.
In 1918, the company bought a Gasoline Engine Company known as the Waterloo Boy N Gasoline Engine Company.
The company gave the inspiration for their Tractor Journey and that was how it all started.
The tractors produced became a hit in 1934 and are known and used worldwide by farmers to date.
John Deere Tractors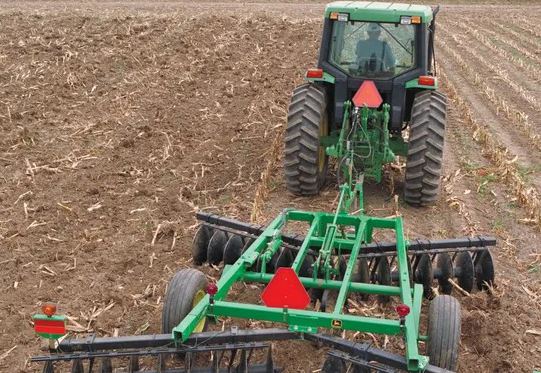 Tractors are most described as Machines used on farmland to pull or stage Plows through the field before planting. For example, Plows on a Cornfield.
The John Deere Tractors are significant for their enormous strong tires and their iconic designs coated in their signatory Green and Yellow Colour.
These tractors were designed and redesigned in Series over the years.
Antique Tractors have been known to exist for almost 200 Years.
That is, From 1835 to 2022. (185 Years to be precise)
Series
The First Tractor was created in 1918 after the Company had bought the Waterloo Gasoline Company.
This Tractor was produced and named Waterloo Boy N
And it has been series after series ever since then.
Here is a table formed below with the List of a few of the John Deere Tractors Ever produced.
| | | | |
| --- | --- | --- | --- |
| No. | Year Produced | Tractor Name | Significant Name |
| 1 | 1918 | WATERLOO BOY N | First-Ever Tractor to be produced. |
| 2 | 1927 | THE MODEL C | The General Purpose Tractor. |
| 3 | 1934 | MODEL A AND MODEL B | First Row Crop Tractor. |
| 4 | 1937 | MODEL G(GM) | The Largest Row Crop Tractor Produced. |
| 5 | 1947 | MODEL M | Tractor with its first transformation into a Bulldozer. |
| 6 | 1950s | NO.8 COTTON PICKER | First Two-Row Propelled Vehicle. |
| 7 | 1957 | 14T BALER | Had twine-tied bales to improve Overall Productivity and easy Usage. |
| 8 | 1960s | Consumer Equipment Division in 1963 | A Series of other equipment were produced. |
| 9 | 1963 | That is, Lawn and Garden Tractors |   |
| 10 | 1992 | GATOR TH | First Gator ever made. They were originally produced for Light Tasks like Landscaping.They became inspirations for SUVs in Modern Times. |
| 11 | 1994 | 8000 SERIES TRACTORS | They had new Standards in Control and Great Visibility in Operations and Power. |
| 12 | 1996 | 7760 COTTON PICKER | They were the first machines to build Cotton Modules as you move around the field. |
| 13 | 1923 | MODEL D | Made as a Two-Cylinder John Deere Tractor. |
The top ten most popular john deere models in history
History has it that there are approximately 690 Tractor Models that have been created since the First Invention in 1837.
Out of these Varieties, Ten Tractor Models were Selected for the Top Ten Tractor Models in the Deere History regarding their mind-blowing Features, Efficiency, and Power Usage.
These Tractors are enlisted down below according to their ranks.
1. The dain all-wheeled drive tractor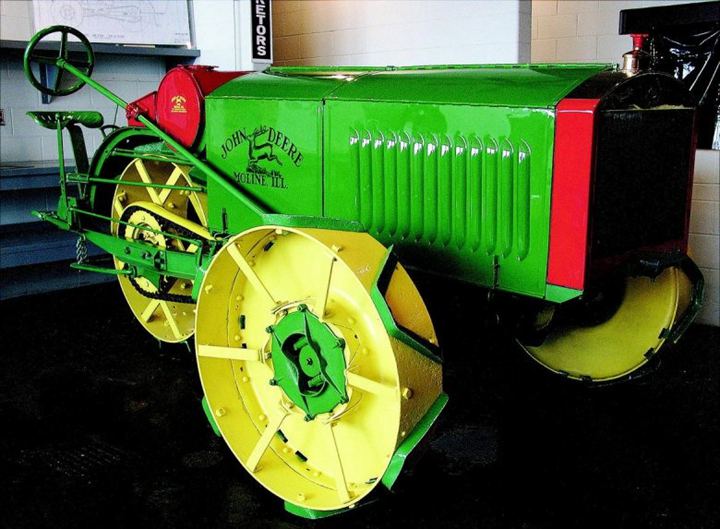 This Tractor is known to be the Oldest Tractor ever to be created. It was created as far back as 1918 and was the first Tractor ever to be Produced and Sold.
Although it had been of great usage since its production, the Dain All-Wheel-Drive Tractor became known efficiently for the proper usage of its features in 1960. They were worth $1200 at the time of production.
2. Model m tractor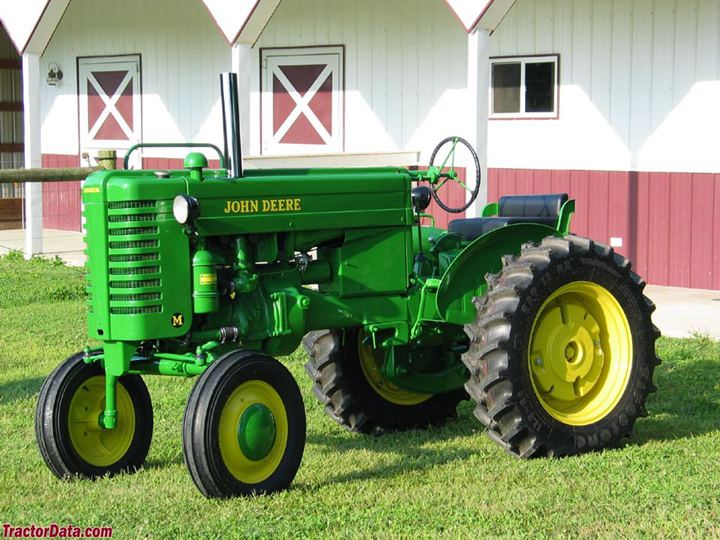 Take your Girl on a date in a John Deere Model M Tractor and She'll fall so hard for you!
You wonder why?
This Monster Machine was produced during the Second World War. It was the first Tractor to use a "Touch-O-Matic Lubricator and Electric Ignition.
It was also the first Tractor ever made to make its first transformation into a Bulldozer.
With its Big Tires and Fearless Arrangements.
No wonder It is one of the most popular models ever made.
3. Waterloo Boy N Tractor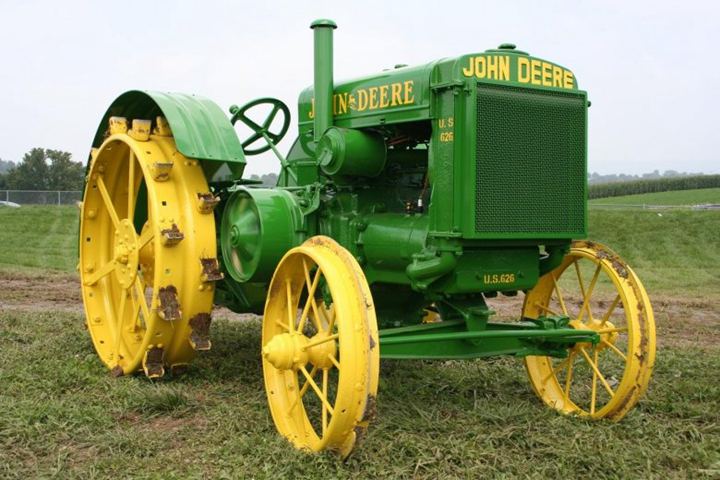 Released in 1914 and then they were still Sold in 1918 with the Waterloo Boy Name under the Waterloo Engine Gasoline Company after it was bought by the Deere and Company.
These Tractors were known to be the last set of Tractors named after the Waterloo Company before the so-called Company was sold to the Deere and Co.
They were said to be worth $700 at the time of Production.
It was made by John Deere before his Company name was finally adopted.
4. Model GM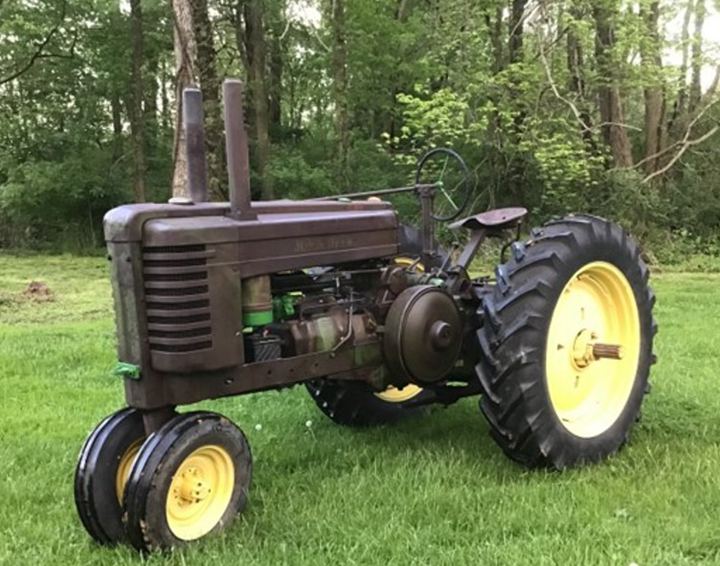 This Tractor was first produced in 1937 when it was originally named the Model G(Unstyled).
Then it was later renamed Model GM which stands for the General Modern in regards to the Situation at that time.
It got renamed as a means of gaining the Government Approval so they could use it for the War Time Price Increase.
It was later converted to Model once again. After the war ended.
The Model G Tractor Model had Three Styled Transformations during the Twelve years of Manufacture.
5. Model C (General Purpose)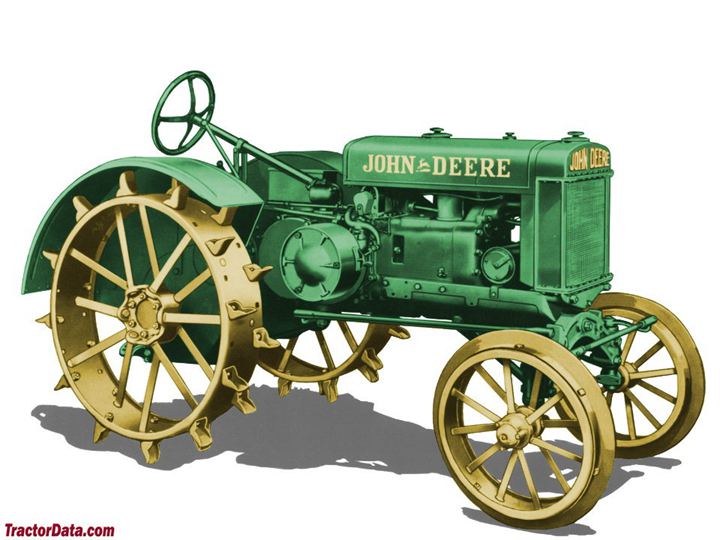 This model was initially produced in 1927 and was known as The Model C.
It was then renamed General Purpose in 1928 to avoid Confusion with Model D after it became high in demand from Contractors and Dealers.
Model C and D had similar features.
6. Model D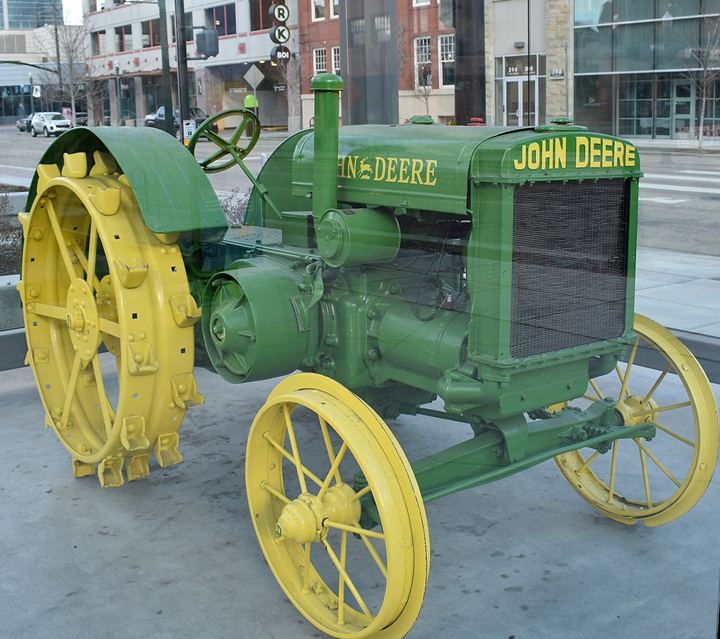 They were the first Tractors created and marketed as a John Deere right after the Waterloo Boy was created.
It was created in 1923 and lasted till 1953.
It served a purpose for 30 Solid years. Making its Life Span to be the Longest of them all.
This made them the Most Popular of all Tractors ever made.
7. Model a General – Purpose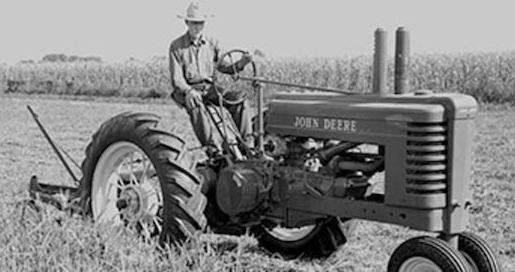 This Tractor was Produced in 1934 and made known for its outstanding feature as the FIRST TRUE ROW CROP TRACTOR.
It was also the first type of tractor to be created as a Three-Wheel(Tricycle) Tractor which was designed for better efficiency, Operation with 25 Horsepower, and a 4-Speed Transmission. It was also to reduce the effort of Steering while Driving.
It was made in Eight different Versions throughout the 20 years of Production.
8. The Restyled Model D Tractor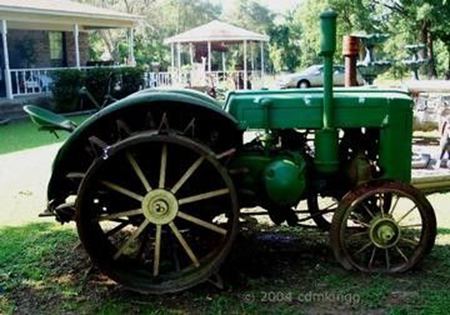 As designed by Henry Dreyfus, a Designer that was
newly employed into the system in 1938,
The Restyled Model D was Created and Released in 1939.
Its outstanding features include a 42- Horsepower Row crop Tractor with other new additions most especially The Electric Ignition Coil.
9. The Model R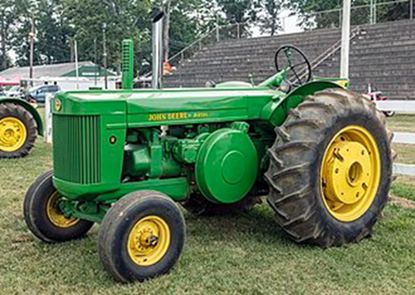 The Model R John Deere Tractors were produced in 1949 and they were known as the first Tractors ever to be powered by Diesel with live PTO(Power Take-Off) with its Clutch.
They were also recognized for their great strength even with lifting heavyweight equipment through lubrications.
Several Redesigns were made throughout its Ten Years of Production.
10. The R 730 Model Tractor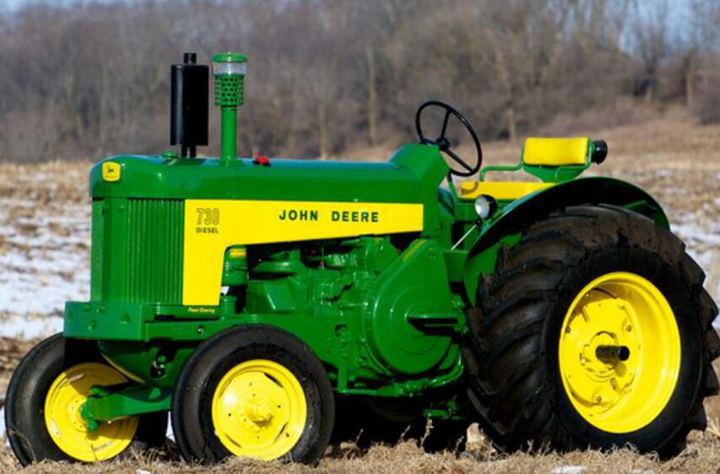 This is typically an upgraded version of the Model R John Deere Tractors produced in the year 1959.
It was very popular and fondly known for its tractor pull and re-establishment due to its Slow Speed, Weight, and Capacity.
It is a very diverse Model as they are mostly found in Varieties like Diesel, Gasoline, and Row Crop Tricycle.
Now, these Tractors make very Exceptional Choices in making the Top Ten John Deere Tractor Models.
Old john deere serial number lookup
A Serial Number is simply an identification number in series printed on items or equipment separately to recognize them according to their time of manufacture.
The Old John Deere Tractors have Serial Numbers just like other products and Items for better Identification.
There are 90 Models of Old John Deere Tractors that were categorized as Antiques and these models were characterized by a Five-Digit or Six-Digit Series.
They were printed on the body of the Tractors to identify the year they were made and other essential features.
Click on this link to read more about these Iconic Serial Numbers.
How to Find, Recognize and Read Serial Numbers on a John Deere Tractor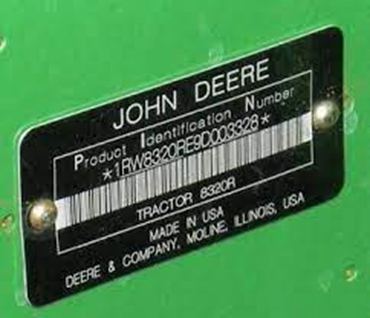 It is not possible to get all the Information about an Item or equipment out of its serial number all by yourself but these are a few tips on how to get the codes or information from the Number on your Tractor.
This information might include the Calendar year of Production, Transmission Codes, wheel or Track designs, the Emission level, Security codes, etc
This is also known as the VIN. That is the Vehicle Identification Number.
The VIN is written or placed on a Sticker always reading "Manufactured by John Deere".
They are mostly in a series of Letters and Numbers of 13 or 17.
Although these numbers are in a long series of letters and Numbers, John Deere Machinery built in the 60s and 70s likely has just a 5 or 6- Unit VIN.
A Step by step Process of Reading your John Deere Tractor Models VIN is stated down below.
Find them on Different Models. They are mostly found at the back of the Vehicle.
The First Two or Three Numbers mean the Factory Codes.
The Next Four Letters after is the Model Number.
The Letters in Number 7 of a 13-digit Serial Number mean the Emission Level which has specific descriptions according to their letters. The 17-digit number does not have any emission level.
The Last Six the last Five letters or the 13-digit and the last Five letters or Numbers in the VIN are used to track and recognize the Tractor Model.
The Letter and Numbers in the Ninth and Twelfth Position in the 17-unit number means the Security Code, the year of Manufacture, and the wheel/ Track Patterns.
The Transmission Codes can be gotten for specially selected letters from A, C, D, E, H, P, or R.
The Track or Wheel design can be represented as 0 or 9 for them respectively.
There are various interpretations of the codes for their specifics and how to identify the codes better but you can read about them and many more ideas through the link.
Old john deere tractor parts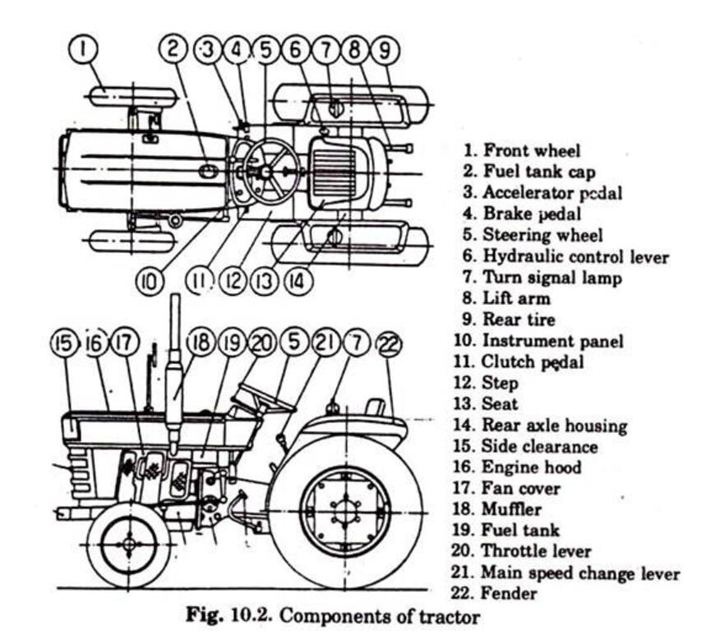 From the Radiators to the Carburetors, the exhaust system, that is, the pipes and manifolds, the tractor seats, and Tyres.
The Old John Deere Tractor Part can be found in major sites and is sold separately depending on what you would like to fix or resell.
These Tractor parts are the items that come together to form the John Deere Tractor and cause great efficiency.
They are all responsible for each work they do according to what they are made for.
Here is a list of a few John Deere parts coupled together.
John Deere Batteries
John Deere Seats
John Deere Oils
John Deere Spray Nozzles
John Deere Filters
John Deere Cutterhead Knives
John Deere Sweeps
John Deere Paints and Chemicals
John Deere Tuff Paints
Hydraulics
John Deere Engine and its Components
John Deere Electronics
John Deere Rotatory Electricals
John Deere Air-Conditioning Compressors
John Deere Accessories
John Deere Sprayers
John Deere Balers
These and many more spare parts and components are very much available as they are involved with the making of the Iconic John Deere Tractor Models.
They can be found on the Original John Deere Website at www.Deere.co.uk
They can also be shipped out to other countries around the world. Including African Countries.
What makes the john deere tractors valuable?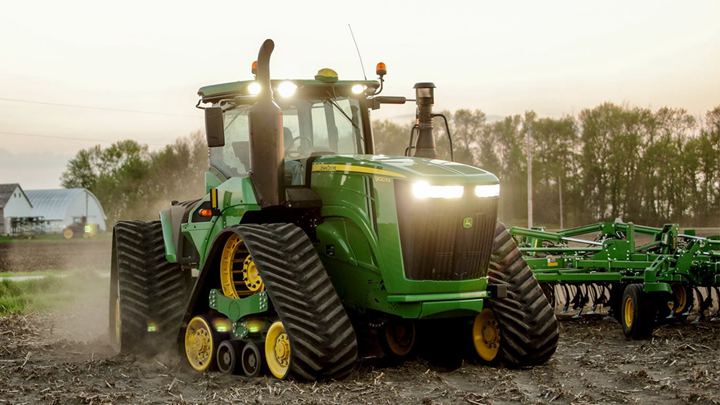 The John Deere 9620RX is worth a whopping sum of $548,000.
John Deere has made a Name for himself in the history of Agriculture thereby making it a renowned brand Simply by Creating Mind-blowing Efficient Monsters that work with all kinds of Farming situations just to satisfy the human need and Hunger for less stress and easy access to run across the fields very swift and Perfect in the most possible way ever.
They have made themselves worthy by providing top-tier and rock bottom lines of Top-Notch, High-quality Machinery with the best features to come across.
This Particular Tractor Model makes it to the Top Six Most Expensive Tractors In The World as recorded this year 2022 making the vehicle worth more than a BMW.
Features included are:
Cummins QSX15 Engine
Made of 620 Horsepower with a great Shift of 1490CC
It has a Hitch of Three-Point and a Super Comfortable Command base for Easy Control and a Cool Drive-Zone.
Now, these features are the best highlighted among others that make up the Tractor.
Old john deere logo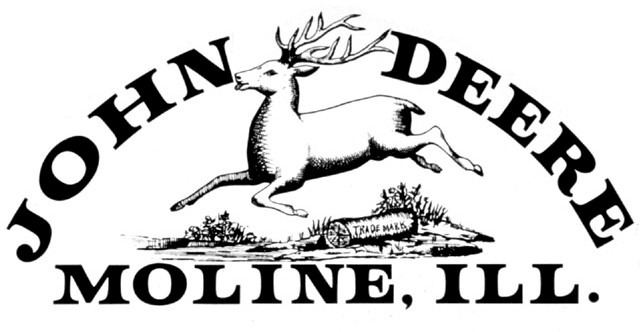 The First-ever John Deere Logo was created in 1876 after the American Blacksmith moved to Illinois with his Family from Vermont where he was Born.
John Deere was known for producing Farm and Industrial Materials for Easy Farming and Cultivation.
Deere and Company are known worldwide as one of America's greatest Manufacturers of Farmland Equipment.
The Initial Logo was created and used officially for approximately 30 Years before several Editions were made and thereby replaced the Iconic Logo from time to time.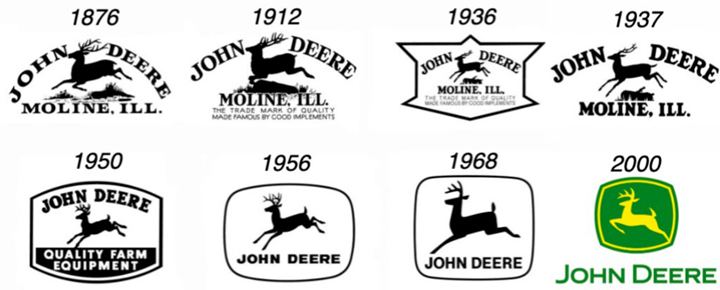 From the Image above, it is very glaring and indisputable that the Old John Deere Logos were similar with a few common Factors that they were all made with the design of a Leaping Deer as regards to their Name "JOHN DEERE" and redesigned in Black and white.
Starting from the Very first Logo made in the year 1876 down to the year 1968,
Not until the year 2000 did they start to use the Company's Brand Color of Green and Yellow.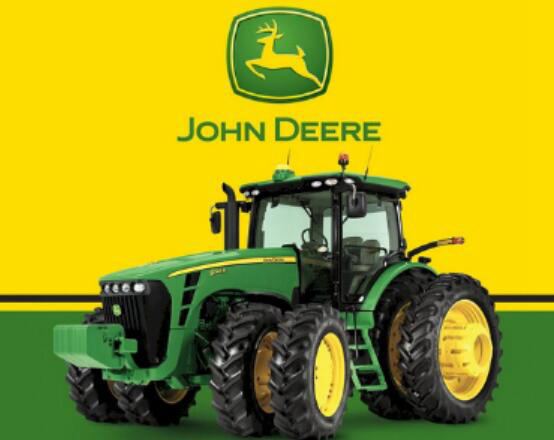 The John Deere Logo was created with several Trademarks under each logo as a representation of what the Brand depicts.
It streaks down a series of Trademarks and Slogan till the present and most Common one presently which is described as "NOTHING RUNS LIKE A DEERE".
There is no Controversy that this Slogan is most relatable to the Brand Name, Service and Logo.
Old john deere pedal tractor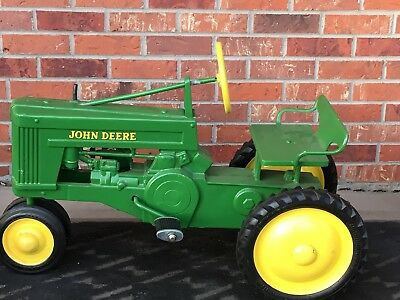 Do you need a great gift Item to give your Kids for their Birthday?
Try The Old John Deere Pedal Tractors!
Children most especially the Boys from Ages 12 Months to 5 Years love to play with Toys bigger than them so they could feel big like an Adult too.
These Pedal Tractors are Mini-sized Tractors that are made for fun at home and also for little work on the farm too.
They are characterized by the attachments of little pedals on both sides of the vehicle where the feet of the rider are to rest on and push forward to move, little tires in front, medium-sized Tyres at the back, and a mini steering wheel.
It looks more like an alternate version of a bicycle.
Here are tips on how to identify your Pedal Tractor.
They were initially made in the Year 1949 by Eska as the first Pedal Tractor ever to be Created.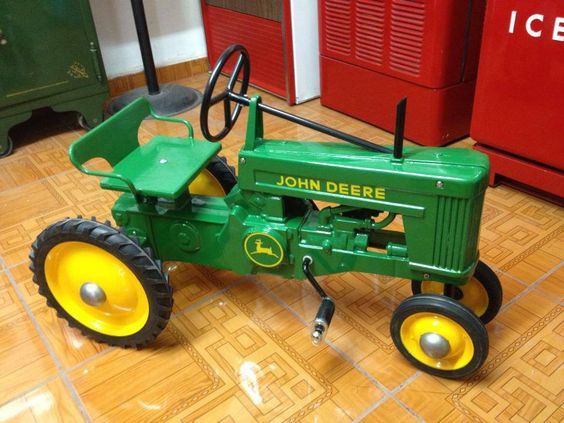 Examples of these Pedal Tractors are:
John Deere Large 60 Late Version Pedal Tractor
John Deere Large 60 Early Version Pedal Tractor
John Deere Small 60 Early Version Pedal Tractor
John Deere Small 60 Late Version Pedal Tractor
John Deere Small 20 Early Version Pedal Tractor
John Deere Small 20 Late Version Pedal Tractor
John Deere Large 20 Early Version Pedal Tractor
John Deere Large 20 Late Version Pedal Tractor
John Deere 4020 Pedal Tractor
John Deere LGT Pedal Tractor
These and many others are great examples of these Pedal Tractors.
You can find out more about these Tractors here.
Old John Deere Pedal Tractor Worth
The John Deere Pedal Tractors are said to be worth around $294.95 to approximately $900.
They can be found on Online Sites such as Pinterest, eBay, AGfarmtoys.com, TheJohnDeereMachineFinderBlog.com, Auction Sales, and many others.
The Brand, Deere, and Company, is a renowned brand popularly known for its Superb Machines and great Inventions for the Simplicity of ManKind.
They also have their website for you to check out and you can also open an account on the website by registering your email address and necessary information!
Check out for more information about the Old John Deere Tractors here if you feel you have some unanswered questions still pending.
Remember the Surprising Facts I promised you at the beginning?
Since you successfully made it to the end of this article,
You can click on this link to check out ten amazing facts about John Deere and his Company.
Enjoy.