Hutch is elegant household furniture to enable a convenient storage facility. However, actual popularity started to adorn the indoor arrangement from the 20th century. But you can rely on some exceptional units from the early centuries for the right price.
The 17th-century design holds an extensive range of variations for its genuine antiquity. And you must learn essential points on antique hutch identification for valuation. Start checking the expert tricks to polish your skills before confirming purchase/sale.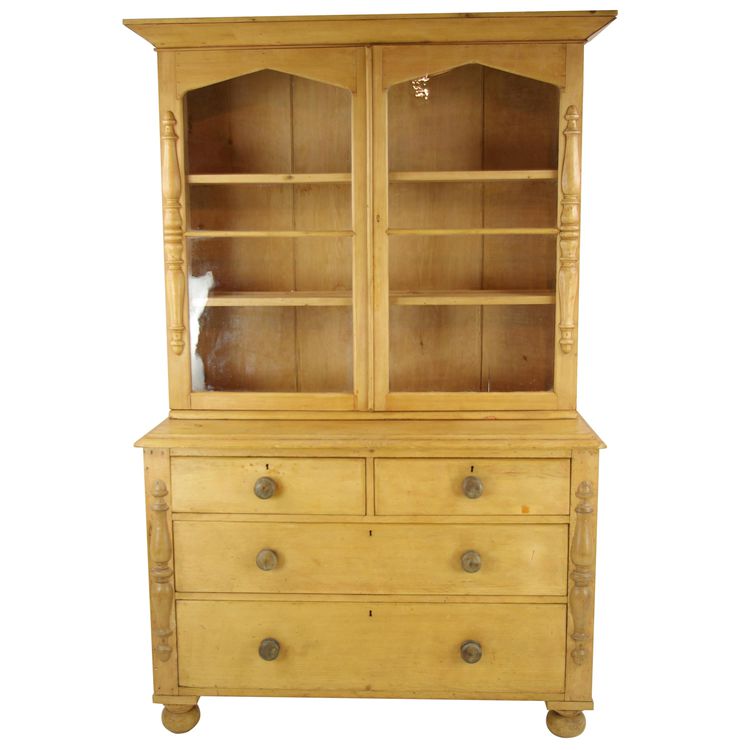 How To Identify Antique Hutch
Brief Timeline of Antique Hutches
Denoting a particular time in history remains difficult without viable documentation. Nobody can confidently confirm its actual origin or the lineup of hutches. Likewise, you can denote the 16th/17th century as hutch's introduction top display indoor items.
Hutch is an American term a describes particular household furniture. It consists of several shelves or cabinets resting on the top of a lower counter platform. However, the term meant something pretty different in the 18th as well as early 19th centuries.
It referred to a well-crafted tabletop set right on a supporting base with a flexible mechanism. The top could take a vertical position to become a wide settee or chairback. And it helped large room space to accommodate different functions all year round.
Rapid evolution of mankind in the 19th century somehow managed to redefine the furniture piece. Early versions were great preferences to enable displaying storage. And the shelves/cabinets could hold almost anything (linens, dishes, cutlery), you name it.
Particular Antique Hutch Styles
Like all other furniture pieces, hutches cover an extensive variation in their style. But almost all the available antique hutches can get categorized in three different specs.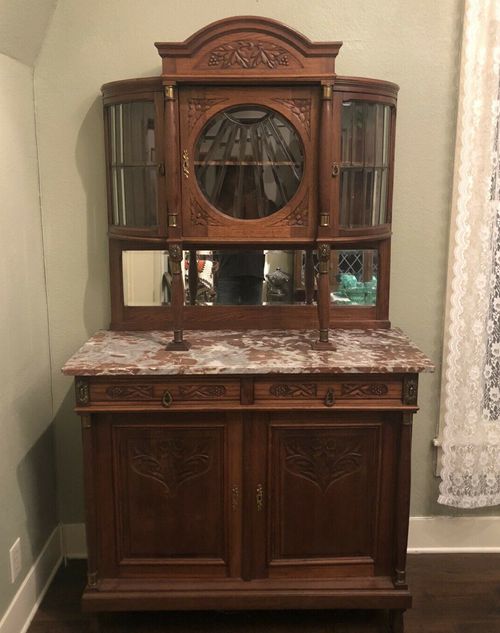 Antique Buffet Hutch – It's the simplest design to integrate a short cabinet with a flat top. The surface counted as a great place to serve meals or refreshments. Only a limited number of models featured moving wheels for good portability.
Right under the flat surface, the supporting base held a cabinet with multiple shelves. Even a large-sized drawer may sit right above the stack of built-in shelves. Again, the cabinet doors had either solid wood or wood with glass construction.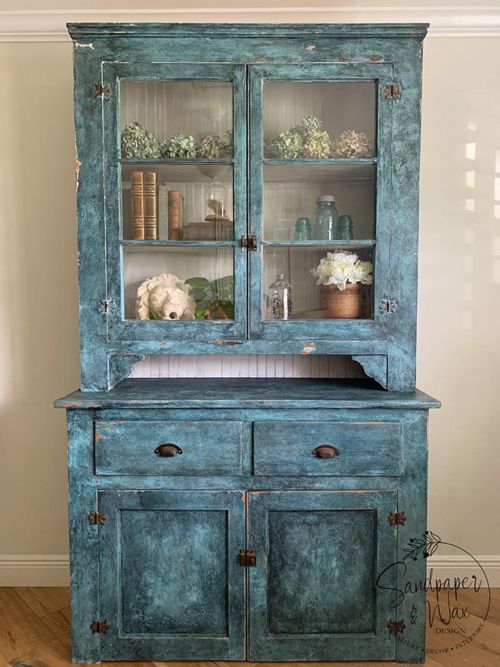 Antique Kitchen Hutch – The design seems more like an extension of the buffet hutch's storage facility. Its top surface accommodated several stacks of shelves in a well-defined cabinet. And there were no wheels to enable moving from place to place.
Cabinet doors under the flat surface particularly held solid wooden frames. However, the top cabinet doors to check upper shelves usually integrated glass doors in wooden frames. It was a tall structure to house kitchen as well as dining products.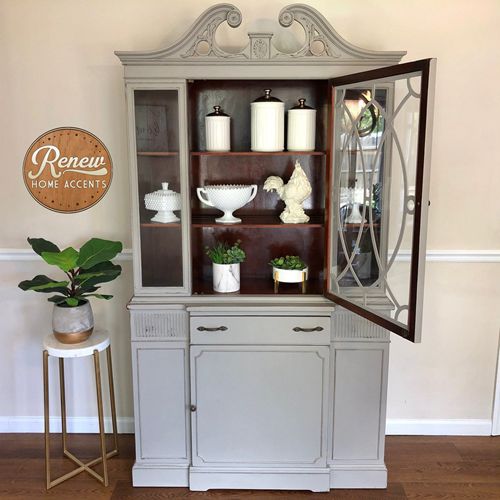 Antique China Hutch – It's the largest version, also to go by the name of 'Welsh Dresser'. The design held wooden doors with glass panes for almost every crafted model. Display-intended upper shelved items were clearly visible from the outside.
Meanwhile, the lower shelf items were hidden behinds the solid wooden doors. Even some designs integrated spacious drawers to accommodate particular belongings. The hutch size could go a wide range, often allowing custom measurements.
But the styles were merely confined to the categorized designs over the course of time. There are additional styles to consider, originating from different countries/periods/cultures.
You can definitely encounter precious antique pieces to feature Chippendale, Hepplewhite, Sheraton specs. Also, many online/offline platforms offer distinctive designs to define an era. The list should cover – American, English, Swedish, French, Queen Anne, Mission & Victorian designs.
Hutch vs Breakfront vs China Cabinet vs Sideboard vs Buffet
One particular fact about hutch concerns its confusion with other terms. Commoners often tend to use the terms interchangeably, despite the differences. And you must understand the definite differences in the structural details.
The intended breakfront featured a particularly central part with a storage cabinet. And the combination of parts would project beyond the sections on either side. It also incorporated broken face lines through explicitly crafted curves or angles.
China's cabinet resembles extreme similarity with china hutch. However, the wooden piece would store, protect & display dinnerware as well as cookware. For the name's origin, the Chinese managed to accomplish fine porcelain dinnerware.
Meanwhile, the sideboard and buffet often differ from the intentional application. Dining room held a buffet to hold meals whereas the living room sideboard held different items. Another conceivable difference comes with the steady legs at the bottom.
And hutch seems more like multipurpose indoor furniture to get placed anywhere. Freestanding design may include either cabinet or display shelves or both. In addition, a hutch's lower half may hold a countertop, drawer, or cabinet.
Materials to Construct the Design
Majority of the antiques featured solid hardwood construction; the hutch stands with no difference. And you can't expect top-quality finishing materials from the century-old pieces either.
But the old-school wooden materials can comfortably define an antique's authenticity first hand. You should know the following furniture-making woods for distinctive characteristics.
Maple – Lightly toned wood with the slightly figured grain.
Oak – Prominent grain to have a certain preference.
Mahogany – Warmly toned wood with smooth grain.
Walnut – Notably darker tone to have closer grains.
Cherry – Warmer tone to feature visibly close grain.
Many available pieces also integrated glass-covered shelves against traditional fully open shelves. And particular options may feature embedded mirrors along the top shelves' back wall.
Right there, you need to examine the mirror glass closely to detect every deterioration. Classic mirrors to have lead mixture must induce visible signature of damage over the timeline.
Experts Tips to Skip Reproductions
Check for any sort of identification marks on the exposed as well as hidden surfaces. Start looking into the manufacturing brands in archives, books, articles & sites.
Observe the exterior surfaces closely to detect poor finishing touch with potent odor. New look with no distinctive smell denotes either restoration or reproductions.
Look into the joinery for symmetric wooden construction, patching & installation. Lack of precise technology should leave somewhat visible marks on certain spots.
Evaluate the wood condition from inside to find anything out of the ordinary. The wooden surface should reveal random signs of potential damage in abrupt places.
Repurposed Uses of Antique Hutch
You don't have to stick with the consistently deteriorating wooden frame for décor. Likewise, it's not compulsory for you to confine an antique kitchen hutch to the kitchen space. Creative enthusiasts developed many astounding methods of hutch makeover.
You should initiate an attempt to repurpose the furniture piece with minimal effort. However, one essential process of upcycling the antique has to concern restoration or repair. And that's where you should consult the professionals from dependable services.
Of course, restored designs should let you display dinnerware, kitchenware & cookware at once. Store the seasonal clothes, merely used possessions, or less-important belongings on the shelves.
Don't forget to try storing your achievements on a perfectly conceivable antique hutch. And we're talking about a complete show-off with medals, crests, expensive gifts of small size & certificates.
It's even possible to establish a mini library of your favorite books, notes, or articles with the hutch. However, you must evaluate all the holding surfaces to estimate an approximate limit of loading.
Full transformation through restoration can suffice your passion for the indoor decoration of antiques. But don't fall for fancy advertisements of antique restoration that can eventually reduce the price.
Maintain the hutch using simple yet effective methods prescribed by the experts, sellers, or pros. Proper care is sure to encourage actual longevity while promoting the appeal to a great extent.
Feel free to surf the internet for online resources on convenient hutch makeover or upcycling. There are several impressive videos as well as contents to enlighten your thoughts. You may consider the videos from Jami Ray Vintage, Midnight Crafts, or Coolest Thing.
Antique Hutch Valuation Guide
Determining the actual value of antique furniture pieces always remain troublesome, even for pros. You'll have to consider every detail closely to make sure the absolute price. And it'll certainly take your precious time, effort, and money.
Investment in antique hutch remains somewhat expensive for most collectors. Almost all the available designs will cost more than $1000 – $3000 for sure. High-quality, stylish, rare & distinctive designs can even exceed $10000 at once.
Not to mention, it's actually difficult to manage reasonable designs under $5000 or so. Only a minimal number of hutches are available under the mark. Less-known or somewhat damaged pieces can cost/get $3000 up to $5000 for sure.
Not to mention, the intended price should differ in different trading platforms. You must keep checking into the established sites to deal with antique furniture. Don't miss the online auctions as well as nearby shops to develop ideas.
Final Words
Multiple storages or display options are available in the market under different names. You don't have to buy confusions instead of an authentic, decorative, functional hutch. That's where you can get the primary expert support from the above explanatory discussion. Comprehensive details to cover every point should enlighten your mind with precise knowledge.