Are you a fan of antique Hoosier cabinets? Perhaps you're a collector who loves the simplistic beauty of antique Hoosier cabinets… Or even someone who just wants to have a Hoosier cabinet in their kitchen for aesthetic plus functional purposes? If you've seen the perfect antique Hoosier cabinet that will fulfill your yearning for this magnificent piece of furniture, how do you know if it's an antique and what its value is?
Let's take a look.
History of the Hoosier Cabinet
The Hoosier Cabinet first made an appearance in 1898, and was manufactured by the Indiana company Sellers. It got its name from Indiana – which is also known as the Hoosier State since 1950! It became wildly popular with other furniture companies in Indiana also undertaking manufacture of this cabinet.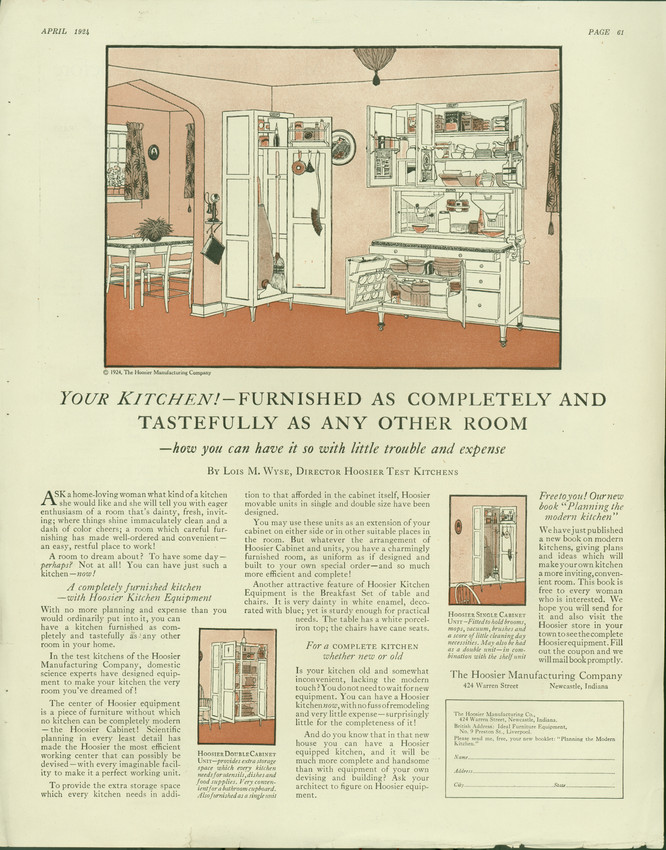 In fact, up to the later 1930s and early 1940s, these cabinets were churned out at a high pace – because of the demand. The popularity of this cabinet grew and grew, with the Hoosier Manufacturing Co. making 600 Hoosier cabinets every day! This company sold more than 2 million cabinets by 1920.
Other major manufacturers of the Hoosier cabinet at the time were the McDougall Company, G. I. Sellers, Campbell-Smith-Ritchie (Boone), Diamond Kitchen Cabinets and Coppes Brothers and Zook (the Napanee).
The popularity then waned because of the introduction of built-in kitchen cooking and storage units. The Hoosier Manufacturing Co was sold in 1942 and then liquidated, so records of Hoosier cabinets became very scarce.
What's An Antique Hoosier Cabinet?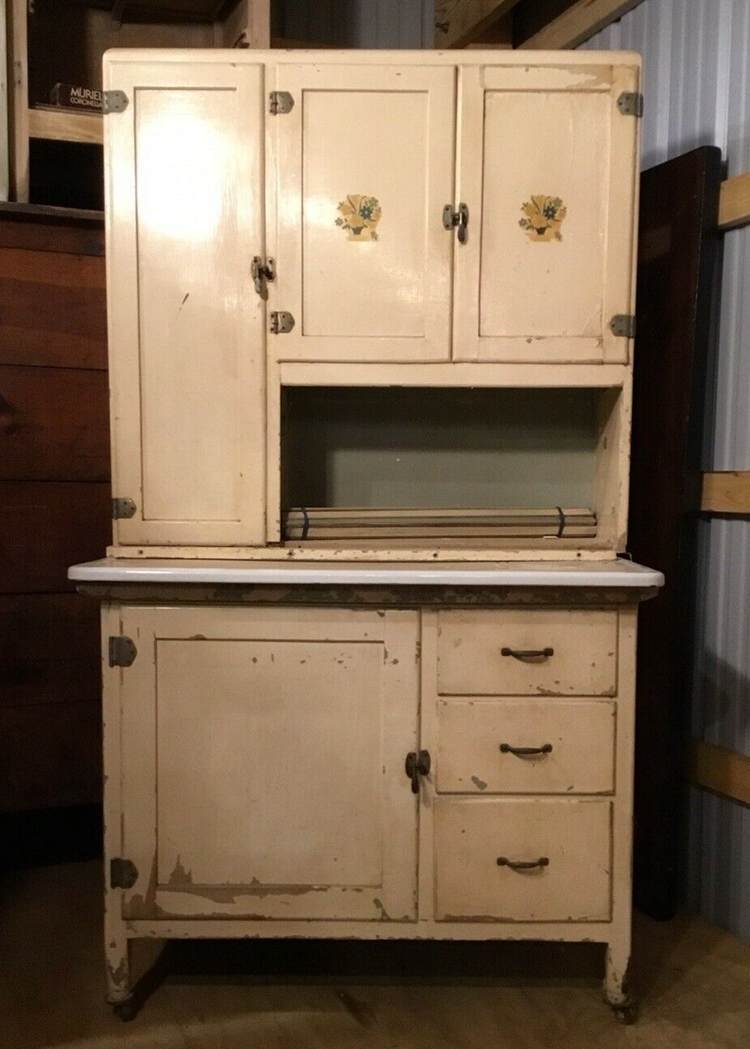 The antique Hoosier cabinet was more than just a kitchen cupboard: It was made with fixed and moving parts to enable the chef in the kitchen to have everything in one place for easy retrieval and cooking.
Antique Hoosier cabinets had storage space for sugar, flour, rice and spices, and it also had movable parts such as a flour sifter, a sugar sifter, a spice rack, a dish rack, a meat grinder, a pull-out bread board, a grocery list wheel, a cookbook holder, an in-built ant trap, a  and even nutritional charts.
Hoosier cabinets were designed with one goal: To make cooking and baking more efficient and timely for women who had a lot more to do than spend the day in the kitchen.
How To Identify an Antique Hoosier Cabinet
Hoosier cabinets are revered and loved by antique lovers – which is why so many people attempt to recreate them! To avoid buying a reproduction for the value of an antique one, we need to be able to identify antique Hoosier cabinets. So whether you're buying an antique Hoosier cabinet, or checking if the one you have is an antique, here's how you identify the authentic from the reproduction!
 1. Check The Design
Hoosier cabinets are quite unique, which is why you should first check out the specifics. Antique Hoosier cabinets were six feet tall, two feet deep and four feet wide. Does the one you're trying to identify check these boxes?
Hoosier cabinets usually have a specific design in that they have a work-table surface in the middle where you can gather ingredients, make bread or gather up ingredients. They also have a bottom part that encompasses cabinets and drawers for storage, as well as an upper part with closed cupboard for additional storage.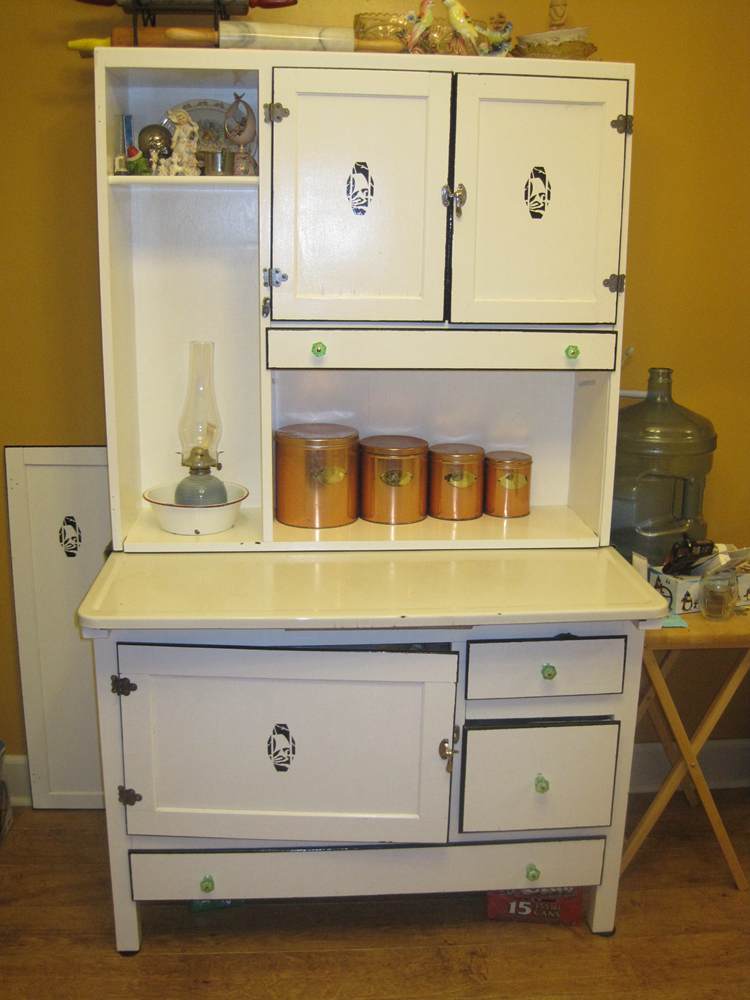 2. Wood Used
Antique Hoosier cabinets were made out of oak and painted apple-green and ivory. These colors later disappeared, and then reappeared as most companies started making and selling Hoosier cabinets. Later versions were also made with other woods such as pine, and then enamel! Other woods used were light maple, walnut, oak and even pine.
3. Accessories for Antique Hoosier Cabinets
Antique Hoosier cabinets are known for their distinctive charm as well as the accessories used in the making. Some of these accessories/moving parts include a flour sifter, a spices rack, a dish-rack, a sugar sifter and other movable parts that make an antique Hoosier cabinet unique!
4. Manufacturer's Mark
All original Hoosier cabinets have a manufacturer's mark somewhere on the cabinet – usually hidden from sight. Hoosier hid their manufacturer's mark so well, it takes a person who known them to find out exactly where their mark is: An 'H' on the door fasteners! Other companies that manufactured Hoosier cabinets in the early 20th century used stamps or metal tags with a company logo and date of manufacture.
5. Reference
There's a book called 'The Hoosier Cabinet in Kitchen History', which has in-depth information on all the Hoosier Cabinets ever made by different firms. If you have a specific model, this book can help you identify exactly what model your antique Hoosier cabinet is! You can even head online, since most websites that sell antique and vintage Hoosier cabinets such as Hoosiercabinet.com have photos that can help you identify yours!
How to Value an Antique Hoosier Cabinet
While Hoosier cabinets are either vintage or antique due to the fact that they were made over a century ago, they aren't as antique as pieces from other time periods, and this can affect their value a bit. In fact, most antique Hoosier cabinets are values based on their functional and aesthetic value rather than the time period they were made.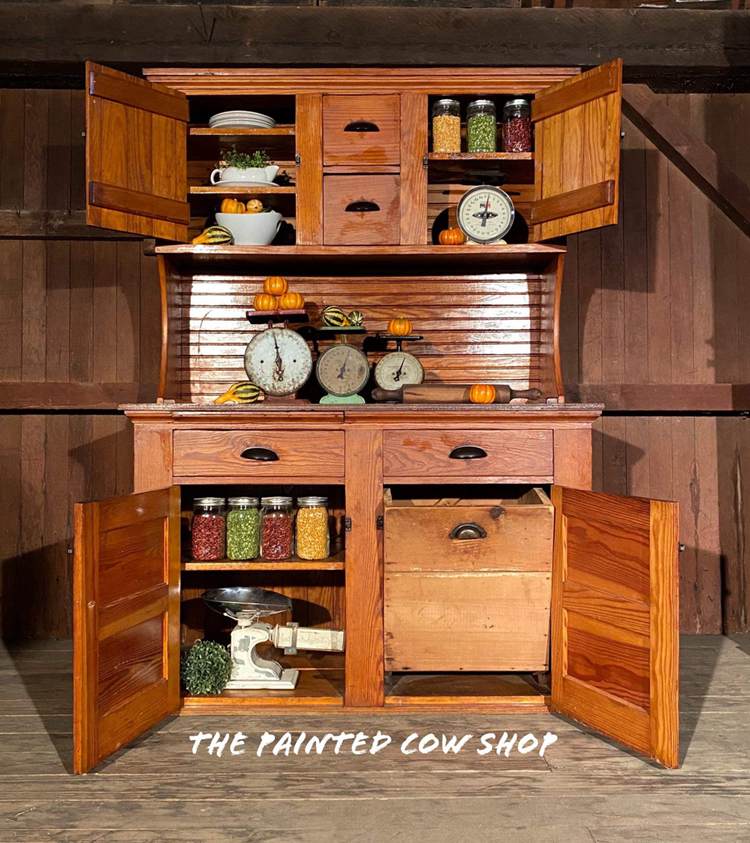 Let's take a look at some of the key features for valuing antique Hoosier Cabinets.
Condition – When it comes to antique Hoosier cabinets, the condition of the cabinet is what drives the value of the piece.
Accessories – Does the Hoosier cabinet have all of its original accessories? If it does, the value rockets. Some Hoosier cabinets had rare accessories such as meat grinders, which tend to increase the value of the piece.
Wood Used – Antique Hoosier cabinets were made from different types of woods, with the most common ones being oak, pine, white maple and walnut. Those made of oak or walnut tend to be valued higher than those made from pine.
Originality – With Hoosier cabinets, over time some part or the other may be replaced to restore its aesthetic value. However, when it comes to valuing the cabinet, this can drive down the value severely. An antique Hoosier in great condition but having been restored with other parts isn't as valuable as the one which may be in a worse condition but is entirely original. It's worth it to note that when identifying a Hoosier cabinet for your home – or collection – it's best to check if the top part and bottom part are made by the same manufacturer and with the same material!
Generally, when it comes to antique Hoosier cabinets, the better they look with age, the more they fetch. A perfect-condition antique Hoosier cabinet can sell for $2000 or more, while one requiring repair or restoration can be valued at only $200-$300.
Antique Hoosier Cabinets Sold
Some of the best –condition antique Hoosier cabinets that have been listed or sold recently are:
Where Can You Get Your Antique Hoosier Cabinet Valued?
Let's face it: Hoosier cabinets are notoriously heavy to move around, so it's going to be difficult to get yours appraised unless you call in a professional appraiser – which might be very expensive. This is why you can get yours appraised online by sending photographs of your antique Hoosier cabinet to auction sites – and getting a free ball-park figure appraisal.
Buying an Antique Hoosier Cabinet
Remember, Hoosier cabinets are quite heavy, so if you want to get one, it might be best to source it locally. However, if you've seen one you really love and want it, look into the shipping costs to bring it home so you don't pay through the nose! The best places to get an antique Hoosier cabinet in great condition are eBay, Craigslist, GoAntiques and liveauctioneers.
A Valuable Antique Hoosier Cabinet
You can't go wrong with a Hoosier Cabinet in your kitchen – or dining room. This is because Hoosier cabinets are both aesthetically pleasing as well as highly functional for both storage as well as for showcasing your collectibles!
This classic beauty is quite a collector's item so if you're looking for one, try to get one that has good value, is in good condition and complements your kitchen. On the other hand, if you've already got one that you want to sell that's beautiful and in great condition, look for someone who'll give it the perfect home!