Antique guns have a certain appeal that attracts collectors. Even more appealing is that you do not have to be a grizzled outdoor person or a historic re-enactor to appreciate old firearms. Most people collect antique guns because they fill their lives with joy.
However, while acquiring antique guns may be easy for a seasoned collector, it tends to be a complicated process for new collectors. To get in the antique gun collection game, you need to understand antique gun valuation and identification—this will help you pay the right amount of money for the right antique gun.
Antique guns can be as cheap as under $1000. However, some antique firearms can cost millions of dollars. In 2021, for example, the antique handgun used to kill Billy the Kid—an infamous outlaw—the single-action army colt revolver previously owned by a man known as Pat Garret was sold for $6.03 million.
So, how do you identify a gun worth under $1000 and one worth much more? This detailed guide will answer this question for you.
Antique Gun Identification: How to Identify Antique Guns
Understand The Type of Gun
While numerous types of antique guns exist, collectors tend to hunt for the classes outlined below:
Western Firearms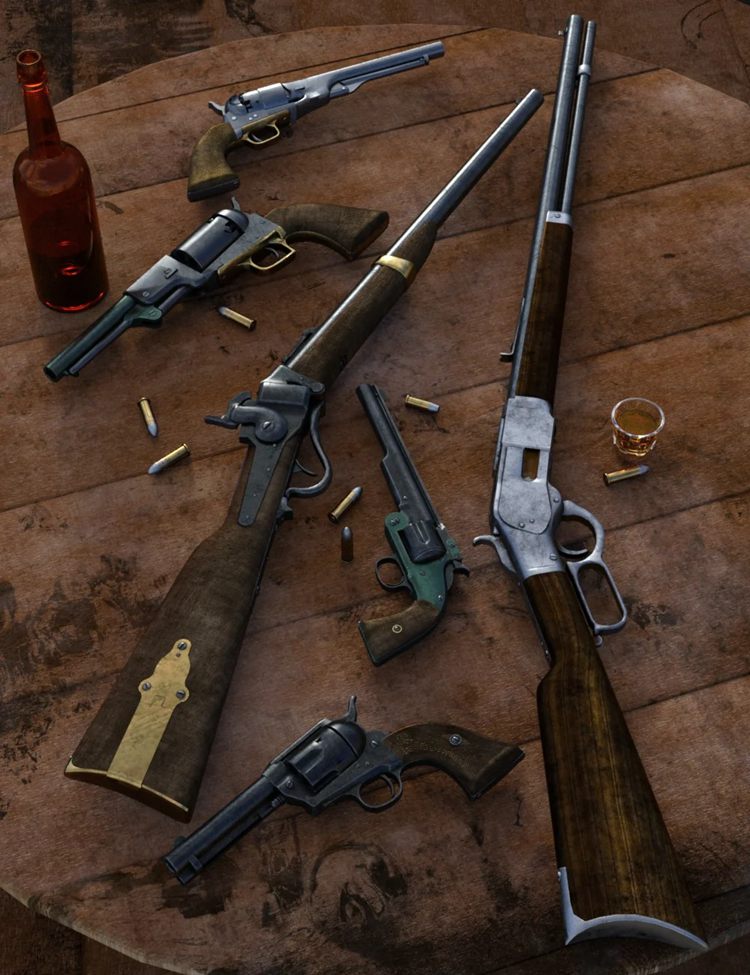 When most people think of the antique gun collection, the first thing that comes to mind is western firearms. This is probably a result of our obsession with cowboys and their popularization in cowboy films.
The most desirable western firearms were manufactured in the four decades from the 1870s to the 1910s. The most prominent manufacturers in this period were Colt and Winchester.
Military Firearms
To gun collectors, military firearms have always held an attractive appeal—their demand tends to increase if the gun was used in a significant conflict or was owned by a popular figure.
These collectible firearms are generally limited to specific periods and regions. For example, the costliest military guns are from the first and second world wars, the Vietnam War, and the American Civil War.
Handguns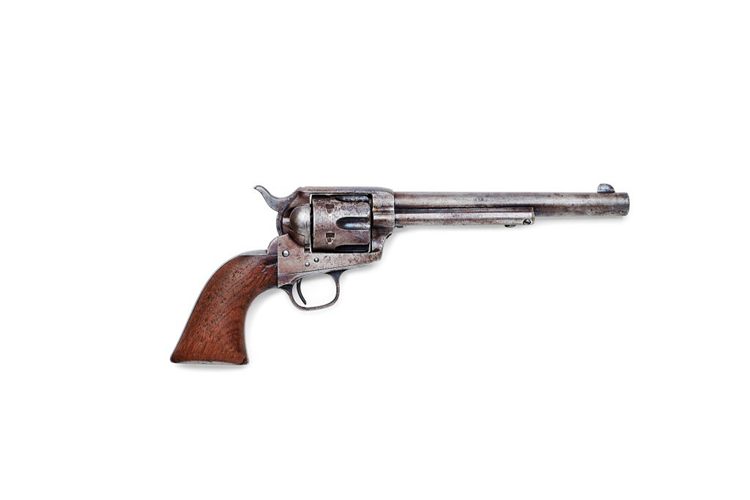 While these antique guns may not hold the same cultural significance as historic rifles, antique handguns are attractive, and buyers always pay good amounts for them. So it might surprise you that when it comes to the antique gun valuation, the most valuable antique firearm was a handgun—the gun used to kill Billy The Kid attracted a price of $6.03 million.
When it comes to identifying antique shotguns, some of the pieces that sit in this category include:
Pistols– These are handguns featuring a chamber integrated into the gun barrel.
Revolvers– If you are wondering about antique revolvers identification, these handguns have a revolving mechanism.
Muzzleloaders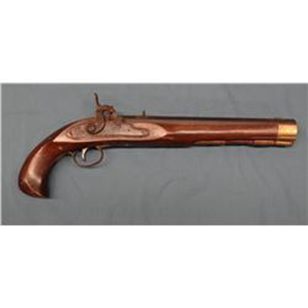 If you are wondering about antique muzzleloader identification, this is any gun that uses black powder and is loaded from its barrel. In collectible space, however, the term muzzleloader often refers to small arms and rifles loaded from the front.
Muzzleloaders use the oldest gun technology, where the user pours powder down the gun's barrel before shoving a projectile. Then, the shooter has to light a fuse and wait for the resulting explosive reaction to launch the shoved projectile.
Understand the Popular Brands
In addition to collecting antique guns by type, collectors also check the brands. Therefore, when studying antique revolvers identification, you will need to know the most popular collectible brands:
Colt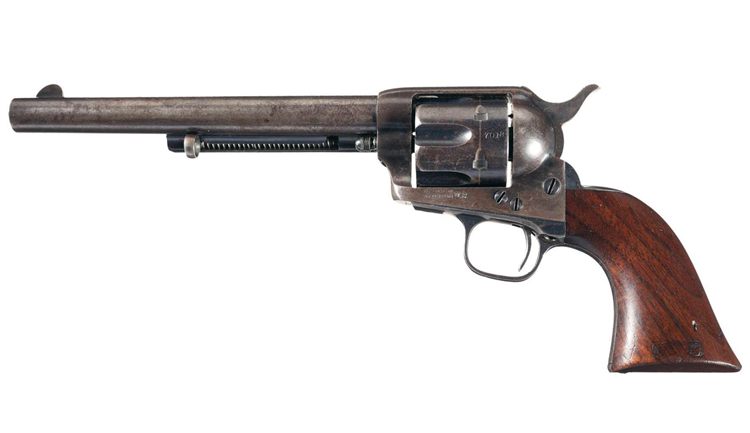 Among gun collectors, pistols manufactured by Colt are legendary. While Colt produced thousands of colt pistols during the 19th century, the rarest pieces were manufactured while Samuel Colt was still alive—between 1830 and the 1860s.
The Colt Single Action Army revolver, which came out in 1872, is a popular collectible among gun collectors. In auctions, this piece can fetch anywhere from $5,000 to $50,000, depending on the people who have previously owned it. For example, a calvary Colt Single Action Army revolver produced in 1877 is currently listed for $30,000.
Winchester
The Winchester Repeating Rifle Company is known for its repeating rifles. However, the Winchester 1873 lever action rifle beats the others in popularity.
Several generations of this rifle are available in auctions. However, first-generation weapons will always have a higher price than the later generations.
Winchester rifles tend to come with extremely high prices, with some of them attracting millions in value. One Winchester 1886 rifle sold for 1.265 million in 2016. However, you can still find lower-priced Winchesters in the market—for example, a Winchester 1873 rifle realized a price of $3,450 in 2019.
Deringer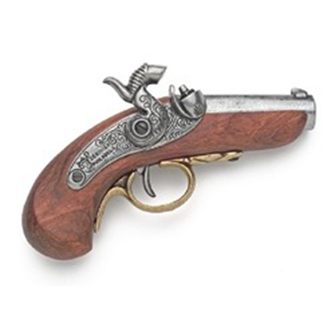 Henry Deringer released his first pocket pistol in the 1820s. Because of their small size, most people—including women—found these pistols extremely effective for protection.
One of Deringer's pistols was used in 1865 by John Wilkes Booth to shoot and kill Abraham Lincoln, then the president of the United States. Because of their small design and the fact that they can carry a maximum of 4 bullets, the Deringer pistols are affordable, with a value between $500 and $2,000 in most auctions.
Browning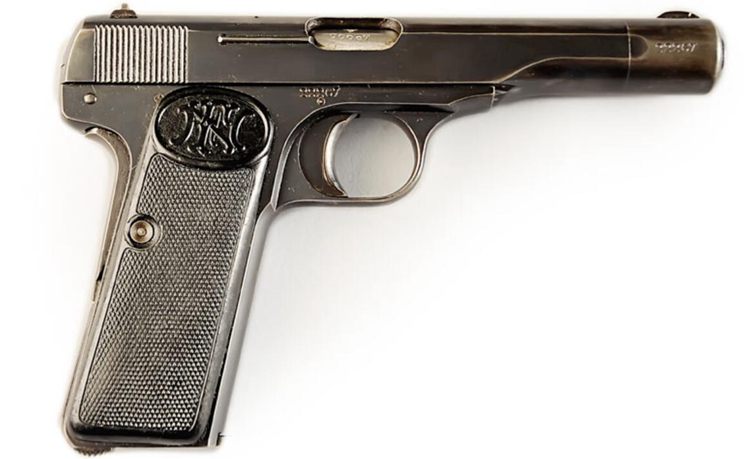 Browning Arms Company boasts numerous designs for its guns. In addition, the brothers behind the Browning company created and filed multiple patents for firearm technology—most of these were sold to other manufacturers, including Winchester. For this reason, identifying antique shotguns from the Browning company can be pretty complicated.
When making antique gun identification for Browning guns, you must talk to an expert who specializes in guns from this manufacturer. The Browning Collectors Association is one of the best places to find an expert.
Smith & Wesson
Smith & Wesson started producing guns in 1852. Helmed by D.B. Wesson and Horace Smith, the company began by releasing a series of firearms featuring self-contained capabilities—this made the percussive weapons outdated.
While the revolvers produced by Smith & Wesson may not carry the same awe associated with Colt, they are highly valued in the collectibles market. The most valued antique Smith and Wesson pieces are the model 3s that often have a price of thousands of dollars—a good example is the 1907 long-strap model 3, whose price is currently set at $12,600.
Antique Gun Valuation: How to Value Your Antique Gun
If you have reached this point, we assume you know the process to follow during antique revolvers identification, antique muzzleloader identification, and when identifying antique shotguns. After antique gun identification, you may want to know their value. The following section will take a deeper look at antique gun valuation:
Factors to Consider During Antique Gun Valuation
The value of an antique gun is dependent on various factors, including:
Age– In most cases, the older the gun, the higher its price.
Rarity– Rare pieces have a higher demand. This often raises their price.
Condition– An antique gun in perfect working order will cost more than one that's not working.
Provenance– A gun that a major historical figure has used will cost more than one owned by a regular person.
History of use– A gun used in the first world war will be costlier compared to one with no interesting historical use.
Brand– While numerous brands produced guns in the 19th century, collectors preferred a few select brands. We have looked at these brands: Smith & Wesson, Browning, Winchester, Deringer, and Colt.
Original parts– Most antique gun collectors prefer the gun to have all its original parts intact. Therefore, if a gun has been restored using new parts, it will have a lower value.
How to Get a Good Cost Estimate for an Antique Gun
When it comes to determining the value of an antique gun, you have several options, including:
Check Auction Websites
Auction websites often display the realized prices for the different guns that have been purchased/sold. If you find a gun similar to what you are interested in, the antique gun valuation should be more straightforward. However, remember that your gun's value might be lower or higher depending on the factors mentioned above.
Check Antique Gun Books
Books can also be an accurate way of antique gun valuation. What's even better is that books can also help you with antique gun identification.
To begin with, you may want to look at the Blue Book of Gun Values—this book is updated yearly with the latest antique gun values. Remember that for the Blue Book of Gun Values to help you; you will need to know the following:
Specific gun model
The make of the gun
The gun caliber
Also, you can check the list of gun price books provided by the Library of Congress—one of these may help you with the antique gun valuation.
Gun Shops
If you already have the gun on hand, consider taking it to a gun shop. When choosing the shop to visit, ensure your community trusts the shop.
Remember that there might be a conflict of interest when a shop owner values your antique gun. For example, they may want to purchase it and then resell it at a higher price for profit—this means they may value the antique gun at a lower price.
Pay an Appraiser
You are paying an antique gun appraiser for their knowledge and time. This should help you get the most accurate value for your antique gun.
Use Online Forums
Online, you can find forums that discuss antique guns. Join these forums and do your research there—you can always ask the members to value your gun.
10 Most Valuable Antique Guns
| | | | |
| --- | --- | --- | --- |
| S/No. | Name | Year | Cost (USD) |
| 1.  | French Louis XIV Gun | 1645 | $99,995 |
| 2.  | British P1730 Brown Bess Musket | 1731 | $59,995 |
| 3.  | British 1780 Royal Navy Seven Barrel Flintlock | 1780 | $39,995 |
| 4.  | German Wheellock Puffer Holster Pistol | 1591 | $39,995 |
| 5.  | U.S. Revolutionary War Flintlock Musket | 1740 | $34,995 |
| 6.  | Dutch 1710 Flintlock Pistols | 1672 | $29,995 |
| 7.  | Philip Skene Brass Barrel Flintlock Pistol | 1739 | $19,995 |
| 8.  | British Blunderbuss Flintlock | 1747 | $12,995 |
| 9.  | Hulbert & Co. Single Action Revolver | 1876 | $11,495 |
| 10.  | Colt Frontier Six Shooter | 1880 | $4,995 |
1. French Louis XIV Gun
One of the oldest antique guns we found, the French Louis XIV Gun dates back to 1645—this means that the two pistols have been around for close to 4 centuries.
The two pistols are 26 inches long and have barrels measuring 18.5 inches. They boast attractive stocks and ebony butt caps featuring ivory buttons.
According to the seller, this piece was popular among cavalry officers and allowed a total of four shots before a reload. Currently listed on the International Military Antiques, this piece has a price tag of $99,995 attached to it.
2. British P1730 Brown Bess Musket
This piece was designed and produced by John Vaughan in 1731. One of the rarest pieces made by John Vaughn, only 20 are currently available, with 14 in museums—this means that this piece is one of the 5 in private possession.
The musket has a total length of 62.5 inches and boasts brass furniture as one of its materials. Because of its rarity, this piece is currently selling at $59,995.
3. British 1780 Royal Navy Seven Barrel Flintlock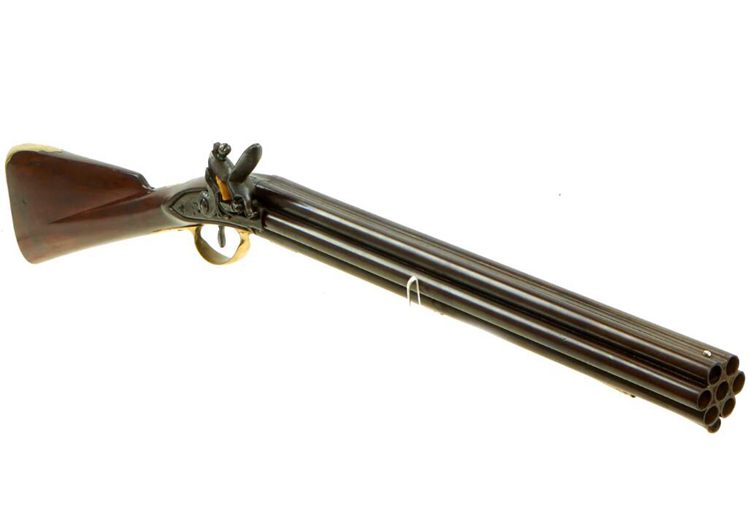 One of the 526 naval Volley guns designed and manufactured by Henry Nock in 1780, this antique gun is one of a kind. The seller notes that nothing on this gun has changed—it has all its original parts intact. Moreover, the seller states that the gun is in good condition.
Used in the early stages of the Napoleonic Wars, this piece boasts 7 barrels. To add the gun to your collection, you will need $39,995.
4. German Wheellock Puffer Holster Pistol
This incredible pistol dates back to 1591. According to the seller, this pistol was at some point in the Royal House of Saxony until it was sold in the early 2000s.
The pistol reportedly uses cutting-edge technology from the 16th century. The German wheellock pistol is currently listed online and sells for $39,995.
5. U.S. Revolutionary War Flintlock Musket
This piece from the 18th century features a 42-inch barrel first adopted in 1740. While the antique gun was made in Britain, it was manufactured for use in the United States Revolutionary War.
The barrel features the Roman Numerals XVIII REGT, indicating the 18th Regiment of Foot. This piece is currently selling at $34,995.
6. Dutch 1710 Flintlock Pistols
Measuring 19.5 inches and featuring 12.5-inch chiseled barrels, these pieces are estimated to have been manufactured over 3.5 centuries ago in 1672. This was the work of Jan Hendrick, who resided in Amsterdam.
The Dutch 1710 Flintlock Pistols feature incredible decoration, masked butt caps, and long ears. Currently on sale, this piece is listed at $29,995.
7. Philip Skene Brass Barrel Flintlock Pistol
This piece belonged to Philip Wharton Skene, and he probably used it in major battles, including Porto Bello in 1939, the Battle of Fontenoy in 1745, and the Battle of Culloden in 1746.
This piece boasts a brass barrel and has a Carnelian Intaglio Seal Ring. To get this piece, you will need a total of $19,995 to buy it from International Military Antiques.
8. British Blunderbuss Flintlock
This piece has a total length of 32 inches with a 16-inch barrel. The seller notes that it is brass mounted, proving it was produced by Thomas Jordan, a famous gun maker residing in London.
The antique gun is still in perfect shape, with the wood stock boasting a solid appearance and an attractive dark brown color. This piece is currently selling at $12,995.
9. Hulbert & Co. Single Action Revolver
This piece dates back to 1876 and still has its original holster. According to the seller, this is the only Mervin & Hulbert revolver marked up to the Union Pacific Rail Road.
The piece boasts some noticeable ancient features, including two screws that sit above its trigger guard. It also has a humpback shape hammer. Currently listed online, you can get this piece for only $11,495.
10. Colt Frontier Six Shooter
A revolver from one of the most known antique manufacturers—Colt—this piece came out in 1880. The only "Old West" style gun we have on this list, this piece carries six bullets at a time.
This Colt Cowboy revolver boasts a 7.5-inch barrel with an attractive worn patina on its metalwork. Currently listed online, this piece is selling at $4,995.
Overview
Historic yet beautiful, antique guns are some of the most appealing pieces you can add to your list of collectibles. However, the antique gun market boasts many of these pieces—this can confuse many people, especially those new to the antique gun collection.
From gold inlaid and finely engraved masterpieces to scarcely produced pieces, how can you nail antique gun valuation to ensure you are paying the right price? Also, how can you get an accurate antique gun identification?
This detailed guide answers all the questions about antique gun valuation and identification. If there is a question we missed, be sure to let us know in the comment section below.