Antique Golf clubs refer to classic clubs that were used during the beginning of this classy game. These golf clubs are an integral part of a game that has lasted decades and there is sure more to them than meets the eye.
An Andrew Dickson Long-Nosed putter was sold for $181,000 at an auction organized by Sotheby's in 2007.
In this expository article, we unravel the mystery that is the antique Golf club and how pivotal they are to the world of sports, how to identify them, and also understand the factors that contribute to their value.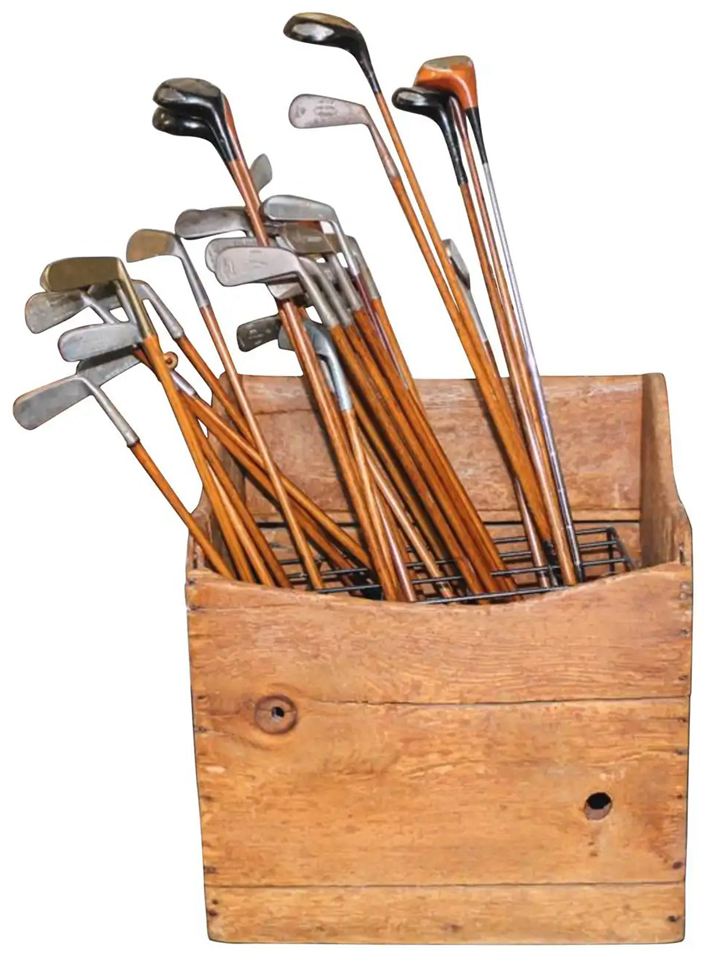 What are Antique Golf Club
Antique golf clubs refer to golf clubs that are 90-100 years old. Golf clubs in this age range have now become highly collectible due to their status and age.
In the early days, cheap antique Golf clubs were produced by companies like Wilson, Spalding, Burke, MacGregor, Kroydon, and many others.
Ben Sayers is widely regarded as the oldest golf company. Although it is now out of business, leaving behind St Andrews Golf Company to attain the oldest surviving golf club brand status.
Both companies are popular Scottish brands and they have since served as home to other reputable brands like George Nicoll and Tom Stewart.
McGregor, a U.S.-based company, is now the second oldest golf producer in the world and the longest surviving brand in the United States.
A Timeline of Golf Clubs
The first golf club set was invented in the 15th century through the use of crude methods. The included features were handmade and these golf clubs had unusual characteristics.
In addition to this, they lacked the upgrade possessed by modern Golf clubs made by the Scottish Shepherds way up to the 1700s. Many of the golf clubs from this era are in museums and private collections.
The wooden clubs usually had a metal plate at the base and were heavy because of the lead insert at the back of their head. Furthermore, the face of these wooden golf clubs always featured bone or ivory addition which aided in preventing the wood from wearing quickly.
Here's a video expanding more on the history of wooden golf clubs.
Wooden clubs were made in three major styles:
Spoon Style
This golf club has a higher lofted wood which is equivalent to a seven wood. It is used by golfers to angle their balls a little higher on a deeper angle.
To identify the baffing spoon, all you need to do is examine its shape. A typical example is the long-nosed spoon, which has a wooden head, long from heel to toe and has more angles at the toe end, or the bap spoon, which has a bulbous-shaped clubhead).
The Brassie Style
This style approaches wood and could pass for three wood. Now that you know this, you should also know that the brassie is the second-longest club in the bag and is used for a long shot in bad lies and from hard surfaces.
The name is coined from the brass, copper, and zinc used to create the soleplate.
The heavy soleplate used in this style of golf clubs gives the brassie the ability to lift the ball faster and better by giving it a low center of gravity. Unfortunately, this club didn't transition into the modern Sunday bags because of its limited use.
The Play Club Driver Style
The play club is an old nickname for the straightest-faced and the longest-hitting wooden club. It was later referred to as the grass club and the long club before the name 'MODERN DRIVERS' which is a more current term to define them stuck. It can be dated to the early 1700s.
Almost all the big golf players of the 19th century had long noses and long-headed wooden golf clubs in their bags.
They're called "long-headed" woods due to their long heads, usually five or six inches long, with well-rounded backs and slightly curved faces- they closely resemble walking sticks.
The "long-nose" clubs gave players a lot of control, especially since feather balls were the most popular at that time, and controlling shots was a top priority.
By the year 1860, golf clubs began getting the modern touch and in comparison to the earlier ones made from wood with ash shafts, companies like McEwan made golf clubs shafts out of hickory with the head made from beech.
In the latter part of the 1880s, American companies like MacGregor, Spalding, and BGI emerged, giving Scottish artists a run for their money. They began experimenting with different details and designs on the golf clubs' faces.
You can find marked or unmarked faces on some iron clubs from the beginning of the 20th century.
Steel shafts, pyratone, aluminum, resin, or fiberglass came onto the scene later in 1924 and bore a wood-like coating. The appearance of these new materials gradually spelled the end for the wooden era of golf clubs.
Here's a video on history of golf clubs.
Golf Clubs Design and Their Influence
Technology, terrain, and ever-shifting culture affected the designs of golf clubs—especially the introduction of iron and even the evolution of the golf ball itself.
For the terrain, Club makers did not completely integrate the first type of irons into the clubs as they could destroy the light and feathery golf balls of the `1500s to 1850s with their heavy shanks. Most clubs were made from wood, especially to execute long shots.
However, drop forging- a much easier technique, emerged and the weight of these clubs decreased.
You'll see "hand-forged" behind hickory shaft clubs made in the 1900s, but this is far from reality, as the only thing handmade about them was now the maker's name and cleek mark (Cleek is a long iron used for playing in the fairway).
The introduction of drop forging meant that blacksmiths now produced iron clubs in large quantities in factories.
Wooden head clubs continued to be made by hand by indigenous golf players until 1910, when demand for wooden golf clubs increased sporadically, pushing factories to dabble into producing them in mass amounts.
The wooden clubs produced by wood were formed on lathes and finished by hand. The artisans also incorporated convex bulges into the clubs. Clubmakers also played around with the attachment of the club's shaft to the head.
First, they introduced the spliced and forked connections. Then, George Forrester later introduced the socket joint, which is still very much in use- Club makers achieved the socket joint by drilling the socket into the club's head and attaching it to the club's shaft with glue.
From 1900 to 1930, so many changes took place in club design, from hollow-faced iron clubs, which were dead on arrival, to Walter Hagen's concave-faced sand iron with an extended flange that is now illegal in America and the golf world at large.
N.B: Walter Hagen's club is a type of Gene Sarazen idea that proposed a club that players can adjust to give different angles
Gene Sarazen invented the sand wedge in 1932- the sand wedge club was perfect for digging the ball out of sand traps on the course. He soldered a flange onto the base of the niblick/ lofter to birth this club- niblicks were used for approach shots.
Perhaps the greatest invention in the history of the sport is the introduction of metal wood by Gary Adams, owner of the TaylorMade company in 1970.
The metal wood clubs are the only example of wooden golf clubs around today. Clubmakers have altered many features and added metals like titanium to make these clubs less weighty and forgiving.
Antique Golf Club Makers
The names below ruled the golf club-making era and produced the finest clubs.
1. Anderson & Sons
St Andrews of the Anderson and Sons began his club-making business in 1893 and was previously known as DW Anderson.
This factory sat directly by the 18de green of the old golf course. David Anderson was the son of Old Da, who made balls and looked after the Old course. However, this company ceased its operations in 1939.
You will probably remember JH Taylor as the legend and five-time Open champion, but there's more to him. He ventured into a successful club-producing business with his fellow player George Cann. Together, they began production in 1894 and quickly grew in leaps and bounds.
Their popular mashie that got popular when Taylor won the open was one of the top-selling clubs. However, they ceased production before the second world war in 1939.
3. Condie, Robert
Robert served as an apprentice under James Anderson and Robert White and then established his personal firm in 1890. His popular Fern of rose cleek marks can be seen on some exceptional clubs that have been made.
Condie adopted the old production techniques and was one of the last standing makers to forge his clubs purely by hand. After he died in 1923, his son George took control of all the company's affairs.
Morris is a revered name in the world of golf and its history. He's won the U.S. Open four times, was the greenkeeper, master of the old course, and a very flourishing clubmaker.
Morris began his journey as a ball and clubmaker apprentice in Alan Robertson's workshop. He became a pro golf club maker in Prestwick in 1854. This club-making business began making significant progress in 1864 after he returned to St Andrew's.
He stayed popular up until he died in 1908. However, his golf clubs are still being produced under license today.
Philps Hugh earned the reputation as the Stradivarius of club making. He made elegant long-nose clubs from 1819 to 1855, and they were all highly sought after by golfers and antique golf collectors.
After Philp's death, other clubmakers began copying styles of his work, and forgeries of his clubs dominated the market. His golf clubs are one of the most priceless, rarest, and top-quality ones today, and they run into thousands of dollars.
Spalding is an American clubmaker who had factories in numerous locations. He broke the ice by being the first company to sponsor a major professional golfer, Harry Vardon, in 1899.
He embarked on a promotional tour in America, attracting great publicity for the Spalding company. They still produce clubs currently, and Callaway now owns the company.
This popular aluminum mill ventured into club-making in 1890. As expected, their clubs had aluminum heads within a short time. They became really popular because of their huge putter and metal details.
The company continued producing golf clubs until the second world war began in 1939.
5 Rarest Antique Golf Clubs Ever Sold
We've compiled a list of the five rarest golf clubs sold at auctions worldwide. The data in this list are curated from verifiable sources, and any resemblance with an existing list is purely coincidental.
| | | | |
| --- | --- | --- | --- |
| S/N | Name | Release Date | Price |
| 1 | Andrew Dickson Long-Nosed Putter | 1750 | $180,000 |
| 2 | Simon Cossar Fruitwood Metal Headed Blade Putter | 1700 | $175,000 |
| 3 | Square Toe Light | 1600 | $151,000 |
| 4 | Palmer Patent Fork | 1901 | $49,000 |
| 5 | McEwan Presentation Putter | 1800 | $31,000 |
1. Name: Andrew Dickson Long-Nosed Putter
Release Date: 1750
Price: $180,000
Andrew Dickson was especially popular for stamping his clubs with his initials. You'll find this on this 17th-century long-nosed putter and the initials of the club's original owner J. McCaul. It's one of the oldest golf clubs owned by a private individual and was sold at a Sotheby's auction in 2007.
It was exhibited at the Glasgow International Exhibition (GIE) in 1901. The show was organized to showcase some of the oldest relics of Scottish culture, and you'll find the "GIE 1901" inscribed on this club.
2. Name: Simon Cossar Fruitwood Metal Headed Blade Putter
Release Date: 1700
Price: $ 175,000
Simon Cossar built the metal-headed putter, and the fruitwood shaft is allegedly the only one still existing in the modern-day. The late 18th-century beauty stood tall on the table and sold for an impressive $175,000.
3. Name: Square Toe Light
Release Date: 1600
Price: $151,000
The square toe light is one of the rarest and oldest golf clubs in the world. It's highly collectible and the envy of many collectors, as it's one of the 12 putters from the 1600s known by humankind to still be in existence and stable condition.
4. Name: Palmer Patent Fork
Release Date: 1901
Price: $49,000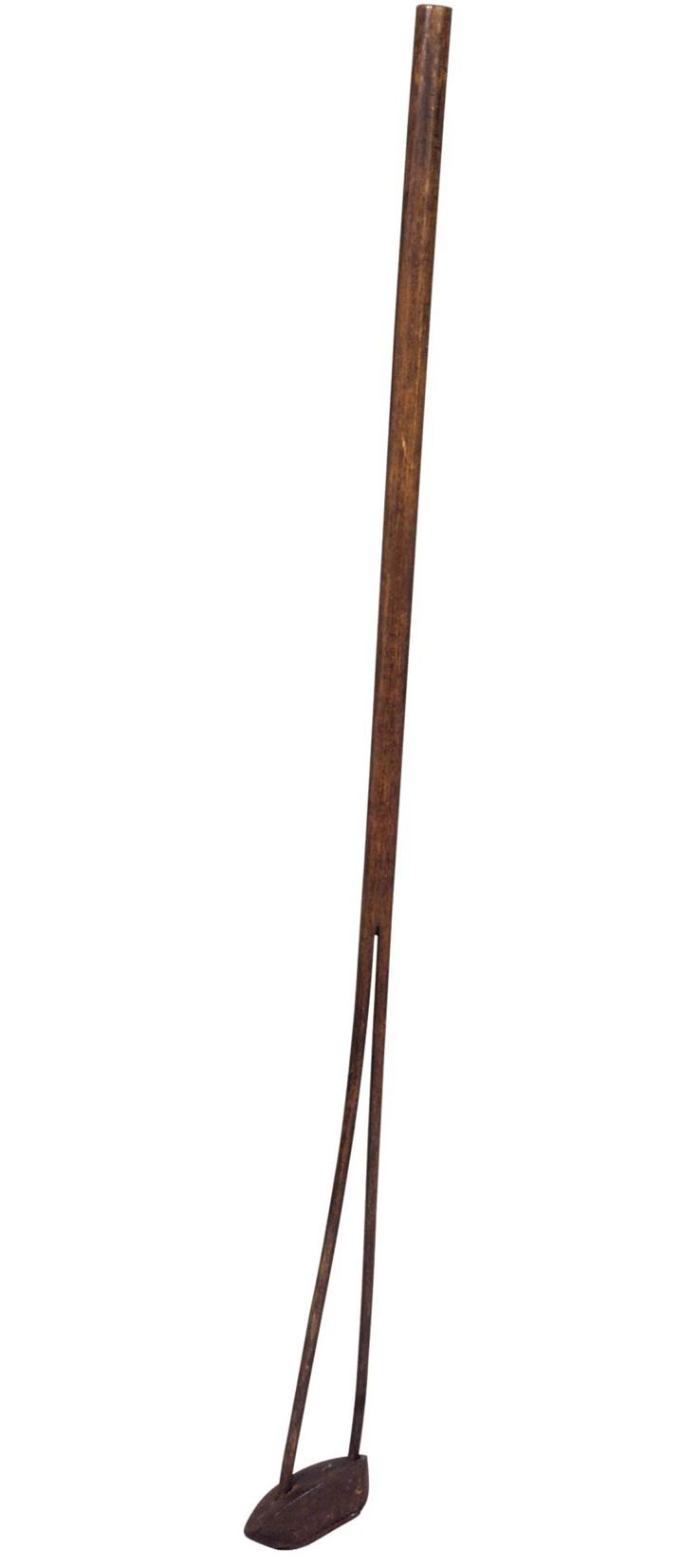 The club was made by A.G. Spalding & Bros company of New York and Chicopee in 1901 and is stamped with "The Spalding" on the wooden clubhead. A fiber slip is screwed into the sole's leading edge, and a crown is drilled with two sockets to collect a unique forked wooden shaft with a wooden grip.
5. Name: McEwan Presentation Putter
Release Date: 1800
Price: $31,000
Presentation clubs were usually presented to golf competition winners and were always crafted in sterling silver. Only four of these clubs with carved decorations on their heads were known to exist.
The club is carved with four feather balls, two crossed clubs, a thistle, the national flower and symbol of Scotland. The McEwan company used thistle as their trademark for a long time.
How to Identify Antique Golf Clubs
For the non-tiger woods of this world, we know how tasking it might be to recognize the parts and story of antique Golf clubs instantly. But this section addresses just that and will help you work your way around identifying them.
Before going digging deep, check out this video.
By Their Age
So many features on the bodies of antique golf clubs and even the styles of these clubs changed as the years passed. Check this section for a more eye-opening read about clubs' timelines to help you better identify them.
Details
For antique Golf clubs, you should check for aluminum caps on the tip of the handles, then observe the golf heads if they're made from Nickel, steel, or chrome materials. Look out for dots, lines, marks, and face scorings on the Golf clubs.
Trademarks
Artisans often decorated antique golf clubs with inscriptions or engravings carrying the maker's name or sign. Check for company stamps indicating the names and logos of the manufacturer.
This will help you determine your club's authenticity and provide necessary information about your Golf club.
Read The Phrases
There are usually inscriptions on the backs of clubs such as aim-rite, accurate, superior, and other catch phrases that you may find. If your club doesn't have these phrases behind them, they may be fake, or the marks may have just worn off.
Appearance
Study your golf club for signs of wear and aging. Features of antique golf clubs include flea bites, crackles, slightly faded colors, and general dullness, which can aid easy identification.
How to Determine the Value of Antique Golf Clubs
The major key to finding out the value of your antique Golf club is to conduct meaningful research and painstakingly assess your Golf club to note intricate details.
Appraise Your Stuff
For old objects like golf clubs, it's not out of pocket that dozens of appraisers are willing and able to help you determine their value. Appraisers will also give a reasonable amount if you decide to sell off your antique stuff.
By Their Quality
The quality of your golf club is a major determinant of its value. No one will pay a dime for something that looks fake or lacks any trace of authenticity. You should also be able to back up your quality claim with enough evidence, including a verifiable and traceable history.
Age
The older your golf club is, the more valuable it is as years go by; a bonus is if it's still in excellent condition by that time.
The most prized and highest collectible golf clubs were made around the 1700s through to the late 1860s. The 1860s was when major upgrades and the move towards standardization of golf clubs began in full force.
Craftsmanship and Build
Your club shaft must be made from real wood as this is how to determine the antique status. Many artists used metal to make their shafts and covered them in grainy finish to look like wood; unless you scratch the surface, you may not even know.
Condition
A broken Golf club instantly loses all form of value both in the eyes of the owner and potential collector/ buyer.
The right buyer will drop an impressive amount of money for a club in a pretty decent and playable condition, which is why you must always ensure that your club is kept in a safe place and away from contact.
Always look out for too glossy outlook or any unreal finish as they may be reproduced pieces posing as antique stuff.
Rarity
Yes, there're rare Golf clubs that have unusual features and were produced in limited amounts, which has separated them from mass-produced Golf clubs that you can find around.
Many of them were rolled out in the early 1920s, and many rare clubs have wooden shafts, weird head shapes, unmarked faces or distinctive marks, and wood clubs covered with string whipping with thick necks.
They also have a smooth face iron, especially the clubs created by Carrick and Anderson, White, Forgan, Army & Navy, and the Dunn company. Another example of a rare Golf club is one popularly known as Rakes or Waterfalls that have deep groove wood shaft clubs.
These old clubs have since gone out of circulation, and anyone possessing one or a few of them has something very valuable in their hands.
Compare Pieces
You can compare your antique club with pieces that have been previously sold online (avoid clubs that are still available for sale as the prices they may eventually sell for might be different from the initial one you saw).
Read Books and Guides
Whether you're a long-time collector or new to the game, we always advise that you read as much as possible before proceeding to update your inventory or begin your journey.
Several books have been written and published on antique Golf clubs that will help you correctly determine the value. Check them out below.
Consult Online Sources
An impressive number of materials have sprung up to spread the gospel of antique Golf clubs continually. You'll find websites dedicated to the appreciation of these essential sports equipment that has been developed by collectors and Golf club enthusiasts over the years,
The Golf Heritage Society offers caring and collection tips for owners and keepers of antique Golf clubs.
You'll also find extensive information about the value and history of your item. If you're looking for a place to provide you with the optimum background story about your newly acquired antique club, then this place is for you.
Collectors Weekly has been a haven for collectors of all sorts. From cars to cans to garages and even art pieces. You'll find detailed information about almost anything on that website, including those for your antique Golf clubs.
Market Factors
Supply and demand are the wheels to keep any business or product going; this is the same for the antique golf club. Some models are more sought after than their peers, which automatically makes them more expensive.
The Maker
The initial sets of antique golf clubs were handmade and produced in the first golf club workrooms that sprung up in Scotland.
They're so rare and have marks on them by their makers, making them very valuable. Due to their status, you may not see this at a neighborhood yard sale.
Where to Buy Antique Golf Clubs
We can't bring you this far without helping you with places to get these golden clubs should you need one.
Garage Sales
Garage sales are a great place to find antique golf clubs. So many past golf players and legends with rare clubs can organize a mini sale outside their residence to clear their attics and make some money.
Flea Markets
You can also head to the nearest flea market to purchase a piece of an antique golf club. These clubs are usually old and worn because of their age and condition. Ensure to ask the seller for information on what you're buying.
Antique Stores
Antique stores are scattered around town selling old golf clubs. These stores have been in the business for years, and the process isn't new to them. Just take a walk to the store, check their aisles or inventory and get a piece for yourself.
Online Stores
E-stores like eBay, Etsy, and many platforms are scattered across the web and selling antique stuff. They're so organized that you have a custom section for old items to make the search easier.
Another advantage of online stores is that the delivery is easy and smooth. All you need do is stay in the comfort of your home and have it delivered to it.
Auctions
Auctions, both online and offline, are available to lend a platform for interested sellers to put up their antique clubs for bidding and eventually settle for the highest bidder or according to their preference.
Here're a few auction sites where you can find antique golf clubs.
Parting Words
After all is said and done, you can't but agree with our earlier claim that antique golf clubs aren't just tools for a game, they also hold impressive value and tell a story about the evolution of the sport into what we know it as today. Let's go over the basics one last time.
Factors like technology, terrain and evolving culture greatly influenced the development and history of golf clubs.
Most of the earliest golf clubs now belong to private collections making them rare and highly collectible.
Always seek the help of an appraiser when trying to identify antique golf clubs.