Glassware collecting is one of the most lucrative hobbies that can fetch you loads of money in the thousands of dollars or just a couple of hundreds. As many varieties of glassware designs (simple or ornate) can either be classified as affordable or pricey. Be it a decorative piece (chandeliers) or a piece that has to be maintained for everyday use (glass tableware).
In this article, we're going to discuss how to identify vintage glassware pieces or collections. And we're going to find out how to value any glassware piece or collection in hand with certain factors. Along the way, we'll also provide you with the top 10 valuable antique glassware to look at.
10 Most Expensive and Valuable Glassware?
Here's a roundup of the top 10 antique glassware that is worth a fortune:
| | | |
| --- | --- | --- |
| No. | Name | Price |
| 1 | Antique Marigold Carnival Glass Round Bowl | $300 |
| 2 | Antique Jardiniere Bowl | $450 |
| 3 | Antique Grape Leaves Bowl | $590 |
| 4 | Art Nouveau Vase in Pink Mouth | $1,340 |
| 5 | Hand Blow Calla Lily Chandelier | $1,777 |
| 6 | Mid Century PALWA Glass 6-Lights Pendant Lamp | $2,250 |
| 7 | Lot Holiday Buttons & Bows Pink Depression Glass | $5,756 |
| 8 | Anchor Hocking Milk Glass Punch Bowl w/ Stand & 4 cups | $8,000 |
| 9 | Set of 48 Glasses Decanter Crystal | $12,180 |
| 10 | Antique Engraved Art Glass Vases | $45,000 |
1. Antique Marigold Carnival Glass Round Bowl
Price range: $300
It's an intact yellowish-gold Carnival bowl with geometric patterns. However l, it possesses some scratches and chipped parts due to lack of maintenance and age.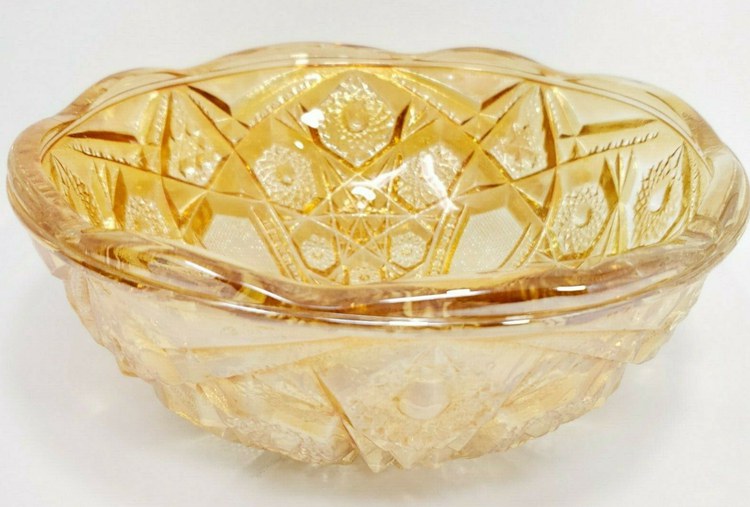 2. Antique Jardiniere Bowl
Price range: $450
The design of the bowl is unique. As it consists of an impressive floral design as well as aesthetic reflective property. Which gives the whole bowl a rainbow-like color.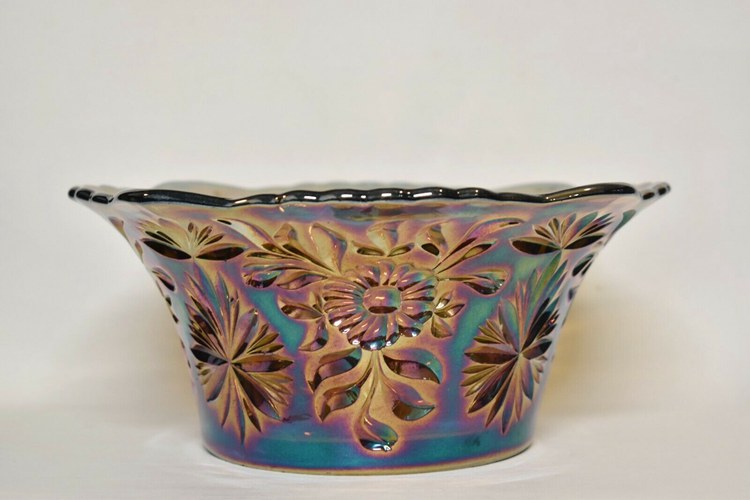 3. Antique Grape Leaves Bowl
Price range: $590
This is a Carnival glass bowl in pristine conditions. It consists of a cobalt blue opaque glass which is cloudy as you try to see through it. It possesses floral patterns that appear to have been pressed onto the bowl while in a molten state.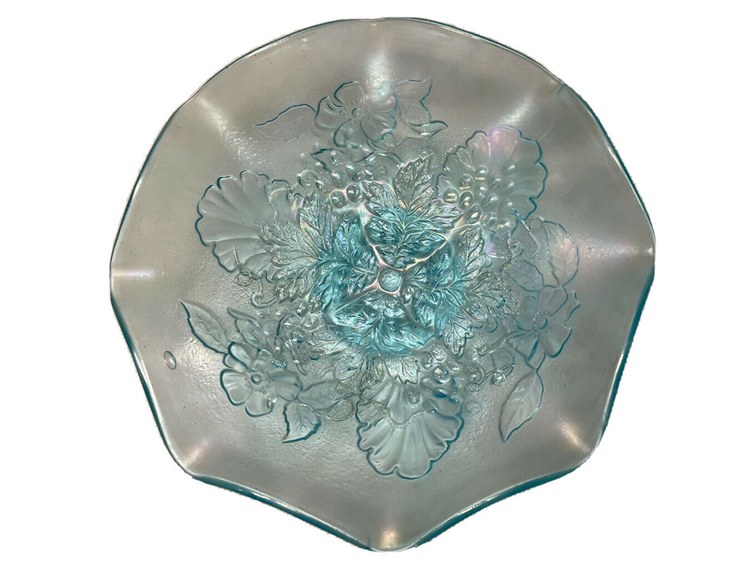 4. Art Nouveau Vase in Pink Mouth
Price range: $1,340
This vase is a completely handmade piece as it's said to be blown manually by mouth. It has even been painted over by hand and decorated in gold.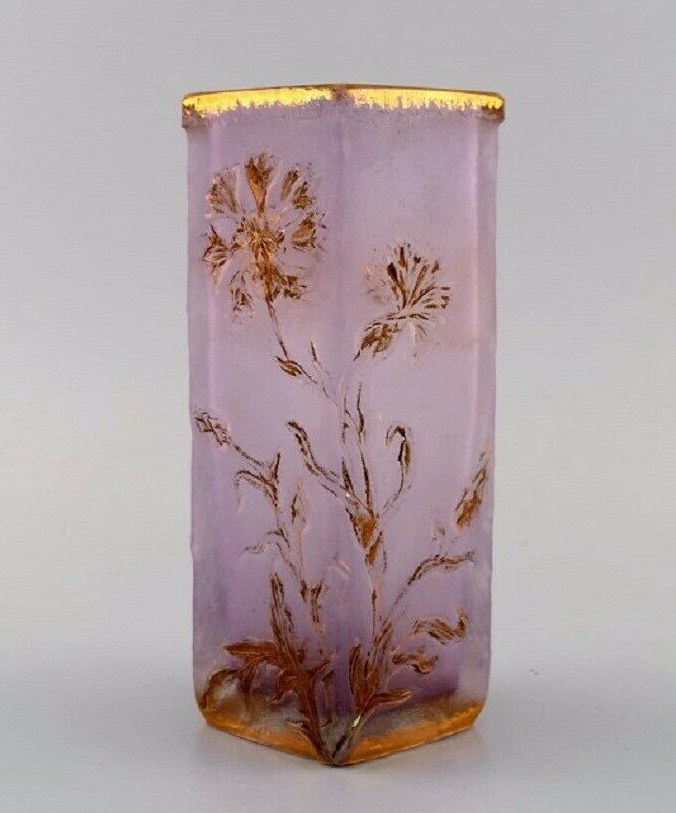 5. Hand Blow Calla Lily Chandelier
Price range: $1,777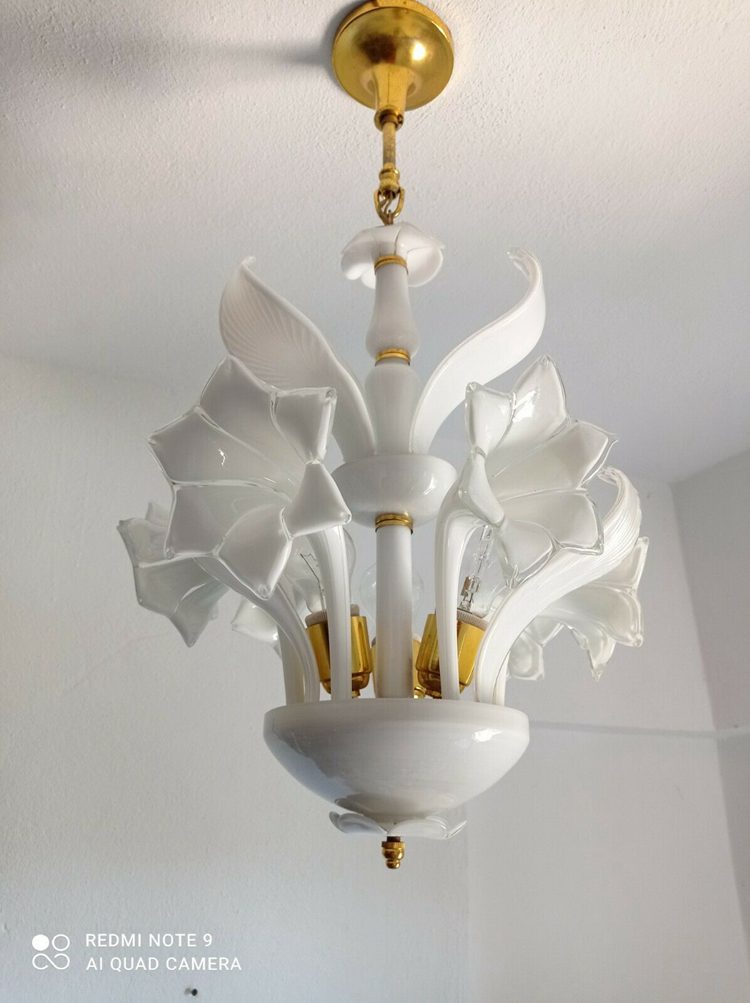 This is a vintage milk glass chandelier as it does not possess a see-through glass. Also, Its design imitates floral design which makes it more aesthetic.
6. Mid Century PALWA Glass 6-Lights Pendant Lamp
Price range $2,250
This is a unique mid-century chandelier piece that can only hold 6 bulbs. Its teardrop glass offers a valuable style to the piece.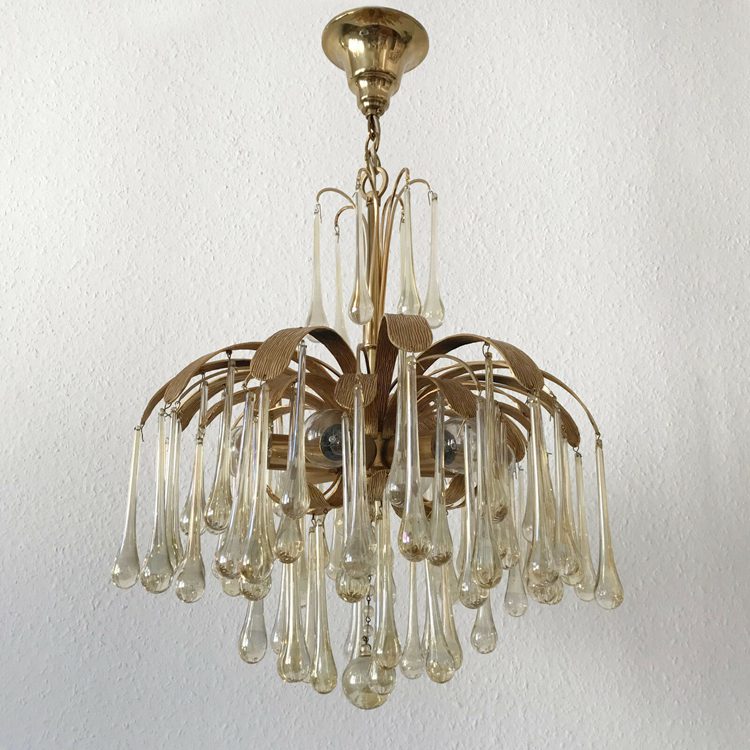 7. Lot Holiday Buttons & Bows Pink Depression Glass
Price range: $5,756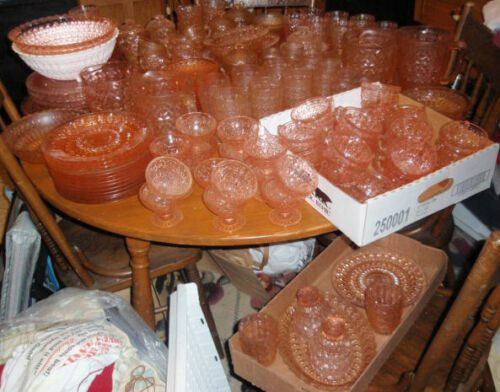 This set consists of tableware such as bowls, plates, pitchers, and cups. They're all pink in color and possess pressed designs. Also, pieces of this set are riddled with cracks, air bubbles, and scratches which depict that they do come from the era of economic depression.
8. Anchor Hocking Milk Glass Punch Bowl w/ Stand & 4 cups
Price range $8,000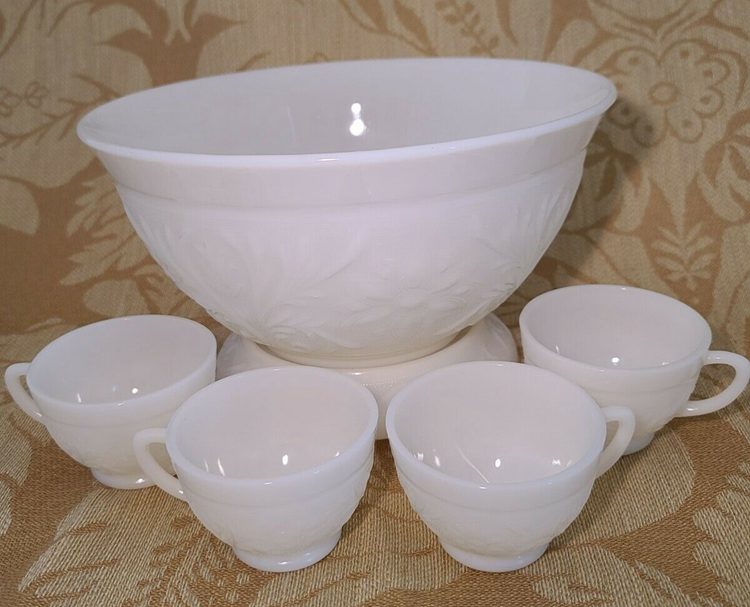 Here's another vintage milk glass set, but this time it consists of a lunch bowl and four cups. The milk glass is quite opaque so it's safe to say it's from the vintage era (mid 20th century).
9. Set of 48 Glasses Decanter Crystal
Price range: $12,180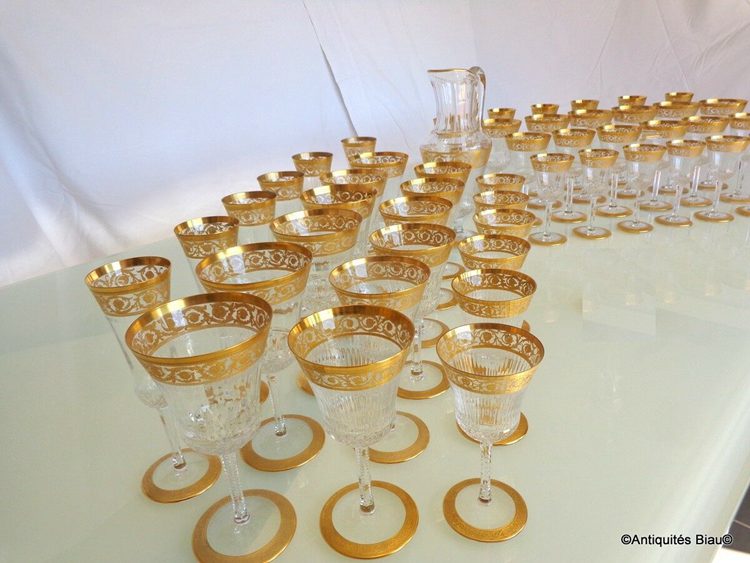 Up to 48 pieces of heavy crystal glass wine cups and a jug. which also possess golden thistle designs around the rims or body (in the case of the jug).
10. Antique Engraved Art Glass Vases
Price range: $45,000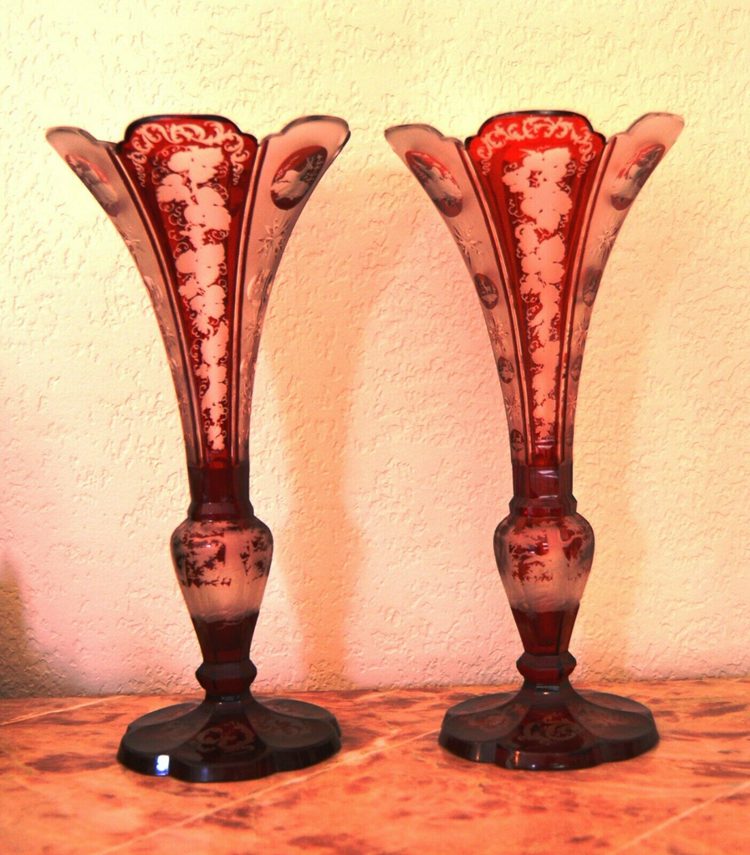 No better way to brighten up your room with this ruby red Masterpiece. Every part of this piece of art glassware is unique. Even down to the paint and patterns depicting animals and dragons.
How To Identify Vintage Glassware
You can identify your vintage glassware piece or collection by referencing it with the types listed below:
Depression Glass
The name depression was intended to remind you of the great depression, which was the time the global stock market crashed into an all-time low (in 1925). Such a situation greatly affected the living standards of everyday people to the point that even luxury items had to be produced with a tighter budget and lesser resources.
Depression Glass is one of these "luxury items". As it was the to-go glassware choice when you need to entertain guests, brighten up the room, and even just for everyday use.
How do you identify Depression Glass? For one, depression glass commonly consists of bright hues such as green, yellow, amber, blue, or pink. Because it helps to make them eye-catching enough to brighten up a space. Also, depression glass can be iridescent—the color changes as you change your position.
Another clue to look at is the thickness of the glass. As depression glass is one of the thinnest types of glassware ever made. Why? Because the manufacturers at that time (the great depression) ran on a very tight budget in a suffering economy. Thus making it necessary for the cost of production to be very low. In turn, fewer resources or glass was used to make depression glassware.
You can as well detect depression Glass from its unique details. Such as its opalescent trim, geometric shape, and etched designs. The value of a piece is even known to skyrocket if it was riddled with signs of chipping and cracks.
Note: depression glass was popularly manufactured by Jennette Bottle works.
Carnival Glass
These pieces of glassware are usually given out as prizes for winning Carnival games during the early 1900s. However, during its time, demand for such pieces wasn't significantly high enough. Despite its aesthetic and unique design. Nowadays, the demand for Carnival glassware is quite high. Especially if it happens to be a limited model or a piece needed to complete a set.
Art Glass
Art Glass was quite famous in the early 1900s. Such pieces generally consist of random items such as vases, medicine bottles, sculptures, figurines, chandeliers, and even bowls. All of which are signed at the bottom by the artist (like Dale Chihuly) or companies that made them (Waterford). Their value today is based on certain factors such as crudeness, unique design, and the artist's signature.
If all these factors can be confirmed about your art glass piece then its market value could be thousands of dollars or hundreds.
Milk Glass
This is an opaque piece of glassware that has existed since the mid-19th and the early 20th century. It was considered to be a cheaper substitute for European glassware and Chinas. The most valuable pieces to look out for are the old milk glass pieces which were manufactured misting in the mid-19 century. You can identify them using their designs or motifs like floral, animals, and objects.
Kitchen Glass
Kitchen glass was first manufactured during the Depression Era. As it is considered a branch of depression glass (you could call it depression-ware). Because they shared a lot of similarities with them, including the price tag (which was just as cheap) And the manufacturer (Jennyware or Jennette bottle works).
You can easily identify them from the type of glass that was used to make them.
Type of glass:
Delphite– it's an opaque blue glass
Fire King– it's an opaque green glass
Jadeite– it's an opaque lighter green glass
Platonite– it's an opaque white glass
Note: they're usually used to make tableware items such as mixing bowls, pitchers, refrigerator dishes, and so on.
Elegant Glass
Elegant glass was also popular during the time of economic depression. But it was far more expensive during this period even though it shared several characteristics with depression glass. Such as intricate designs and attractive colors. The only clear difference is the lack of chipped parts or cracks. As the elegant glass was manufactured by companies that considered quality control as important despite bad economic conditions.
Crystal Glass
This type of glassware is considered a luxury piece among the elites of society. As it became common tableware for such people from the late 19th century to date.
You can easily identify them from the "ping" sound they make after a hit with a spoon. Another good indicator is its heaviness. As crystal glass holds more weight than the average glassware due to the lead content in them. The lead content is also responsible for the reflective rainbow light it produces upon the sun's reflection.
How To Tell If Glassware Is Valuable
Here are general ways to tell if your glassware is valuable:
Age
Antique pieces of glassware which are a century or two old tend to attract more value than the vintage ones crafted close to the mid-19th century. Because the antique pieces had handmade detailed designs whereas the vintage pieces were machine-produced (with designs merely pressed into them).
Rarity
If the glassware in question happens to share the same pattern and color as many other pieces of glassware then it won't be so valuable. Such pieces then to be the vintage ones that were mass-produced by machines in the mid 20th century or later. The rare ones on the other hand are pieces with the least replicated patterns and color. Such pieces are usually from the American brilliant Era which was the golden Era for handmade glassware.
For instance, cut glass is the type of glass that is known to be handmade. As you can tell from the sharp cut-out patterns pieces. They tend to attract more value due to the effort put into designing them. Glasswares with pressed patterns on the other attract less value because less effort is needed to make them. Which is why they're mass-produced.
Condition
Another factor that can dictate the value of your glassware is its overall condition. For instance, you can't sell your antique glassware piece at its actual projected market value if it's riddled with cracks, air bubbles, discoloration, and missing pieces. However, there are cases where the presence of irregularities in your glass does boost its value.
A great example is depression-ware. This type of glassware was commonly made with low-quality resources due to the harsh economic landscape of that era. So in the antique market today, depression-ware with irregularities is the most sought after. As such unorthodox features are proof that depression reigned during the Depression Era.
Aesthetics
Another factor that can push the price of your glassware piece up is its beauty. As glassware with unique patterns etched on them (floral or geometric patterns) and eye-catching color can attract more value than plain glassware with little design (unless they're antiques or have been signed by a famous artist). Why do colors increase the value of your glassware piece? Because of the efforts put into giving the glass color, as well as the cost for producing colorful glassware.
For instance, the jadeite color glass didn't form paint but rather from mixing uranium with the glass. The same can be said about blue (cobalt blue), as the color can be achieved from mixing cobalt salt with the molten glass.
What type of glass piece is it?
You can also tell the value of your piece based on the type of glassware you've got in hand. For instance, your piece could be art glass which is the oldest antique type of glassware. They tend to attract lots of money in the right places. The same can be said for all other types of Glass we mentioned earlier in this article. Both the ones from America's Brilliant Period and the vintage pieces.
How Can I Determine Value Of Antique Glassware
Do you research
Surf online for price guides on the type of glassware you possess after confirming its type from the information we've provided above. Look out for various antique glassware books from the library which might give you complete insights on how to determine the value of your piece.
Observe
To get a clearer idea of how to price glassware you should visit avenues where the sales and auctioning occurs. For instance, you can attend an estate sale and observe the price of antique or vintage glassware pieces. Such an environment will also allow you to understand what is in demand, rare, and which piece or feature of a piece is common.
Hire an Appraiser
If you can't get the right price for your piece or you just don't have the time, then it's best to hire an Appraiser. They'd have the resources to give you a good price range from the observation via three main factors such as:
Age
Rarity
Condition
Manufacturer or artist
Conclusion
By now you should be able to identify your vintage or antique glassware in hand. Especially with the help of our guide which offers a clear description of how to identify all 7 common types of antique or vintage glassware. Also, we've provided information on how your antique glass will be priced with certain factors such as:
Rarity
Age
Condition
Aesthetics
And type
And to give you an idea of what to expect from the glassware antique market, we've also set up top 10 in-demand pieces to which you can reference.