Are you an antique farm tools enthusiast looking to build your collection of old and vintage farm tools? Perhaps, you own some of these tools and you're uncertain about their worth in today's market? Whatever the case is, you'll be glad to know that you're in the right place because we've got the answers that you're seeking!
While others fail to see the appeal of these old farm tools, they continue to be priceless in the eyes of a farm tool collector. While most of them are readily available on popular shopping sites, such as eBay, some are incredibly difficult to get your hands on, hence adding to their worth for an antique tools collector. Instead of being excellent collector items, these farm tools also qualify to be highly practical in the day-to-day lives of farmers. With that said, if you own any of these vintage farm tools or are planning to add them to your collection soon, then you must be aware of their various types, ways of identification, and their value in the market today.
We've got a long way to go, so let's not waste any more time and dive straight into the topic!
What Are Antique Farm Tools?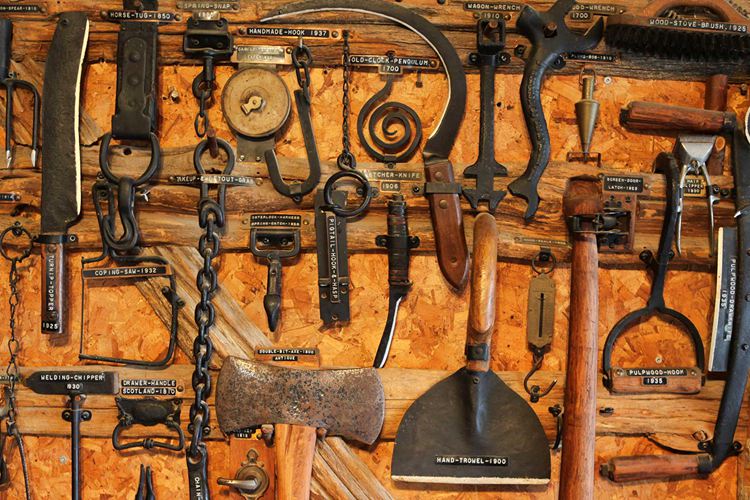 If the massive world of vintage farm tools has recently caught your interest, then allow us to introduce you to this subject the right way. First and foremost, you must fully comprehend exactly what we're referring to when talking about old farm tools to acknowledge their importance as well as practicality for farmers and farm tools collectors.
For starters, old or vintage farm tools basically refer to farm tools used on farms various centuries ago, that have been preserved through time to become the exquisite collection items that they're known to be today. Some of these tools may even date back to the time of ancient Egyptians. Various old farm tools are made of stone, wood, and bones, primarily because of the lack of technology and machinery during the times that these tools were made. Glancing over the vast farm tool history allows any typical viewer to conveniently get an accurate idea of the advancement and evolution of farm tools over the years.
Continue reading to enlighten yourself about the vast world of vintage farm tools and become fully aware of the various aspects involved in identifying, buying, or selling your old farm tools.
3 Major Types Of Vintage Farm Tools
By now, the idea of a collection of old farm tools must have crossed your mind, which gives rise to the question of how a typical farm tool collector categorizes this collection. To answer this, you must first be able to distinguish between the 3 major types or categories of farm tools that you might already be aware of:
Hand Tools: The category of farm tools generally powered by hand instead of motors is referred to as hand tools. These are arguably the most common type of antique farm tools and include files, hammers, drills, knives, wrenches, shears, and more!
Attachments: These are attachments that are drawn by animals or installed on machines. Examples include harrows, plows, sprayers, rollers, and more!
Agricultural Machinery: Devices or vehicles used for farming or agricultural purposes, such as tractors, sprayers, planters, and combines, fall into this category.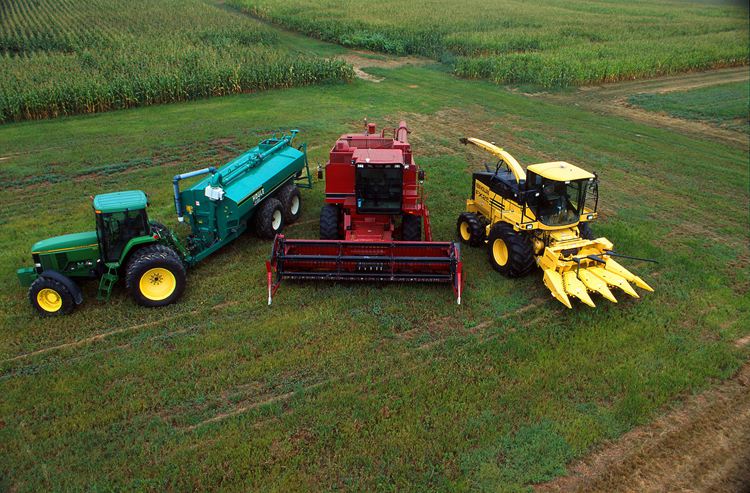 While this is a very general categorization of old farm tools, it can be used as an effective strategy to collect and exhibit your favorite farm tools in a suitable manner. Although the exact number of antique tools crafted throughout previous centuries is uncertain to collectors, it's safe to assume that this number quite conveniently exceeds hundreds of thousands. Among these several thousands of antique items, some are highly accessible and can be acquired easily through any shopping site while others are much more difficult to get your hands on.
Which Farm Tools Should You Get For Your Collection?
If you're planning on becoming a full-time old farm tools collector, then you must know where to get started. Although you are free to go for whatever tool or item appeals to you; however, there are certain tips that'll make your old farm tools collection journey much more enjoyable and organized. When choosing what farm tool you should be getting, be sure to consider each of the following factors to make your choice much simpler.
Made during a certain timeline, such as the 18th century.
Made for a certain purpose, such as plowing, cutting, or harvesting.
Crafted with a specific material, such as wood, metal, or stone.
Different alterations of the same tools, such as hammers, pliers, and wrenches.
Crafted by a certain method, such as by hand or through industrial processes.
The choice of which old farm tools you should be getting is crucial as it is responsible for defining the value and worth of your collection. Therefore, you are highly recommended to take your time and go through the various factors listed above to ensure that you make the right choice while choosing the ideal antique tools to begin your farm tools collection.
5 Antique Hand Tools To Begin Your Collection
If you're looking to start your old farm tools collection with a bang, then we've got just the right thing for you! Here are 5 antique farm tools with high practicality as well as a great value in today's market.
1. Vintage Cornwell Sockets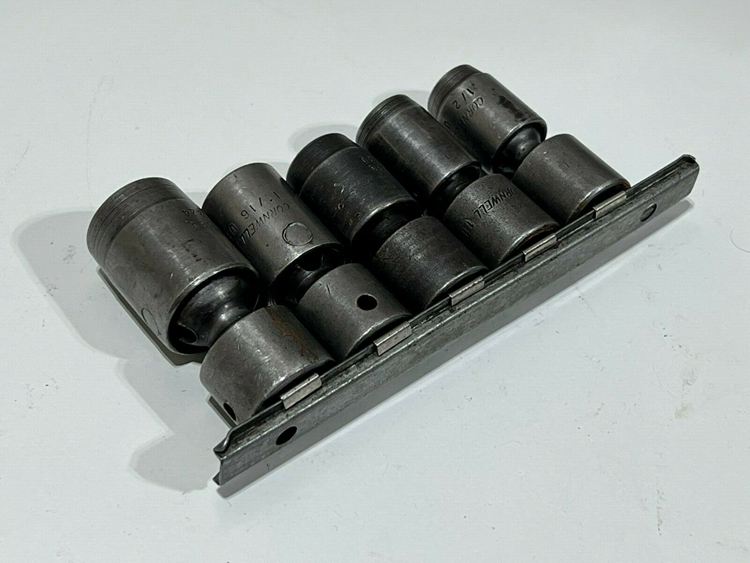 Sockets are tools that attach to the front end of ratchets or socket wrenches for the primary purpose of tightening or loosening a fastener by simply turning the sockets. These sockets prove to be the ideal farm tools to begin your old farm tools collection because of their high accessibility and incredible worth in the market. These sockets are generally made from different varieties of steel, which have been alloyed with several other materials to give them the properties of strength, ductility, and hardness. They are easy to store because of their compact and small sizes and require little maintenance to keep them in working condition, allowing them to last for several years without having their quality compromised.
Furthermore, these vintage sockets are incredibly easy to identify because of their straightforward and unique design and functionality. These tools consist of two ends, the square-drive connector, and the head end. The square-drive connector generally has an internal square shape, which is fairly easy to identify. This is the end which is turned by the ratchet or the socket wrench. The head end can be of various shapes, primarily dependent on the size and purpose of the socket.
2. Vintage Crescent Wrenches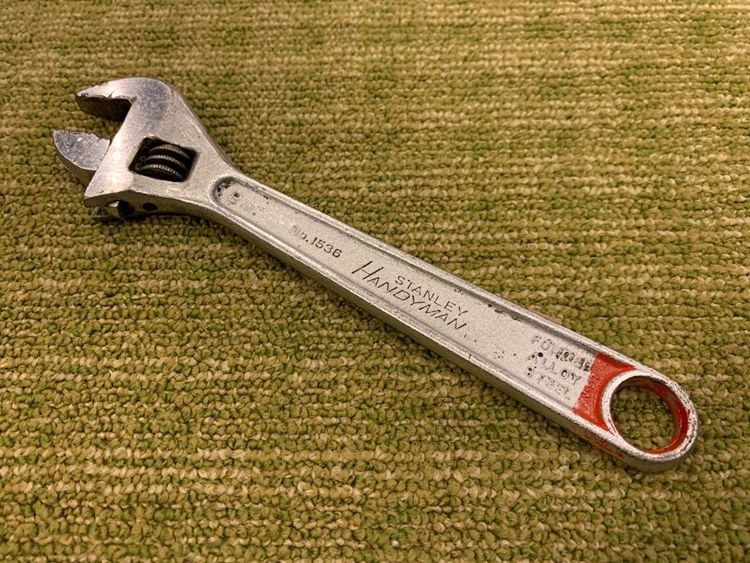 Wrenches are arguably one of the most common farm tools that nearly every farmer or collector must have in their collection. Therefore, it's only fair for you to get a collectible wrench to add to your old farm tools collection. Vintage crescent wrenches are a work of art because of their interesting and appealing design and their wide range of functionalities. These wrenches can conveniently be used to do anything from tightening screws to adjusting certain parts of your vehicle. Crescent wrenches are typically made from steel and are mainly manufactured in China and South Carolina.
These crescent wrenches are fairly easy to identify for most collectors with some sort of experience handling wrenches. It is known to have a relatively flat handle that is believed to be various inches long, as shown in the image above. On the front end of the handle are jaws, one of which is fixed and the other can be adjusted with the help of the worm gear or slide adjuster, depending on the type of crescent wrench that you're using. These wrenches are a name-brand product that dates back to the 20th century. All in all, the unique design and easy availability of crescent wrenches would certainly make them an ideal addition to your old farm tools collection.
3. SK Ratchet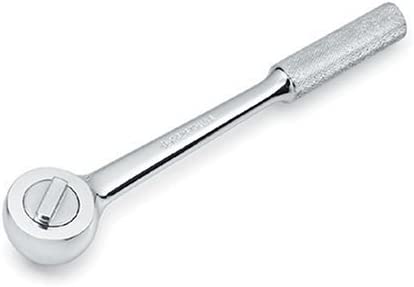 While working on a barn, a farmer is likely to experience various mechanical issues with the farm machinery. For this reason, essential mechanical tools, such as a ratchet, are a must-have for old farm tools collectors. Ratchets are generally used along with sockets for the purpose of loosening and tightening nuts and bolts. Ratchets are generally made from metallic elements, such as stainless steel, brass, steel, cast iron, etc.
Ratchets and sockets are ideal collector items for individuals looking to start their old farm tools collection. Ratchets come in various types and are distinguished based on their uses as well as their shapes. Some common ratchet types include Geared Ratchets, Gearless Ratchets, Jointed Head Ratchets, Flexible Head Ratchets, and more!
4. Vintage Snap-On Pliers
Pliers are a common farm tool that farmers use in their day-to-day lives in the barn. These tools are easy to carry around and can prove to be highly useful under various circumstances. Pliers are a very straightforward hand tool primarily used for cutting and gripping; however, their functionality isn't just limited to these two. Farmers generally carry pliers with them at all times as they assist them in getting out of difficult situations with ease. Most pliers are crafted from steel with various additives, including chromium and vanadium, to enhance their strength and durability.
Pliers consist of two metal levers connected with a fulcrum found near the head of the plier. This produces a shape comprising of handles on one side of the fulcrum and jaws of the pliers on the other. The material used to craft pliers is specially designed to resist corrosion; therefore, allowing the pliers to maintain a good condition for large periods, making them the ideal collection item for old farm tools collectors.
5. Snap-On Wrenches
The snap-on wrenches are one of the most popular wrench sets among old farm tools collectors. These wrenches are not just the ideal collector's item, but can also assist you in various instances and multiple ways. These wrenches are made from real steel, which is the main reason for their unparalleled strength and toughness. These farm tools are designed for rough use without incurring any physical damage over large periods.
Furthermore, their unique shape and design also appeal greatly to old farm tool collectors. These snap-on wrenches would certainly prove to be perfect for your antique farm tools collection.
How To Identify Old Farm Tools?
At times, old farm machinery can be difficult to identify because of its confusing shapes and structures. While most farm tools are pretty obvious and straightforward, some antique tools can seem highly unusual for individuals, especially if you're fairly new to farm tools collection.
You might find yourself in a scenario where you own an antique farm tool and you're unable to identify what it is or what it's worth in the market. However, you don't need to worry about a thing because we've come to your aid!
Farm Tools That You're Already Aware Of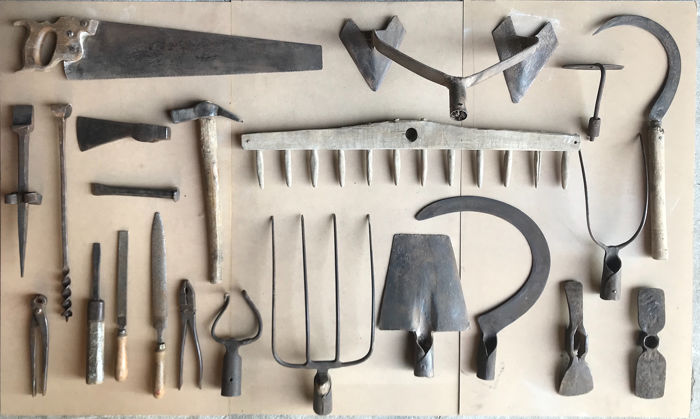 Even though you might be fairly new to the world of farm tools, there are several pretty common groups of tools that you will certainly be able to recognize by simply glancing at them once. These are classified as some of the most common farm tools that don't require extensive explanations.
Wrenches: Antique wrenches differentiate from modern ones in curvature generally placed in the middle. Earlier ones have a rare cutout handle design making them great collectibles.
Hammers: Unlike modern designs which have a claw behind the hammerhead, older pieces generally had a ball-shaped design.
Axes: Antique ones are generally smaller in size and have more rounded handles. The unique design is ideal for catching interest at first glance.
Sheep Shears: Antique metal sheep shears are much heavier and larger in comparison to modern designs.
Hay Hooks: Typically made of metal with wooden handles. Antique hay hooks were mainly made out of wood. These tools are used to carry hay around the barn.
Horseshoe: Antique horseshoes are typically made of cast iron and metal alloys while the modern ones are crafted from aluminum.
Saws: Vintage saws are fairly common farm tools that come in a range of variations. They are generally made of carbon steel.
Unlike these pretty straightforward farm tools, there are certain tools that are likely to baffle a typical antique tool collector. Continue reading to know more about such farm equipment.
More Practical Farm Machinery
As an antique farm tools collector, you are likely to come across various types of farm machinery that farmers used regularly in the past. Some of these tools might even prove to be highly practical for a modern-day farmer. In addition to this, all these tools would be great additions to your antique farm tools collection.
Scythes: Scythes date back to as early as 5000 BC when these were considered to be the primary agricultural hand tools used for common purposes, such as harvesting the crops and mowing the grass. Although scythes aren't as common as they used to be in past centuries, they continue to be highly practical farm equipment, which certainly is worth collecting. These tools typically consist of a large blade made of steel and a curved handle traditionally made of wood, and sometimes metal.
Hoes: Hoes are antique farm tools used primarily to remove weeds from dirt, clean and shape the soil, and harvest root crops. These farm tools have proved to be pretty common in the past centuries as well as in the modern-day world. Although countless variations of the hoe were made over the years, you'd be able to recognize the two standard hoe types; Draw Hoe and Scuffle Hoe. These hoes are generally used to prepare the dirt of soil for seeding.
Breast Plows: The breast plow consisted of a long T-shaped handle attached to a wooden shaft, which was carved into a flat blade. This farm equipment was generally used to clean the lawns. According to modern research, the tool's origin can be traced to somewhere around the 1650s to the 1850s. It is fairly easy to find breast plows in a good condition on a farm tools auction or a regular shopping website, such as eBay.
Sickles: In the history of farm tools, sickles are considered to be the oldest harvesting equipment used on farms of nearly every country. A sickle consists of a curved metal blade that is attached to a handle typically made of wood. If you wish to add a sickle to your farm tools collection, then you'll be glad to know that this tool is still in use by farmers today.
Rakes: Rakes are old farm tools that are generally used for cleaning, leveling, and breaking purposes in farms, barns, and gardens. Collectors may find it a bit difficult to find a vintage rake since they have been replaced with mechanical versions in the modern era. Rakes consist of a long wood handle attached to a head that is filled with prongs.
Pitchforks: This piece of old farm equipment has a history of being used for the purpose of handling hay, manure, and straw. The pitchfork dates back to the 1300s and was initially made all out of wood. Most modern pitchforks consist of a wooden handle connected to two to six fork tines. Pitchforks aren't just practical tools on a farm or barn, but they can also be used as weapons for self-protection.
Corn Knife: The corn knife is a unique knife specifically designed to extract corn by chopping corn stalks. Long before the invention of the corn knife, other ineffective tools were used for this purpose, including scythes, hoes, and sickles; however, the process of extracting corn has been made much more efficient with this farm tool. A corn knife is generally made from a steel blade coupled with a handle made mainly out of wood.
Chaff Cutter: The chaff cutter is a device used for cutting large stacks of hay, oats, chaff, and straw into smaller pieces to feed the livestock. The chaff cutter consists of four legs made of wood and an open wooden trough with a metal cutter at the front. You can find chaff cutters of varying sizes at a farm tool auction, a yard sale, or simply on a shopping website, such as Etsy.
Factors Affecting The Value Of Antique Tools
If you're planning on selling your antique farm tools, then you must learn to recognize the worth or value of your tools. There are certain factors that could help you obtain an accurate idea of how much other collectors would be willing to pay for your vintage farm tools.
Be sure to go through each of the following factors before accessing an online shopping site and placing a price tag on your farm equipment.
Manufacturer: Before selling an old farm tool, you must be aware of the manufacturer that produced the tool that you own. To identify the manufacturer, you need to look for certain markings on the product that hint toward the company that manufactured the product. Tools from certain renowned manufacturers are worth much higher than similar products from other companies with not as much popularity or demand in the market. Therefore, fully understanding your product manufacturer will help you place an appropriate price tag on the product.
Tool Condition: Naturally, the overall condition of the antique tool has a significant say in the value of the product to other collectors. The condition of the tool is directly dependent on how old it is, how often it has been used, and how well you store it. For example, storing metallic farm tools in humid conditions is likely to make them rusty, which compromises their appearance and workability and greatly reduces their worth in the market.
Origins: If you want to get a good deal while planning to sell your old farm tool, then you need to know everything about it, including its origins. For starters, it's essential for you to be aware of when and where the tool was produced. Although you might not be aware of it, the farm equipment that you own might be special solely because of the timeline during which it was manufactured or the country where it originated from. This could greatly impact the overall price of the product.
Appearance: The more appealing your product appears to collectors, the higher its price will go if you decide to sell it. This comprises the amount of detail that the product contains as well as how unique it is displayed in listings.
Where To Buy And Sell Antique Farm Tools?
Last but not least, you must be searching for the right place to buy or sell your vintage farm tools collection. Honestly, there are hundreds of ways for searching for the right tools for your collection, including, a yard sale, an auction, shops and stores, and more! However, considering that you're just beginning your old farm tools collection and you probably don't know much about it, we recommend you to buy or sell your tools online from a reliable shopping site, such as eBay or Etsy.
You are highly recommended to visit both the sites to get an accurate idea of the variety of tools that they contain as well as price ranges for different types of farm tools. For reference, here are some vintage farm tools you should definitely consider buying to start your old farm tools collection.
When looking for the right farm tools to start your collection, you need to understand that the prices may vary depending on the various factors discussed earlier. This is also essential when you're looking to sell your tools online on shopping sites, such as eBay and Etsy.
Resources For Vintage Farm Tools
To further enhance your knowledge about the world of antique farm tools, be sure to go through the price guides and informational books listed below.
Takeaway
You can choose to collect antique farm tools as it's a fun and fulfilling hobby that you'll certainly enjoy. Not only that, but it would also help to enhance your knowledge in the field of farm tools and equipment. You can show your vintage farm tools collection to other collectors and enthusiasts and hence, be a part of the massive old farm tools collecting community. Moreover, you can also pass your interest on to your children in the form of fun, exciting, and informative activities, such as guessing the tool types.
On that note, we would like to conclude the guide. If you have any concerns or queries, be sure to let us know in the comment section below and we'll get right back to you in no time!