Antiques are loved and cherished by many people around the globe! Mostly because of their value and uniqueness, which also makes them good collectibles.
However, there are scams in the market that can easily rob you if you do not have a keen eye for details.
A lot of times, furniture, such as dressers are 'masked' to look old and valuable, even though they have been recently manufactured!
In this guide, we will be giving you a few quick tips on how to identify antique dressers and some inspirational ideas that will make the selection process easier for you!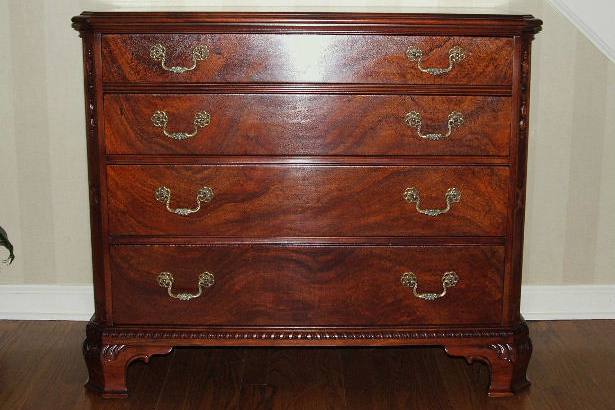 Antique Dresser Styles And How To Identify Them
This is a generic classification of some popular antique dresser styles that we came across.
They date back to different eras and each of them holds significant value.
1. Queen Anne Dressing Table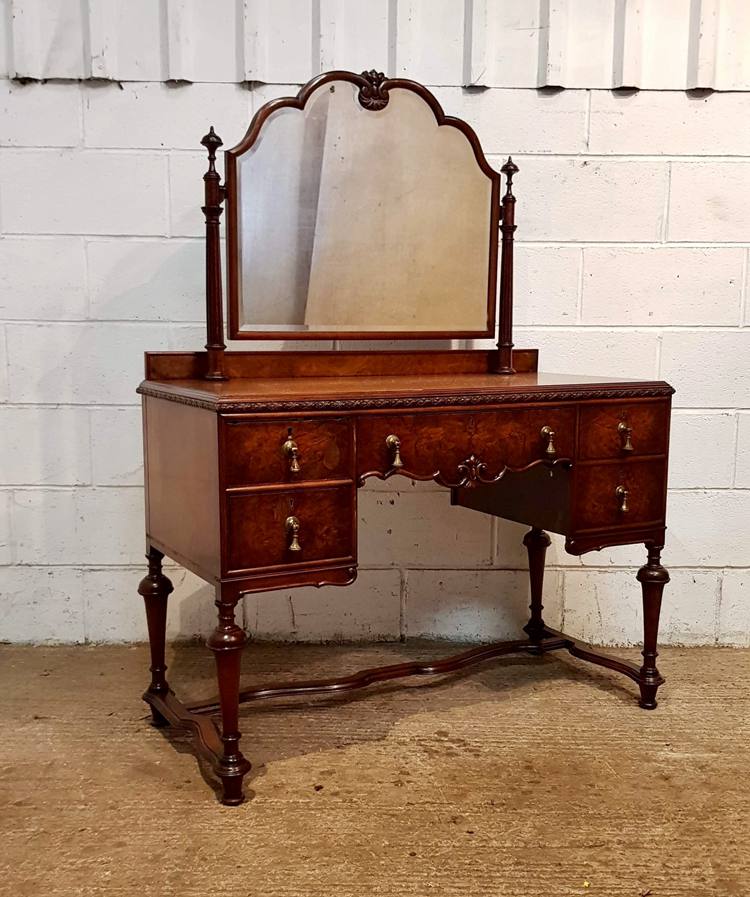 This one has a lot of variation but a tell-tale diagnostic for this one would be the serpentine fashioned mirror that is mostly attached to the dressing table.
A tri-fold mirror is a common variant of the Queen Anne dresser.
It contains a total of 5 drawers, two on each side with one in the middle.
The handles are finished in brass whereas the overall architecture consists of pure mahogany.
The most variable organ of this dresser would be the legs, which can either be curved, bulged, or straight.
The Queen Anne Dresser dates back to the 1920s.
2. Rococo Antique Dresser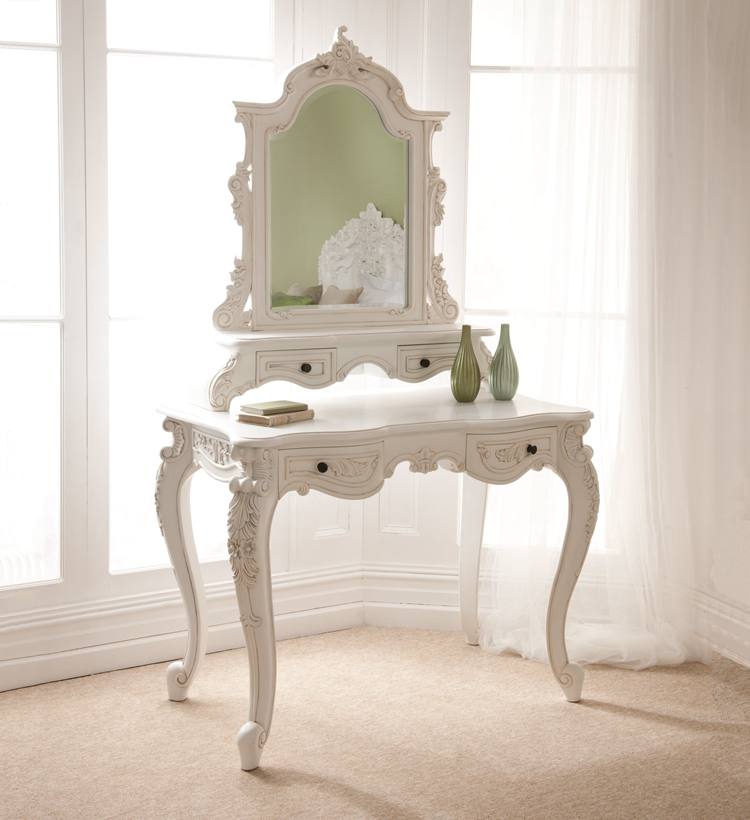 This dressing table comes in many different finishes; such as gold, silver, painted, and solid mahogany wood.
This dresser is also sometimes referred to as the 'late baroque rococo dresser'.
It is characterized by its long legs, whose upper third dives into a deep curve.
This dresser derives its roots from authentic french architecture and has an elegant and royal finish.
Its mirror can come in many shapes and sizes.
The Rococo antique dresser dates back to the 18th century.
3.  Victorian Dressing Table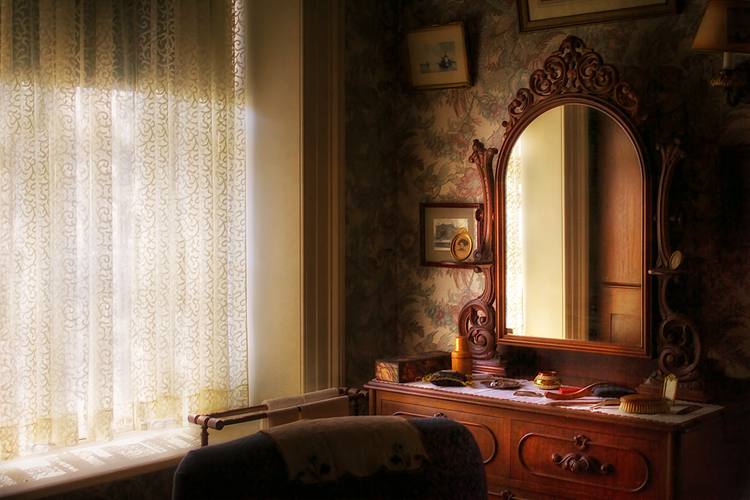 Victorian architecture is one of the most easily identifiable architectural works in the market!
However, due to much variation, it becomes difficult for individuals to distinguish them from other architectural varieties.
Generically, it takes inspiration from gothic and dark values that easily reflect upon the build of the furniture.
They come in all sorts of shapes and sizes and hence can not be labeled accurately.
The Victorian era commenced in 1837 and ended in 1901; this short era also makes would also make it harder for you to buy authentic antique victorian furniture!
4. Annaelle/Antique French Dressing Table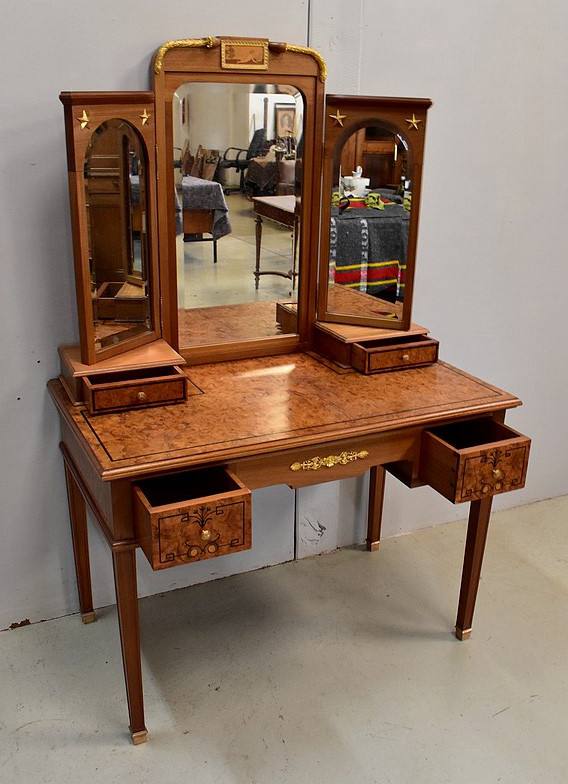 Another dressing table that derives its design from french architecture.
These dressers mostly date back to the 19th century and are mastered with extreme precision and delicacy.
Most of them are finished in soft tones of white or creamy beige, although color variations are common.
Their legs are curved or bulging, and their mirrors are either oval or serpentine shaped.
Due to a large plethora of variations, this dresser is often generically classified and thus hard to identify according to era.
5. Edwardian Style Dresser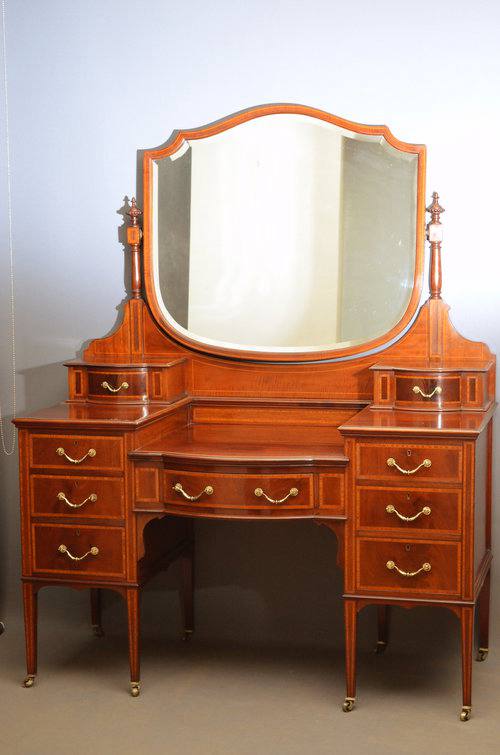 This dresser is equipped with a beveled mirror and takes support from luscious mahogany woodwork.
Even though variations exist, this dresser comprises a total of 5-6 drawers; each divided on either side with one or two set in the middle.
The Edwardian style dresser belongs to the Edwardian or Victorian era; hence the name!
6. French Wood Provincial Chest/Dresser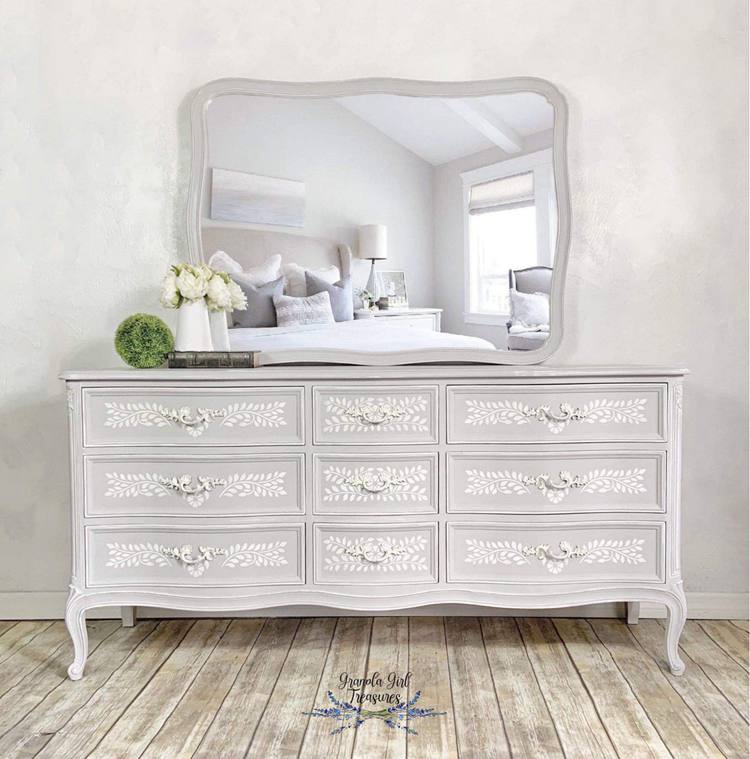 This elegant dresser has been considered one of the most royal pieces of furniture.
It is typically characterized by its curved or hoofed legs and slightly bent top surface.
This antique dresser is also embellished with delicate scroll carving that is sealed in a light walnut wood finish.
Most of them also have a dip at the bottom surface and the number of drawers is variable.
What Is The Timeline For Different Eras Of Antique Furniture?
If you have decided to purchase a genuine piece of antique, may it be a dresser or a chair, make sure to gear up on some knowledge.
Such as that of different eras and what architecture looked like back then.
Not only will it help you ask some challenging questions from the seller (to check if he's scamming you or not), it'll also broaden your aspect for assessing the aging of an antique piece.
Note: this is just one of the many timelines that we are elaborating on in this article.
1. Medieval Era
Starting from the year 1300 and ending at 1500.
This is as far as it can go when it comes to buying antiques since furniture from this era is the oldest.
This adds to its value.
However, furniture this old is often reserved for museums or amusement centers because these antiques require preservation and extreme caution.
2. Renaissance Era
Renaissance translates to 'rebirth' and hence this period was characterized by new ideas and designs.
This era lasted for 110 years; from 1500-1610.
3. Louis XIII, XV, XVI Era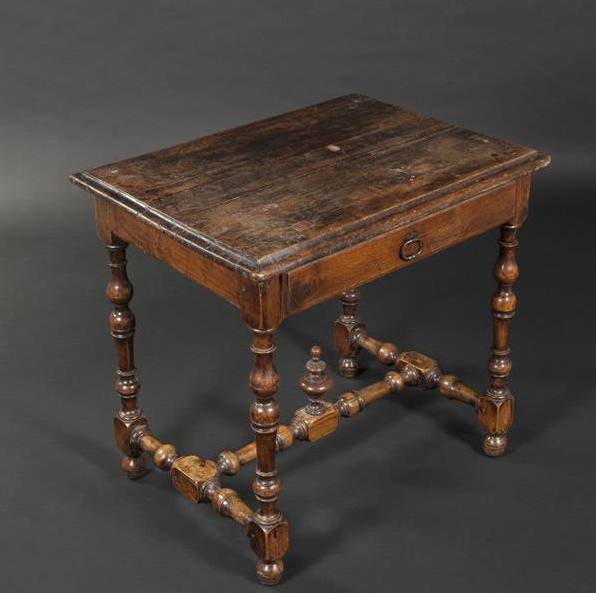 From 1589-1661, the Louis XIII era almost coexisted with that of the renaissance era.
Named after the king of France, this era featured a multitude of new furniture designs that mostly took inspiration from geometric shapes.
The furniture was mostly bulky and huge, with a touch of austereness!
Veneers were in fashion during this time.
The Louis XV era lasted from 1730-1760 whereas that of Louis XVI started in 1760 and ended in 1789.
4. Regence Era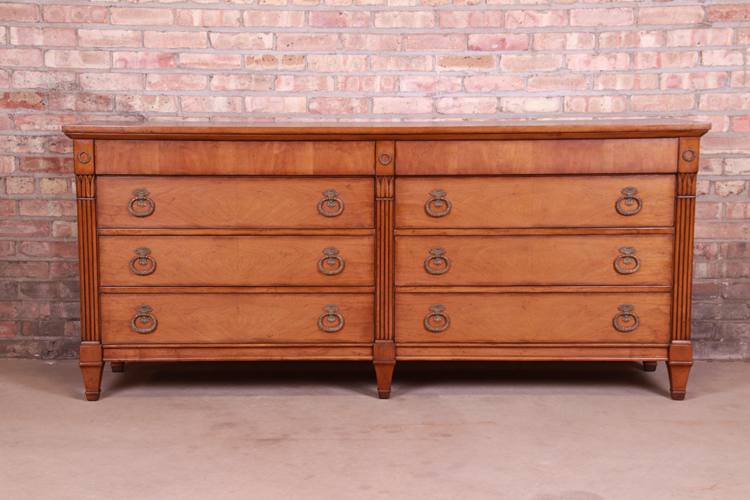 From 1700-1730, furniture was composed of solid dark wood with heavy brass work and metal mounts.
X-shaped furniture legs started trending during this era, but column or concave shapes could also be commonly found.
5.  Directoire Era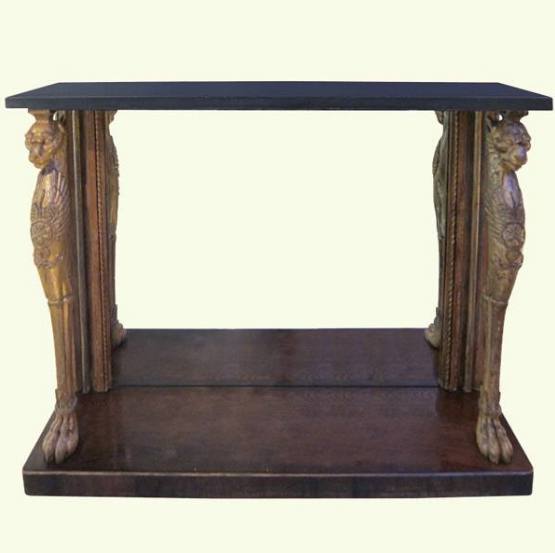 Started in 1789 and ended in 1804.
The furniture in this era leaned more towards elegance and delicacy.
Without giving up on the empire-style royal furniture in the past, this era gave us antiques that possess the qualities of quality and gracefulness.
6.  Empire Era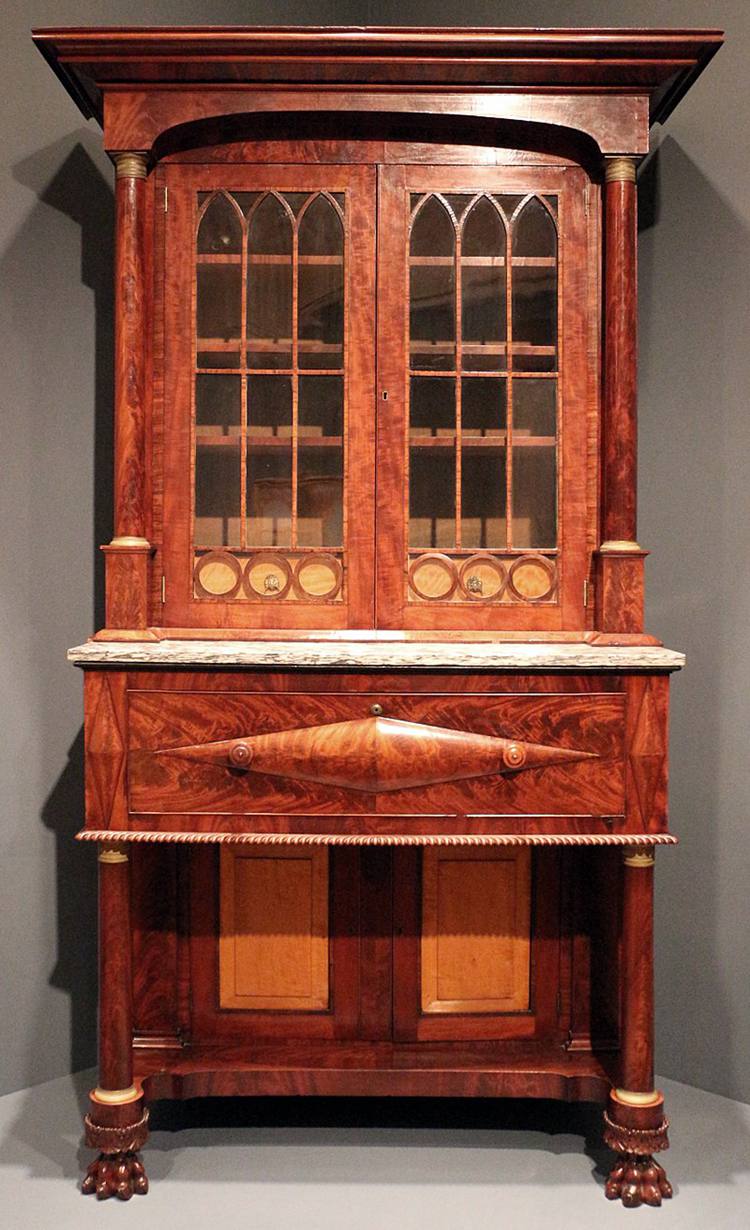 This era is more of a decade that lasted only from 1804-1815.
Many new trends such as twisted rope carvings, animal paw-feet, florals, and leaves were found to be incorporated into the furniture designs.
7. Restoration Era
Started in 1815 and lived to see another 15 years.
Furniture in this time was dominated by Walnut Veneer and lush upholstery linens.
The infamous 'wing chair' made its debit during this time frame.
This era also gave us the very first bookcase!
8. Louise Philippe Era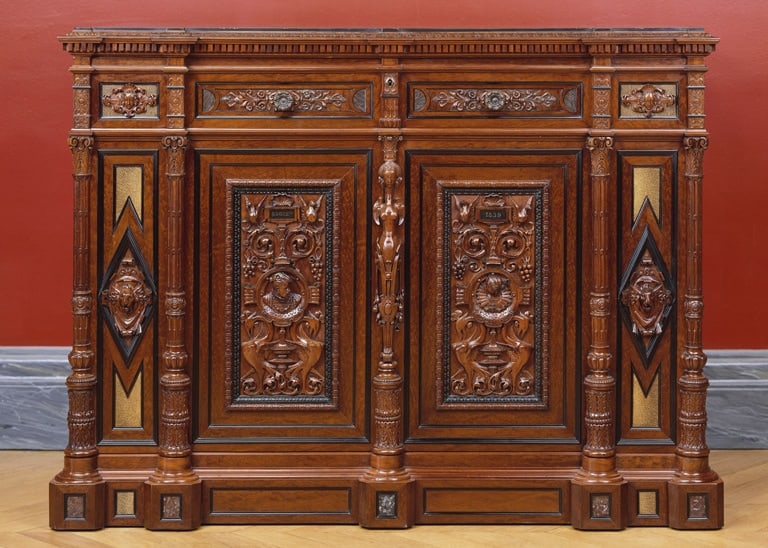 From 1830-1848, this era gave us a variety of smaller-sized tables along with writing desks.
9. Second Empire Era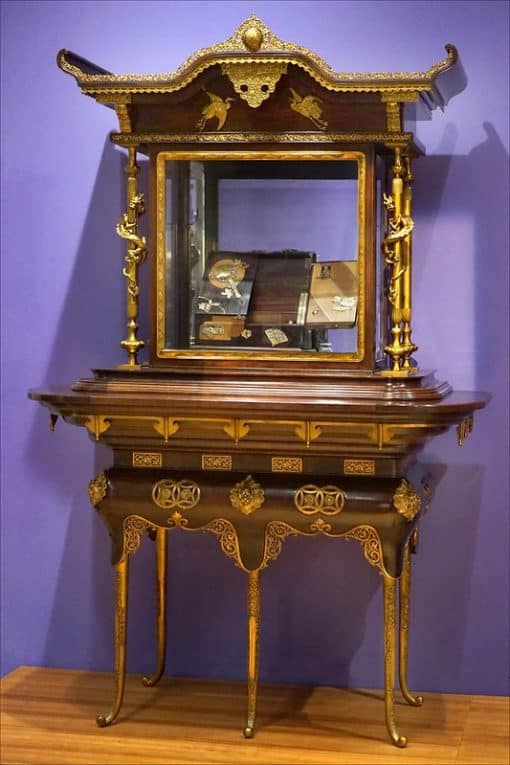 Also known as the Napoleon III style furniture.
This is when the idea of making comfort a priority in furniture came into being.
Tassels, dangly fringes, and extravagant upholstery became the hallmarks of the furniture industry during this time.
This era lasted from 1848-1870.
From 1889-1925, this era managed to live up to its title.
The furniture designs exhibited a medley between nature and delicate woodworks.
11. Art Deco Era
Furniture became completely revolutionized during this time between 1925-1935.
Bright and bold color contrasts with delicate inlays of wood became the new trend.
Angular geometry was appreciated throughout this time, thus the furniture exhibited symmetrical patterns with smooth sweeping curves.
To date, this furniture has proven to be the inspiration for many furniture industries.
How To Identify An Antique Dresser?
Now that you have acquired a fair knowledge of the eras, let's grab a few easy tips and tricks to distinguish an authentic piece of antique furniture from a fake one!
1. Thorough Examination
Keep a keen eye out for any marks or labels and speculate the article from every inch and corner.
Usually, factory-made items have a watermark on them.
2. Identify The Saw Marks
This trick can help you date the era of the antique dresser approximately, if not accurately.
Semi-circular saws were in use after the 1880s whereas straight saws came into use somewhere before 1910.
Thus, a semi-circular or straight saw mark can help you assess the antiqueness of the dresser.
3. Dovetails
These were used to join different parts of the furniture together and are mostly found in drawers.
Uneven dovetails that have a rough finish often date back to the time of the Civil War from 1861-1865.
4. Handmade Or Rough Finish
Handmade furniture with common errors in finishing is indicative of the time of the Civil War.
5. Use Alcohol To Wipe The Surface
Furniture can easily be made to look old.
Use alcohol to wipe off any suspicious marks or roughness.
A single wipe will probably not be enough!
However, if the alcohol dissolves a certain 'shellac' polish, then it might be indicative of furniture that dates back to the 1860s.
6. Ask Questions
Even though most sellers or auctioneers are experts at doing what they do, a buyer with a handsome amount of knowledge can leave them confused and frazzled.
Ask them everything that comes to your mind regarding the specifications of the antique dresser and judge the answers offered.
Human instinct is a strong sense and it might just help you dodge a deceiver!
7. Have The Documentation Scanned By A Third Person
If your antique dresser comes with documentation, have it scanned by experts who are qualified enough to point out the suspicions.
Words Of Wisdom
We hope this article helped you gain an insight into the complications of buying antique pieces of furniture!
It is best to broaden your scope and knowledge by digging deep into research and thoroughly scan through the documentation before purchasing antique dressers.
And remember, thorough investigation and scanning of the antique piece is the key to a good purchase!