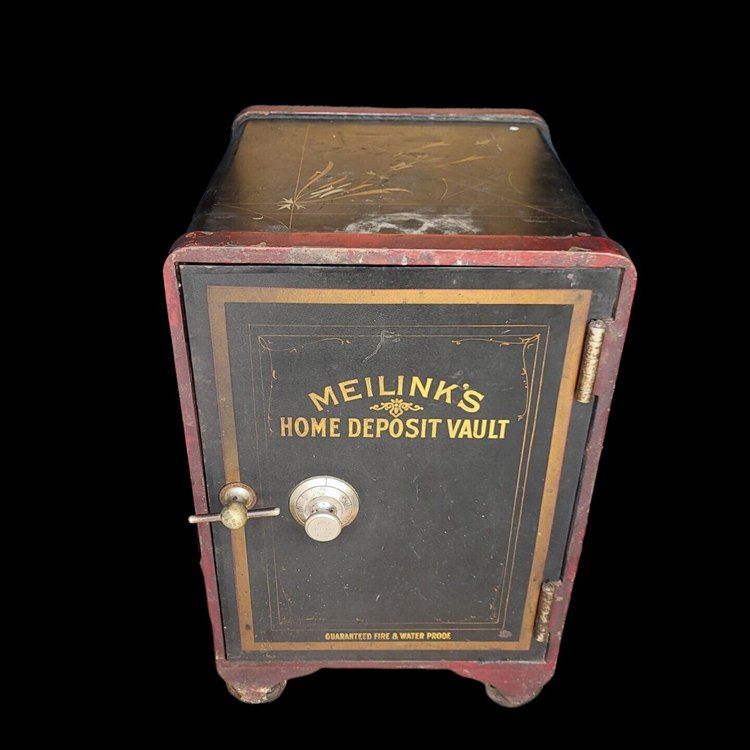 Antique Diebold safes or vaults are old-school safes used to keep valuables and money in the past. These vaults are a figure of what we now know as banks or new age vaults. The safes fueled the development of modern-day vaults or safes used in banks and for personal use. They are known for their functionality and excellent structure.
There are different brands of antique safes, but this particular safe is widely known because of its resistance to fire and burglars. There are different types, shapes, and models of antique Diebold safes. Like all other Diebold safes, Cannonball safes have beautiful interiors and exteriors. These safes are decorated with hand jewelling, pinstriping, and gold flicked paint. Most of the parts and mechanisms of the safes are lavishly engraved.
The last sets of these safes had magnificent paintings on their doors, while those made earlier were painted with delicate flowers. There are some structural and physical features to note to know the model and your safe. You can also figure out the date your safe was manufactured by recognizing something we will discuss extensively in this article.
History of Diebold Safe
Diebold safe was firstly produced in 1859 by Charles Diebold, chairman of Diebold Bahmann Company of Cincinnati, Ohio. Twelve years later, the company became very popular because there was a report that all the 878 Diebold safes involved in the great Chicago fire were unaffected by the fire, and their contents were intact. Since then, sales have boomed for the company because everybody wanted a good safe to keep their valuables safe.
Diebold antique vaults are fireproof, and bank robber and burglar resistant, making them the best lockers in the 90s. The fireproof material used in making these vaults was changing as the manufacturer realized better options. The first fireproof material used was plastic of Paris or mortar. After that, they started using fillings of frankellite(the hardest mineral ore known), a combination of alum, alkali, and clay. The fillings were later reinforced with soft steel rods horizontally and vertically around the vault.
The external walls were made with heavy boilerplate wrought iron, while the inner walls were made with hardened steel. All these components make Diebold safes fire resistant making them the best vaults back then. Wells Fargo of San Francisco chose Diebold's company in 1874 to build the most giant vault in the world. The company completed the project in a year and delivered a huge vault 32 feet long, 12 feet high, and 27 feet wide. The First national bank of Chicago purchased the first most enormous double-door vault in 1968.
It had a combined weight of 871/2 tons. In 1980 the company introduced doors made with manganese steel billed as TNT-proof. As time went on, combination locks replaced keys that you could duplicate. They also introduced safety hinges and locks that lock close up automatically after working hours.in 1954 the company improved things by using visually pleasing doors. In the process of making this change, they inquired from the bankers they worked with to suggest something they should improve on, and they came up with a plain slab of steel, especially on the inside of the door. In 1930, Diebold limited began to diversify.
As they thrived in making secure vaults, the markets for safes and vaults have not always been dependable.in 1936, the company acquired united metal products co, also of the canto, a manufacturer of hollow metal doors and door frames. Diebold entered the office equipment business in 1938 by introducing the career rotary file system. After this, they acquired the visual record equipment in 1944. Their expansion continued in 1950 post-war, and they moved to suburban areas due to the demands for new bank branches. Their order for safes and complete complimented office equipment increased their income by 200%.
A decade after they diversified into making locks, the company made seven major moves towards expansion. In the twentieth century, Diebold remained the best in the industry in bank vaults and safes. It's safe, and locks went from key locks to combination locks to automatic time locks. In 1959, Diebold purchased the herring-hall-Marvin safe company. This company specializes in counter tools for bank tellers. This created another line of products for Diebold incorporated.
The late 1950s and '60s saw an explosion in the use of checks per person, prompting Diebold to step into the check imprinting business.in 1963, they acquired consolidated business systems.Inc and its subsidiary young and Seldon. This company was a maker of business forms and magnetic inks for imprinting checks. Although they later sold off the company at a loss, they profitably ventured into the check business by purchasing thrifiticheck service cooperation later that year. In 2000, Debold was a leader in producing automated teller machines and voting machines.
How Old is My Diebold Safe?
It has been almost impossible to get the correct age of an antique Diebold safe. Some of these boxes don't have dates; some are patented, so they have serial numbers. Because of this, there is no laid out procedure you can take to know the date the antique safe was produced.
You can visit a local antique shop or a locksmith that has been on the job for a while to help you out. These two have a lot of experience and information about the safe by looking at it and observing the features. They'll be able to trace the date it was produced.
Asides from the first set of antique Diebold safes, most of the safes have embossed maker's marks which you can find anywhere on the safe. But it is usually inside on the inner side of the door or at the back of the safe.
The patent mark is an embossment containing the company's name that changed over decades. The name of the company changed over some decades. S9 this change of name helps to estimate the age of your antique Diebold safe roughly:
Diebold Bahmann safe company from 1871 to 18 76.
Diebold safe and lock company -From 1876 to 1943
Diebold incorporated – from 1943 to 2015
Some of these antique Diebold safes are patented. The patent is placed on the safe lock and carries a patent number you can use to date the safe by inputting the number online. When you search online with the patent number, you see when it was patented, which can approximately serve as the production date.
If your antique Diebold safe doesn't have a patent with the company's name or patent number, you should see a locksmith or visit an antique store near you. And if it comes with a patent containing the company's name or patent number, it is easier to date your antique Diebold safe.
Diebold Incorporated Diebold Safe Models
Diebold's most well-known products are industrial safes and bank vault doors. Some of them were even custom-made to meet the bank's specifications. They had, however, broken into the general consumer market and produced smaller safes for personal use. There are far too many models to list, but some of the most popular antique Diebold safe model lines include:
Diebold CashGuard Chests.
The safe models in the Diebold cash guard chests consist of safes for regular people and small businesses. These safes are pretty small and compact, convenient for the category that either was made for. The size is way lesser than those big ones made for banks and large possessions, but it is still burglar and fire resistant.
The safes in this series were designed with the best materials then. A few suitable quality materials are high tensile security steel for greater strength and protection from burglars. Asides from the great resistance that the steel gives the safe, it also ensures lower freight and handling costs and reduced floor loads.
The safes in this category had an olive green exterior, black crinkle doors, and a white interior. The walls are 1 inch thick, while the doors are 1.5 inches.
The type of steel used to make this series is SAE 103teel. The locking mechanisms had 1/4inch thick drill-resistant steel plates that were three inches thick at the edges to serve as additional security. Here's a list of some of the most popular models in this series:
Diebold Cashguard Chests no. 1161, no. 1162 and no. 1165
These models were small safes made solely to reduce burglary insurance rates compared to other ordinary containers that require a high insurance rate because they can be robbed or You can lose the contents to fire accidents. In most cases, these reduced burglary insurance rates are enough to pay for themselves in one to three years.
The three models, No's. 1161, 1162, and 1165 have the same design and internal structure. They only differ in size ranging from the
The external height and width of 10 ½ inches to 11 ¾ inches. Despite their small size they were designed to be installed in concrete blocks, walls, and floors.
Diebold Cashguard chests no. 1180 and no. 1181
These two models are the most popular in the cash guard chest line. These have a distinctive property that distinguishes them from other models in the series. They have a special compartment that was advertised for daily receipts. You can access the special compartment from the top of the safe. Diebold recommended these models for grocery stores, box offices, and theaters.
Each cashier could safely and quickly store daily profits in that special compartment. Aside from the special compartment, it has another compartment for storing cash in the night after sales. The two models mentioned here look the same but differ in size. No.1180 has an external height of 19 inches, and no. 1181 has an exterior height of 25 inches.
The Commander Line
This series of Diebold safes models contained safes that were designed to paper record files from a fire. They were built to have the ability to resist heat from the fire to prevent the paper records from burning in the fire. As said earlier, Diebold safes are fire-resistant, but these models can withstand extreme heat. The models in these series are more significant than the cash guard chests. A few examples of the models in this series are:
Diebold Commander Safe no.42
This was the most popular Diebold safe model for storing company records. Externally, it is 25 inches wide, 26 inches deep, and 46 inches tall. Inside the safe, the dimensions are 34 inches tall,19 inches deep, and 18 inches deep. This model has four vertical compartments, unlike the cash guard chests with two vertical compartments. The lowest compartment turns out to be the tallest compartment of the four.
Diebold Commander safe no.44
This was another popular model. It is much taller than model no. 42 has an eternal height of 62 inches and an internal height of 50 inches but has the same width and depth as model no.42. This model has nine compartments, and each component varies in size and shape; some are vertical while others run horizontally.
Other series of Diebold safes include the commercial and electric rock safe lines.
Diebold Safe Serial Number Lookup
It is essential to know where the serial number of a safe is located because it is necessary. The information is vital for insurance purposes and repairs to the safe. You need your serial number just in case you lock yourself out of your safe and need a technician to help you access the contents. The serial number is between six to eight figures.
There's no stereotyped place to find a serial number in a Diebold safe because the location of the serial number varies for each model or series of the safe. Some models have their serial numbers stamped on the upper hinge of the door handle. Some of the models produced in 1980 have their serial numbers at the top of the dial rings or the top center in the inner compartment of the safe.
Some other safes have their serial number on a splint key found inside the safe. If you can't find the serial number on these antique safes, you can visit an antique shop with a vast amount of information to help you locate the serial number.
Diebold Safes Value
You can identify the model of an antique Diebold safe by the value and worth of the safe. The prices of each of them vary in price drastically. The price range between $100- hundreds of thousand dollars. It is tough to list the value of antique Diebold safe because several models have been produced.
Although the value for each antique Diebold safe differs, some distinguishing features determine the value of an antique Diebold safe. These features are as follows:
Size and model
Age
functionality
Condition
Size and Model
This feature is direct. Some Diebold models are more valued than others because of their properties, function, or size. From the models explained earlier, some antique safes are enormous and used in the bank. Safes like these naturally would cost more than the small safes intended for consumers because of the oversized dimensions, properties, and compartments.
Safes that belong to the commander series would also cost a lot because of their functions. The safes in this series are fire resistant, so they have many strong materials used to make them fire resistant. The larger the size, the higher the value, and the greater the function, the higher the worth.
Age
Antique Diebold safes are antiques, so there is a high worth placed on them. The older an item, the higher its value of the item. The older an item gets, the more valuable it becomes. Diebold safes are dated as far back as 1890, and generally, they are helpful because they are old.
This now varies on the date or production. For example, the first sets of Diebold safes that were produced would have a very high value and be more expensive than the ones made in the 90s. So here the age of the antique safe determines the cost and worth of the safe.
Functionality
Just like the Diebold cash guard chests are known for being burglar resistant and commonly used by general consumers and small businesses, other models of antique safes have their peculiar functions. As a result, some models of these antique safes are more expensive than others with lesser functions.
Safes used in banks and box offices are way more expensive than those used by consumers because their functions are pretty different, and one has more roles than the order. Most people who collect this antique safe don't just collect it for display. They collect them to use them to protect their valuables even in this present time.
Condition
Generally, the state or condition of an antique is an excellent determinant of its value. It works because the better the item's condition, the more valuable it will be, and vice versa. So a highly valued antique Diebold safe like those in the commander series would be priced down if it has noticeable damage, dent, or looks rough.
And a relatively affordable antique Diebold series with a neat body and no damage would have a higher value because it is in good condition. Let's see a couple of antique Diebold safe listings to see their deals and how their needs affected their value:
Diebold bank vault door from before 1943- $25,000
This safe is 82 inches tall, and it weighs 9400 pounds. It is a bank vault door used by a former bank. It features a tempered glass cover and artistic adornments and is in perfect condition. On the glass door is an inscription of Diebold safe and lock co. Canton OH. This inscription shows that the safe was made on or before 1943. Because of the vault's significant function and excellent condition, it was sold on eBay for $25000 on May 10, 2022.
Diebold Safe & Lock Co. Safe from 1887
Price: $700
This listing shows one of n the oldest Diebold safes produced back in the years. Following the antique rule, it should be worth several thousand dollars but only worth $700 because it doesn't look good.
The picture shows that it has dents, the paint on it has started peeling, and it looks like it is in a horrible condition. So judging by its age and model, it would be highly-priced, but because of how it looks, the price was reduced to $700.
Conclusion
Antique Diebold safes are highly recommended as one of the best choices of safes in the world. It is an excellent safe for keeping all your valuables and cash even in this century if you don't want to use the bank. So as an antique store. For collectors or any random person needing a safe, the Diebold safe should be on your list of collectibles because of its excellent function and value. Diebold incorporated is still in business because of the great deal they have been giving since the company's inception, which is an excellent reason to trust the authenticity of their products.
Wondering where to get an antique Diebold safe? You can get them on eBay, in antique stores, on a collector's house or website, and through an auction. Also, ensure that you ci sider all the features that determine the value of an antique Diebold safe before buying it so that you won't buy for more than the actual value.