Almost every home at least possesses one desk to serve its distinctive purposes. And the tradition keeps going for centuries with minimal changes. However, the versatility of customer demands evolved the desk styles for generations.
It's entirely possible to encourage your passion for antiques with a particular desk purchase. But you may face extreme difficulty in finding a validated or authentic antique. You must pay attention to the essential points for successful purchases.
Credit – Elisabeth James Antiques
Common Antique Desk Styles
As mentioned, you'll likely find many different styles from different periods. It's essential to know the popular styles to narrow down the options.
1. Bureau Mazarin
It's an early desk from the 1660s to feature luxurious designs. The sides integrate two or three tiers of storage drawers. And it supports the central drawer of noticeably small size. About eight or even four legs are present with an X/H stretcher connection.
2. Bureau à Gradin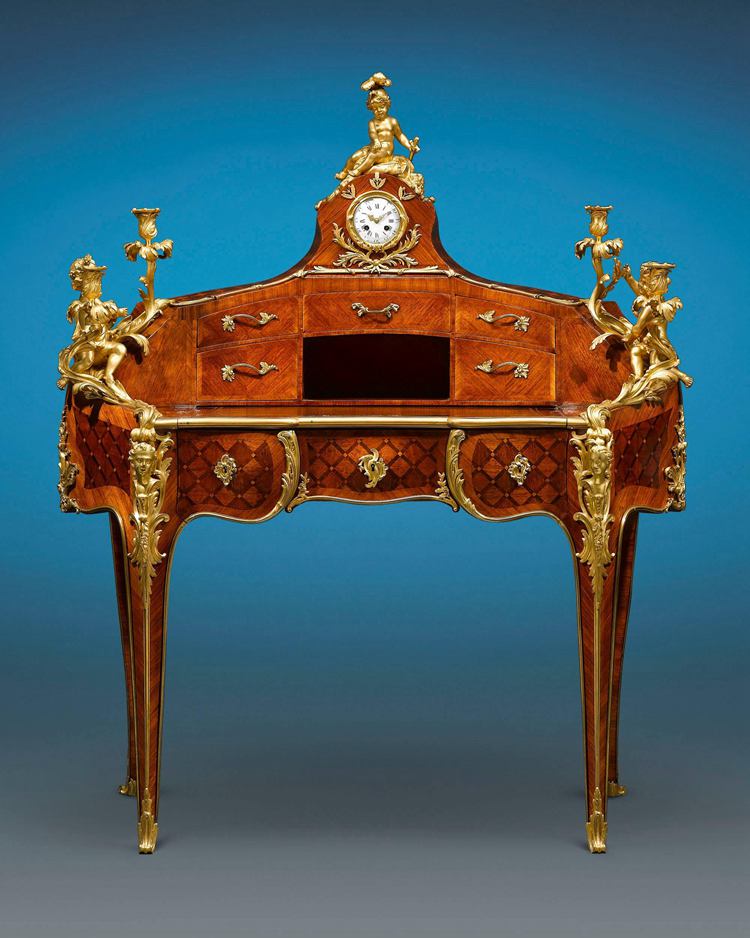 The early version of the writing table includes many drawers across the structure. Additional small-scale compartments can simply wrap around the sides of its flat surface. Four legs on the corners with slightly decorative bends hold the entire design.
3. Butler's Desk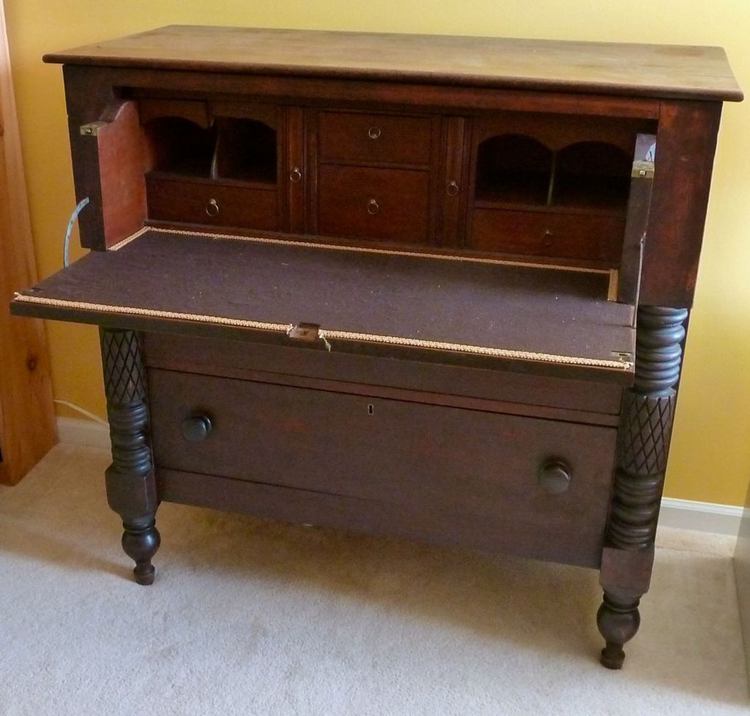 It's more like a flexible chest to integrate a drop-front opening facility. However, the square-shaped desk holds substantial support within its reasonable compactness. Its interior part contains several small drawers, letter slots, cubbyholes & central doors.
4. Cheveret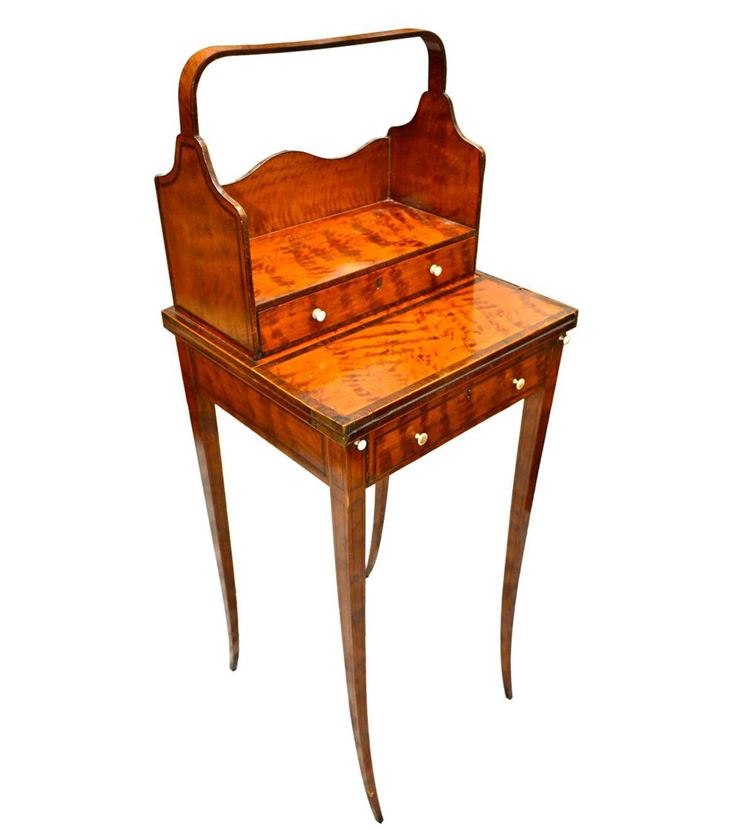 Exclusive simplicity gets the 'Ladies Writing Desk' tag for the structure. The design often holds a multi-drawer setback or bookcase on the top surface. The smaller pieces even feature a handle. Supporting legs maintain either a straight, tapering, or saber pattern.
5. Davenport (Ship Captain)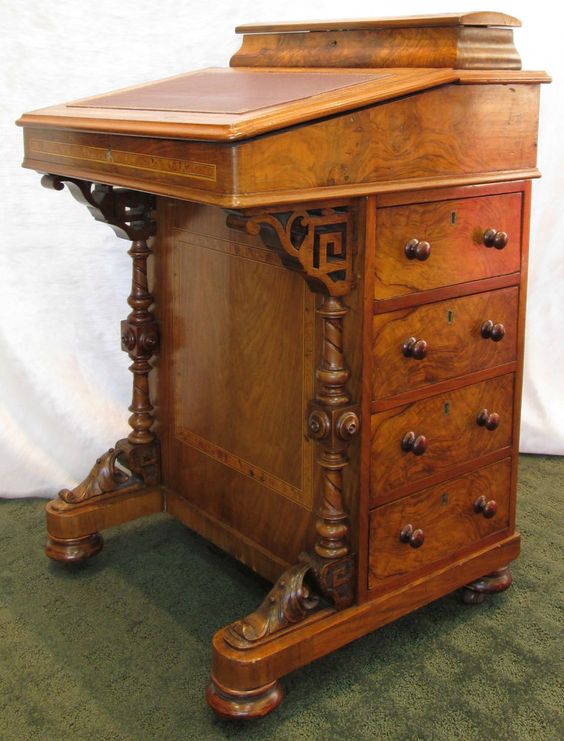 The small-case desk features a slanted design with/without a pull-out top. It dates back to the 1790s to become popular in the 19th An explicit drawer row remains available on one side. Experts suggest its design to serve naval or military campaigns.
6. Escritoire (Secretary)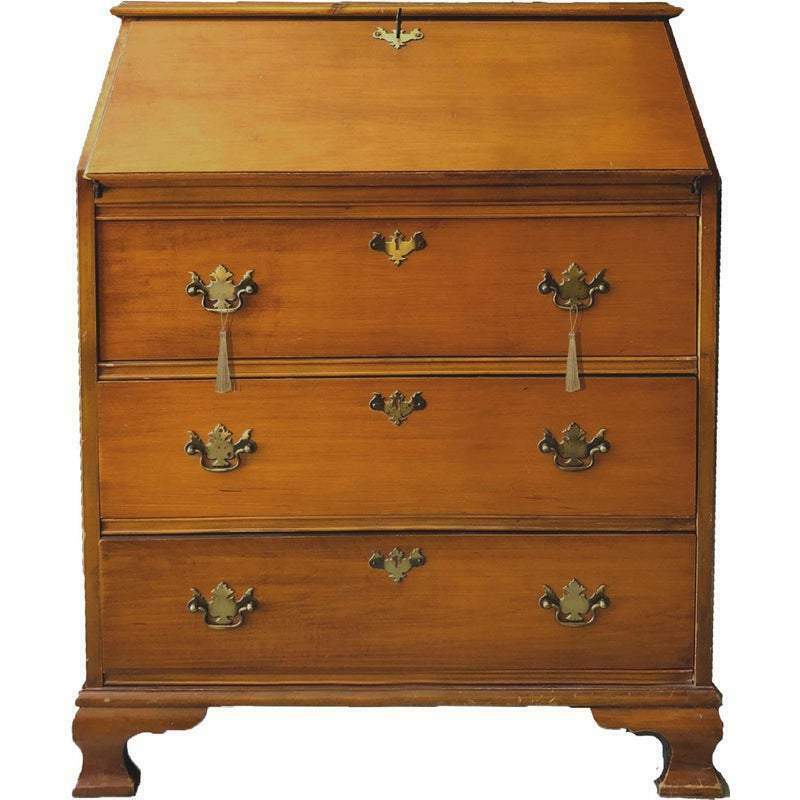 French Escritoire often refers to antique secretary desk. Its case-furniture appeal combines a low desk with a slant top. Opening facility checks a sliding lid to access the surface. Spain primarily developed its structural design in the early 18th
7. Fall Front
Again, Spain managed to design the drop-front mechanism in the 16th However, it surpasses many antiques in terms of popularity. The intended style remains well-known for incorporating many different styles or changes for eventual modification.
8. Kneehole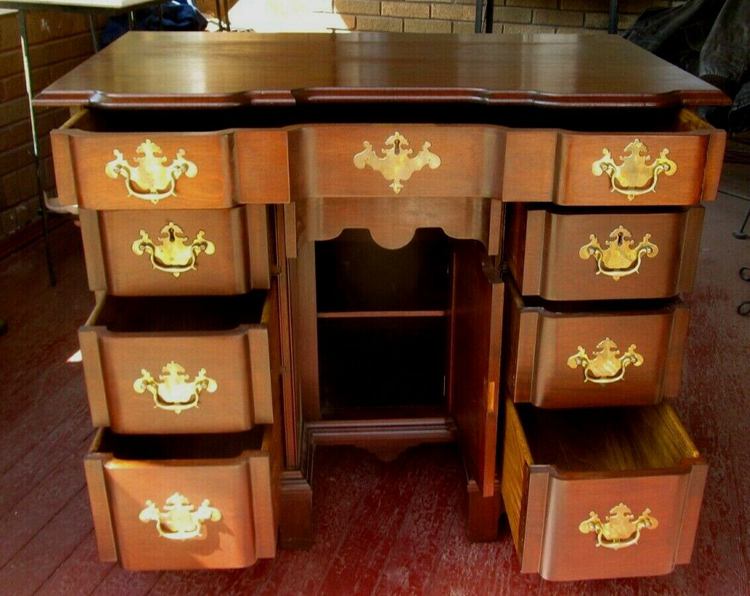 It's an English design to feature a flat-top desk surface in the early 1700s. There are two separated drawer banks to hold the top. And the middle remains empty to accommodate the user's legs. The particular consideration often goes with its colonial reproductions.
9. Lap
Desks without any legs or supports make the design pretty simple. It becomes usable on the user's lap on different occasions. The slanted writing surface integrates an additional storage facility. Many prefer the design for long-term travel or minimal space availability.
10.Antique Library Table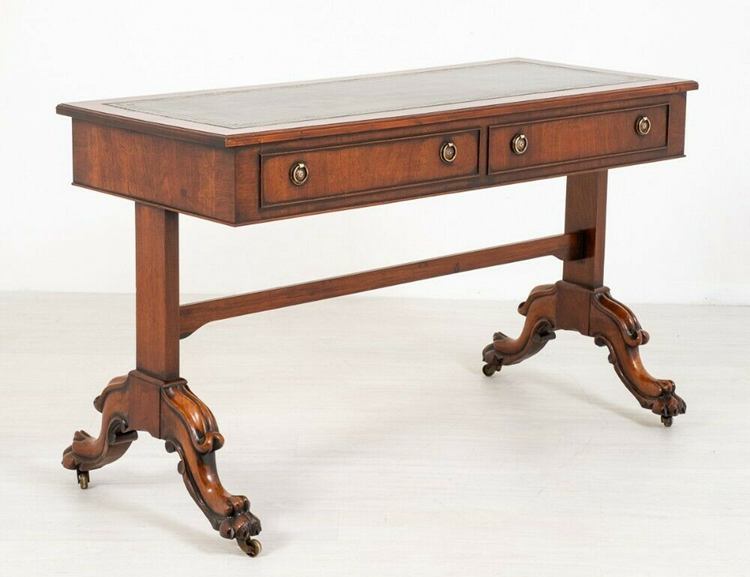 It's not exactly a household desk in strictly technical terms. But the eventual purpose remains the same. The sturdy pieces should feature a dependable oak construction for longevity. Pedestal corner legs hold the writing surface at a standard desk height.
11. Partner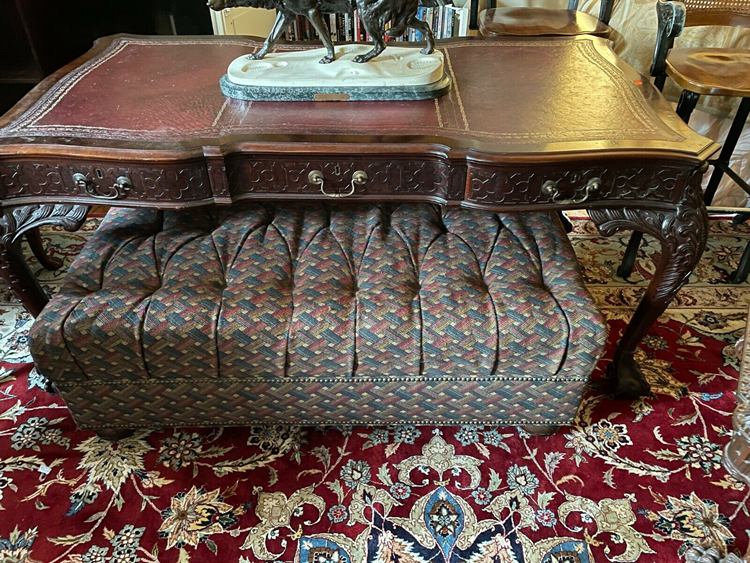 Another English innovation to allow two people to work together for convenience. The heavy mahogany or oak construction is one definite office furniture with convertible sides. It remains popular among bankers from the late 1800s up to the early 1900s.
12. Pedestal Writing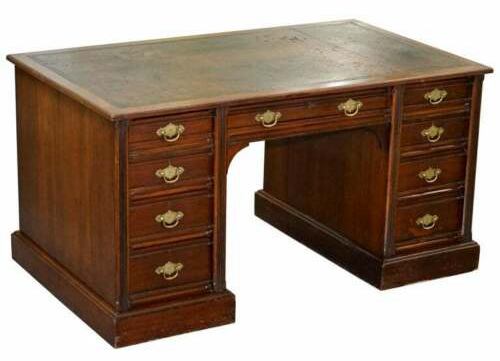 The flat-top surface gets necessary support from drawers instead of legs. In general, two separated columns of drawers cover the entire side without a gap. And the empty space right on the central section lets the user keep his/her legs comfortably.
13. Antique Roll-Top Desk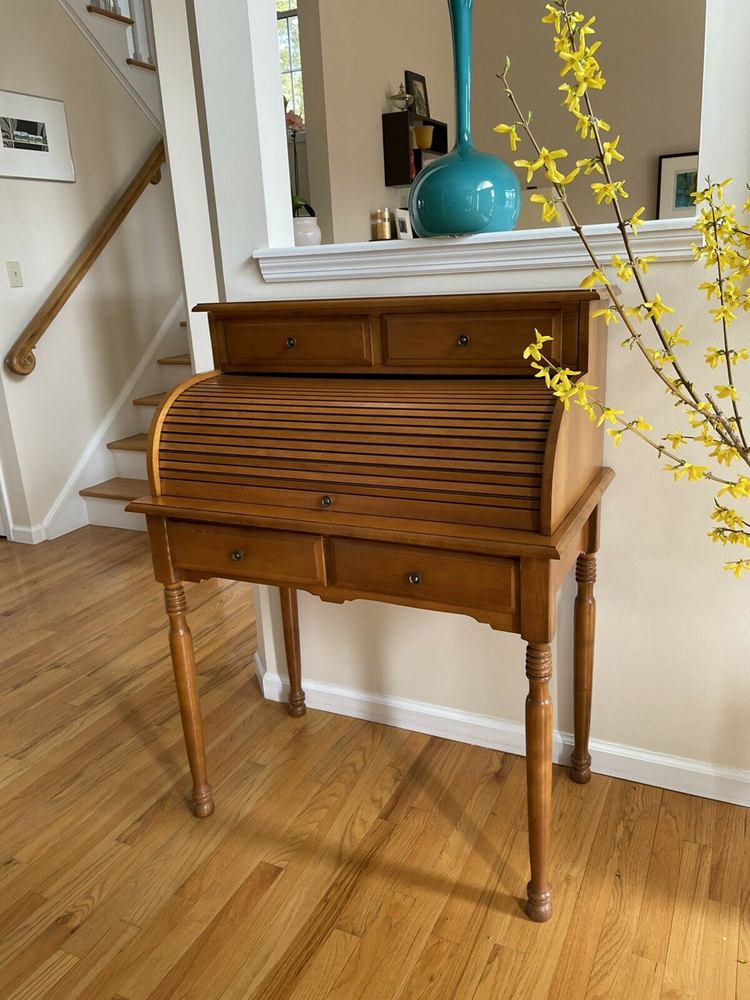 One simple yet highly popular style concerns roll-up front desks. Its slated top can easily roll up into the desk's back segment. Particular coverage of the top surface makes the design tidy. And the majority available in the market features steady oak construction.
14. Antique School Desk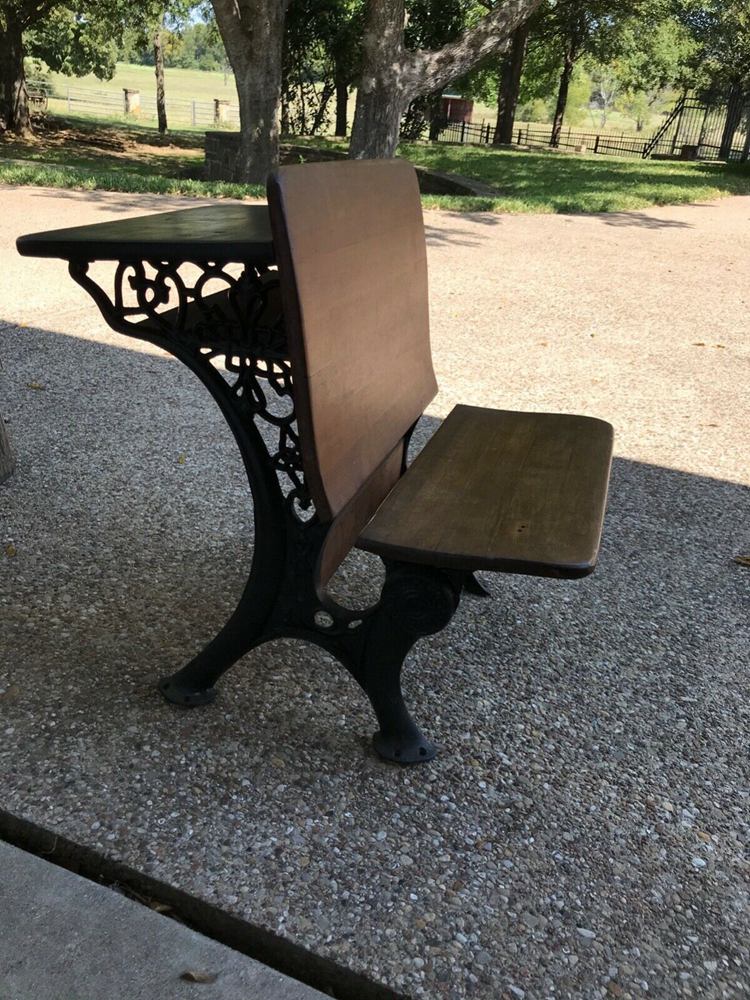 The design remains too common in any antique shop across the street. The writing surface features minimal space for the application. And it's sure to remain attached to a holding or supporting the chair. You're to encounter iron-made or oak-made models for its design.
15. Antique Wooton Desk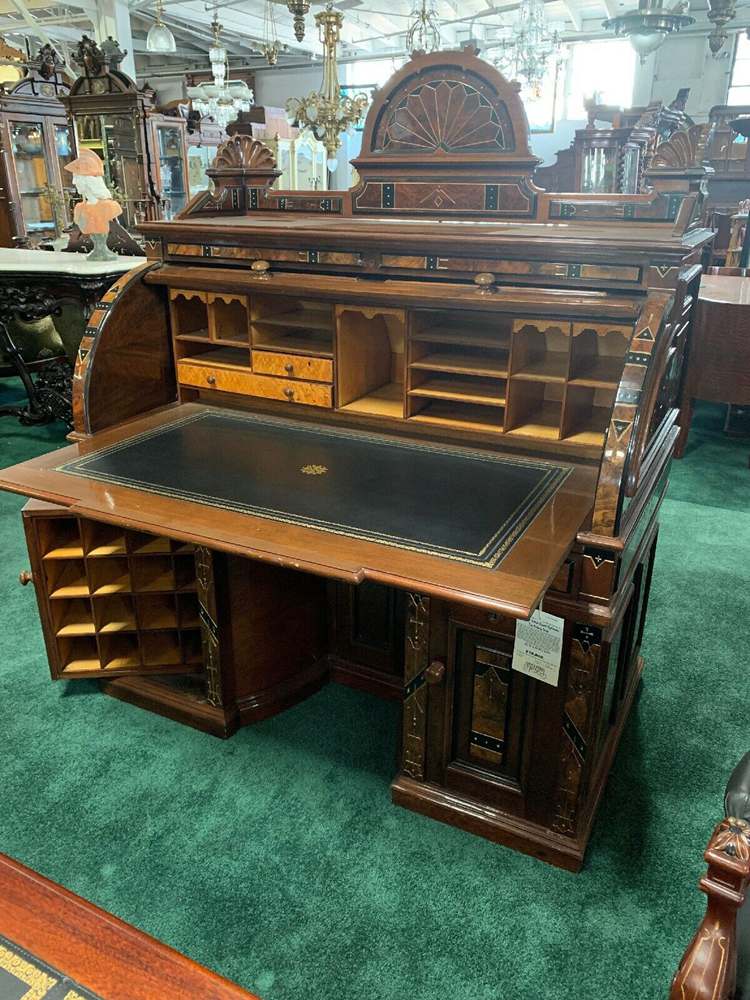 It's a coveted Victorian desk to become the executive's immediate favorite. The king-sized desk remains a true example of luxury. However, its sheer size requires a large open space for use. And the value is incredibly high to exceed the mid-class collector's budget.
Expert Suggestion on Identification
There's no need to lose your pace with too many options. Experienced antique experts enlisted certain points to assist your search. Checking the points should reduce the hassle of purchase.
1.  Looking into Structural Proportion
Hand-made antiques shouldn't feature a perfectly symmetrical/exact design. Of course, the same stands applicable for aged-out mechanical designs. Slight distortion or somewhat mismatching parts must prevail for the design.
2. Checking Drawer Accommodation
Drawer lining is one great indicator to figure out authentic antique desks. Small-sized fine dovetail joints should occupy the structure. Also, pay grave attention to check stamps, marks & locks to know the manufacturer.
3. Digging the Craftsmanship Quality
Not many great woods made dependable antiques in the past. Primarily, you should focus on oak, cedar, or mahogany for precise consideration. Closely inspect the hidden sections to know any low-quality joints for the wood.
4. Current Individual Part Conditions
Hundreds of years are likely to leave their mark on the exterior surface. Therefore, keep looking for any deteriorating or damaging signs for support. Make sure the desk underwent almost minimal or no repair/restoration in recent time.
5. Spending Good Time on Evaluation
Don't make a hurry when it gets to purchase genuine antiques. Take your time for elaborate online research on the issue. Try to contact validate experts, community forums, resource archives to know fundamental points.
Missing one consideration can cause an absolute problem regarding validated antiquity. You're to combine every piece to explore the desk features. Only a concerning purchase can eliminate the chances of getting married/reproduced design.
Antique vs Vintage vs Retro
You're to face the terms on any antique piece at some points, no matter what. People love to utilize the terms interchangeably for good reasons. However, periodic difference prevails for the terms.
Antique products primarily refer to anything to age at least 100 years. The intended goods can date back to the premedieval or ancient ages. However, antique furniture pieces may age 400 – 500 years.
Meanwhile, vintage ones may concern the 1920s for the start. And it continues for the 1980s for the limit. But retro often settles for pieces to feature the '50s, '60s, or '70s with the fashionable change.
Checking Antique Desk Value
Likewise, you'll have to take a keen interest in knowing the actual market value. Whether you're to sell or purchase, it's one irresistible point to save additional costs. Otherwise, you will fail to bargain with deceptive or manipulative sellers.
There are many online services available to help you with proper valuation. Again, looking into several books on antique furniture may enlighten your skill. But professional support will surely provide further precision on demand.
Look at platforms like the International Society of Appraisers or the American Society of Appraisers. It should provide well-worth suggestions on furniture value. Other services may require your extra consideration regarding validity.
Checking YouTube tutorials can also deliver a primary understanding of antique valuation. Channels like Lori offers several comprehensive antiquity videos. You must stay cautious about the requirements to reach the exact price.
Additional Points Worth Remembering
Again, you need to keep the following facts in mind. It should help you to catch minor facts to identify, date & value the piece.
It's important for you to evaluate every single fact to describe the actual piece. Start taking notes as well as pics to sort the visible desk characteristics. Any distortion, restoration, damage, or marks should get priority for simple checks.
Online purchase remains one definite source of potential scam or fraud regarding antiques. It's better for you to look at the pieces by yourself. Also, you can find a suitable appraisal or consultation service to evaluate the actual viability.
Know the color effects, corners, hidden joints & interior specs for online purchase. Try to judge the overall authenticity/validity by yourself using available content. Contact the seller to confirm the packaging strategy & delivery methods.
Final Words
When it comes to antiques, nobody wants to invest in reproductions or duplicates. You must sharpen your knowledge to judge the acceptability of a product's value. It's the same for your chosen antique desks available in the market.
The article should cover everything you need for a successful purchase with additional assistance. Of course, you should maintain steady communication with professionals. Right there, identifying antique desks for valuation will become simple.