Fun fact, the main difference between cigars and cigarettes is the former are rolls of tobacco wrapped in leaf tobacco or in substances containing tobacco while cigarettes are rolls of tobacco wrapped in paper or substances containing tobacco.
If anyone thought cigars aren't as popular today as they were in the 1890s, they should rethink. According to bloomberg.com, the cigars and cigarillos market has grown considerably more so among young people and women because of the emergence of flavored products. It is estimated to have earned $21.02 billion and grown further at a 2.8% compounded rate by 2025.
This means cigar boxes will continue to be made and future generations will appreciate their antique collectibles just as much as folks in the 21st century have. Today, antique cigar boxes are no doubt a hot seller seeing they can cost a fortune these magnificent boxes!
A Brief History of Cigar Boxes
Long before it became a mandatory cigar business practice and ahead of Cuba's H. Upmann documentation of himself sealing the first cigar in a boxed container, cigars weren't sold in boxes. Instead, they were sold individually or in small bundles.
According to atticcapital.com 4 out of 5 American men were cigar smokers by 1900 and 1.5 million cigar brands had come up in the U.S between the years 1870 and 1920.
With the increasing popularity of cigars and the growing need to curb the challenges accompanying it like accounting hassles, theft and fraud, the boxes, which were initially made of Spanish cedar wood, proved to be the perfect solution. And the good part? The cigar boxes came in different artwork designs – yes they customized back then too – and sizes, which made them rather popular.
Rare Antique Cigar Boxes
Today, Cigar boxes are some of the most distinctive and regal antiques extolled by the antique population. Depending on the various factors that determine which cigar boxes make good collectibles such as style, artistic label and material, rare antique cigar boxes can fetch one a decent extra penny.
Despite most old cigar boxes being valuable, those manufactured before the Revenue Act implementation as well as novelty and commemorative ones are especially desirable for their aesthetic. Antique cigar boxes made out of finer material will cost more than wooden ones, unless it is valuable wood like mahogany. In that case, the pricing difference isn't significant.
Some common cigar box artistic renditions you will come across in the market are:
Sports
Men and sports have been inseparable for decades and so it makes sense the manufacturer knew exactly how to sell to them. The cigar manufacturers made sports themed cigar boxes, which had on them famous sports stars to entice customers.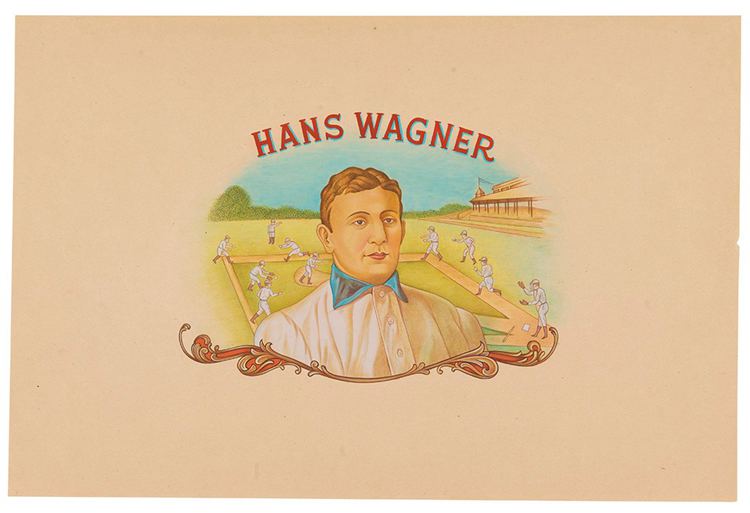 The Ordinary World
These guys weren't running short of creativity anytime soon and so they thought to include everyday life scenes such as bar scenes and holiday homes on the cigar boxes.
Automotive Scene
Still in the 1890s, the car industry boomed and cigar manufacturers saw this as their selling point. Cigar boxes used famous brands and experimented with car shapes and train models.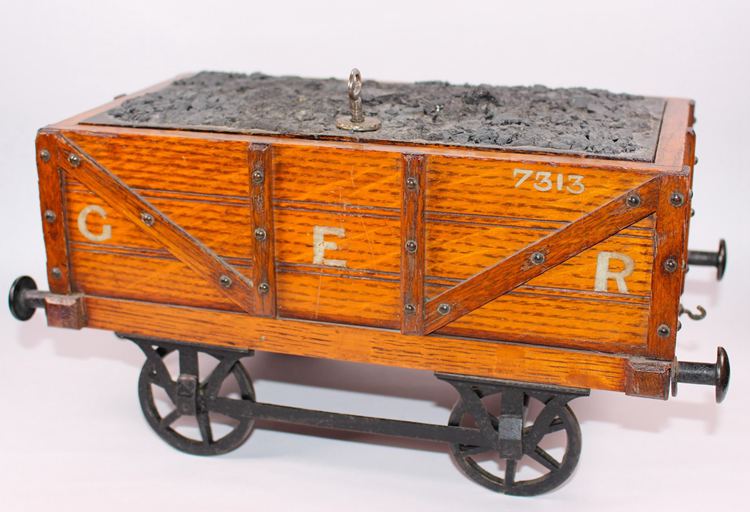 Geniuses and Celebrities
Presidents, Political figures and popular celebrities too weren't spared as they were used on the boxes to endorse cigars. No collector would budge paying for this Mark Twain Cigar Box.
Pets & Animals
Pets and animals like cats, dogs and horses were also used on cigar boxes.
Jewelry Storage
In a bid to ensnare even the women, cigar boxes became even more artistic and made beautiful jewelry boxes.
How to Identify an Antique Cigar Box
It seems the antique collection business back in the day wasn't so different from today. And thanks to the cigar boxes' varying styles and brands, their striking colors and eye-catching designs, collectors today have a better chance at satisfaction. There's a catch though! One principal to take note of is the need to be able to identify and value cigar boxes fairly.
This way, you won't end up undervaluing or overvaluing it. Better still, you don't fall victim for fake antique cigar containers as a collector. Whether it's the elegant La flor Dominicana design, the robust Rocky Patel vintage cigar box, the La aurora box with its majestic lion, the Flor del Valle cigar container, or one whose name you don't know yet, any avid antique cigar boxes collector wants an authentic box and nothing short.
Here is how to well identify antique cigar boxes:
Learn About the Different Ages and Their Popular Practices
From the brief history of cigar boxes above, you realize that different materials and designs cut across different periods. Each period had its unique system of doing things and learning about this will come in handy in identification.
How will this help, you wonder. It will aid in dating the cigar box. You will know, for instance, that Cuban cigar manufacturers began adding a box code to the boxes in 1985. The codes, despite changing after some years, were always by hand and gave out information on the factory where the cigars were manufactured, as well as the exact time they were released.
Inspect the Material
When you come across an antique cigar box, take your time to look at it. An item's material alone will give you an idea of when it was made depending on the evolution of trends. At first, cigar boxes were mostly made out of wood. Later on, cheaper material and technology advancement saw the production process accelerate in the 20th century and other materials like aluminum, Tin, Brass, Glass and China came up.
Wooden Cigar Boxes
Despite wood having been the most popular and cheap material, collectors may find a much more rare wooden cigar box with a good price point of upto $752 if it is the high quality French Napoleon III Brazilian Tulipwood Box tulipwood box.
Other Materials
Other materials used to make cigar boxes after wood throughout the late 1800s and 1900s included china, aluminum, brass, glass and sterling silver. The material of a cigar box greatly influenced its price.
With a superb chrome finish a solid silver cigar box is worth a whopping $4,765.
Cigar Box Design
When it comes to design, a collector wants to keep the cigar box's functional design in mind. Is it a 8-9-8 Box with its round design and three vertical sections or the traditional Slide-Lid Box that can hold 20-50 cigars. A Flat Top AKA 13-Topper Box with two layers and a box-pressed one for any cigar box that holds the same number of cigars on the top and bottom influences the value of a box.
'Used' Condition
Check for signs of wear and tear on the material as well. With no new paintings, an authentic antique cigar box will show you where it has aged and in need of restoration with light scratches and chips.
While those with better conditions tend to sell at a higher value, a small mark or chip won't affect the value of a box much. So long as the box opens and closes without any hitch, it's a green light!
Check for Brand Names
Most antique cigar boxes will tell you the manufacturer and where they were produced with marks like logo, stamps and branding. Some of the preferred cigar box brands by collectors are La Flor Dominicana, Ashton and San Cristobal.
Age
You don't want to buy a cigar box only because it is dated in the 1850s. You want to estimate its age correctly because that has an influence on its value. The older a cigar, the more likely it is valued higher. You would want a genuine 1850s cigar box though, no?
Label
For a passionate antique cigar box collector, buying a dupe shares a similar pain with the fashion maniac who finds out later they paid the original price for a dupe Gucci. You want to buy a real Cuban cigar box and not the mass-produced ones.
A box whose label has retained its original illustration color and has no tears or stains will reap a good amount. It is best to buy the label separately from a trustworthy buyer since most original labels are prone to reproduction.
Limited Edition Cigar Boxes
You know it's a gem when you can't find it easily and that principle applies to limited edition antique cigar boxes as well with those that have a restricted production being incredibly valuable.
This explains why a Hans Wagner cigar box goes for a huge amount seeing the baseball star pulled out of the advertisement. Its label alone is well over $5,000.
Remember to watch out for fake Antique cigar boxes. For instance, here is how to identify a real Cuban cigar box from the sham ones.
Let's say you come across one of these rare Cuban cigar boxes from a collector. Cuban cigar boxes have stamps with which the collector can tell the packing date, manufacturer, country of origin, production method and these will determine its value.
True, there are fake ones too and it might be difficult to tell them apart. However, at least this particular purchase will not be coming from a place of oblivion.
Shape
Most of the cigar boxes we've seen are rectangular but there are exceptions. Novelty boxes that would cost an arm and a leg for some have other shapes such as buses and log cabins. In the early 1900s, you could buy a tin cigar box so you could have a lunchbox eventually.
Historical significance
When the story behind someone is inspiring, you can't help but love them. It isn't any different for cigar boxes with incredible backstories. Most collectors would give anything to own a box made during the American Civil War.
Most valuable Cigar Boxes
1. 1925 Art Deco Cartier Cigar Box
1925 Art Deco Cartier Cigar Box made out of sterling silver was listed for almost $50,000 in one online auction and sold for $41,336.
2. Alpacca silver and enamel cigarette case
Antique early 20th century Alpacca silver and enamel cigarette case worth $1476.
3. C.f. monroe (attrib) native american cigar humidor
C.f. monroe (attrib) native american cigar humidor worth approximately $700.
4. Sterling. Assorted grouping of sterling hollowware
Sterling. Assorted grouping of sterling hollowware worth $400.
5. Partagas Limited Reserve Decadas 1995 Empty Wooden Cigar Box
Partagas Limited Reserve Decadas 1995 Empty Wooden Cigar Box 11.25x9x3.5 worth $300.
6. Antique Cigar Box Humidor Brass Cutter Oak Wood Wooden Chest Smokers Companion
Antique Cigar Box Humidor Brass Cutter Oak Wood Wooden Chest Smokers Companion worth $280.
7. Antique EL GIGANTE California Wood Cigar Box & Label – NR!
Antique EL GIGANTE California Wood Cigar Box & Label – NR! worth $250.
8. Gold cigar box
Gold cigar box – gold mining worth $200.
9. Vintage Speckled Trout Cigar Box, Davenport Iowa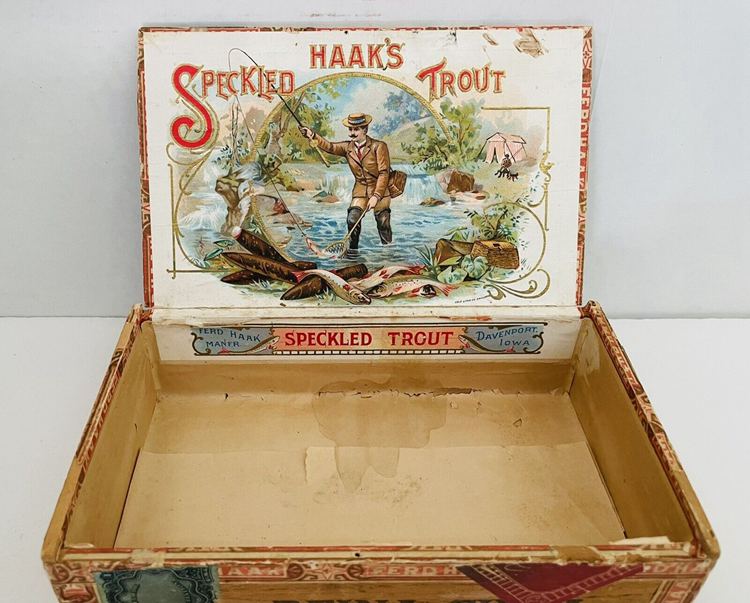 Vintage Speckled Trout Cigar Box, Davenport Iowa worth $145.
Antique Cigar Boxes Value Guide
Now that you have made the identification for your antique cigar box and know that antique boxes are worth something, how much should you sell yours? You are probably wondering how to make out the value of an antique cigar box.
Valuing Old Cigar Boxes
In this age of economic hardship, old cigars boxes shouldn't be limited to only acting as reusable storage boxes. Why? You might not know for a fact how much the box or label can fetch you, unless you set out to find out.
Like we mentioned, factors such as rarity, style, condition and label on a cigar box will affect the value of any vintage cigar box. The date on the box too should tell a collector if the cigar box is worth anything, despite there being counterfeits. One can also tell its label's age by studying how it was made as copyright markings, embossed labels and stone lithographs are different for different boxes.
While there is no escaping some little research on Google to establish a cigar box's true value, checking the date, its condition, and brand is always a good place to start.
Price Guide
Since you've gotten to the last part of this article, it's only fair to offer you a price guide because you are either seeking to sell or buy yourself an antique cigar box.
Reference Materials
There is no one-price-fits-it-all when it comes to antique cigar boxes and so you may want to get busy with some printed reference material to guide you on pricing.
The cigar industry historian Tony Hyman's 'The Handbook of American Cigar Boxes' is an insightful authority with over four decades experience and 4,000 cigar boxes in his possession for identifying and valuing antique cigar boxes.
In the book, he offers a price guide as well as illustrations and descriptions of the various cigar boxes. There are also tips on how to get free appraisals and date cigar boxes.
The historian is also a serious antique cigar box buyer and has this free illustrated brochure of Wanted Cigar Boxes in the book with a list of the types of boxes and related items he is ready to acquire for anything between $5 to $5,000. Anytime between 11am and 2pm would be a good time to call him at 714-621-5952 and get to sealing that deal.
Also, make Google your friend and research thoroughly on market prices. Check sites like Etsy and eBay to get an understanding of what's hot and price range and the best selling seasons. Other sites including marks4antiques offer a complete and updated collectibles research platform.
Professional Judgment
Better still, you could seek professional judgment, Mr Expert or app, ValueMyStuff Mobile App on Apple devices and Android so you have someone who backs up if not influences your choice of antique cigar box.
Final Thoughts
You may need to get your antique cigar boxes identified; here is a digest of how to go about it in the best way:
Look out for identifying factors like material, maker's marks, and condition yourself. In order to get this right and be a relics owner or seller, you must learn to pay attention to detail as a collector.
Next, use an appraisal site online that you can trust and weigh the pros and cons of your antique cigar box.
Then get an appraisal from an expert who will look at your cigar box. You could also get certification proof if you feel like you might need to engage insurance companies in time.
To ascertain the value or identification you get for your antique cigar box, you may need to use several identification methods while staying alert for conmen and misinformation.
It must all sound like a chore but once you have your facts at hand it gets easier and once you get the hang of this antique cigar box collection venture, you will benefit in more ways than one- your pockets and mind will thank you.