Have you ever wanted a simple yet ornate antique chest of drawers that draws attention to your living room? Or perhaps you're a collector who'd love to have an antique chest of drawers in your antiques collection? Antique furniture has something about it that lends a luxurious and opulent theme to your home, so why not indulge? But before you do so, let's take a look at how you can identify and value that antique chest of drawers you've seen!
How To Identify Antique Chests of Drawers
Identifying an antique chest of drawers is not as easy as identifying other pieces of antique furniture. This is, in part, due to the aesthetics of the pieces – chairs are easy to identify, followed by tables, followed by sofas – and chests of drawers cross the finishing line slightly later. Why is this?
It's because there are fewer antique chests of drawers that are both Epoque and have been well preserved for centuries. Another is that, unlike chests of drawers, other furniture can be made very ornate with lines and styles that point to the manufacturer immediately. For antique chests of drawers, this is not the case. There are very few identification points – legs and handles, mostly.
When identifying an antique chest of drawers, here are some points you need to note:
What Timeline Does Your Antique Chest of Drawers Hail From?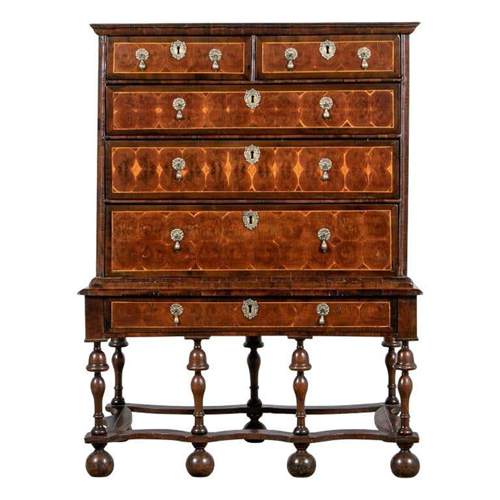 William And Mary – The William and Mary (1689–1702) style of furniture is somewhat easy to identify. An antique chest of drawers from this time period will be sturdy, squat and heavy – with strong curves, woodturning and relief carving. Pieces from this time period are not easily available – they're all collector items. During this time, Japanning – using lacquer techniques from the East – was common, as was the use of exotic woods such as acacia for veneering.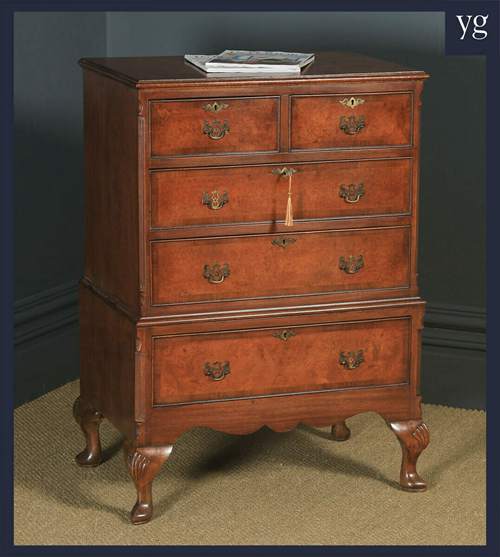 Queen Anne – The Queen Anne era (1702-1714) is showcased by furniture with curved lines. Antique Queen Anne chest of drawers are quite easy to identify – they showcase tall, cabriole legs, rounded knees, midmolding, front and side aprons and swan handles.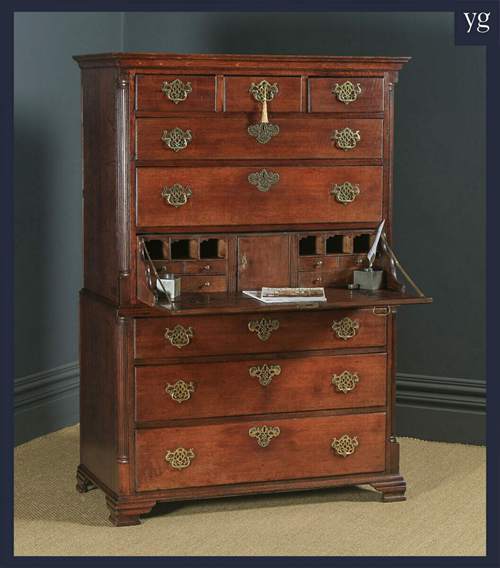 Georgian – The Georgian era ran from 1714 to c. 1830–37 and produced many beautiful pieces of furniture – not least being the chests of drawers. Predominant woods used were oak and mahogany. You can tell if the antique chest of drawers you're looking at is Georgian by the mouldings on the body – which were previously Ovovo (quarter-round edges). As the Georgian era progressed, the mouldings became cock-bead.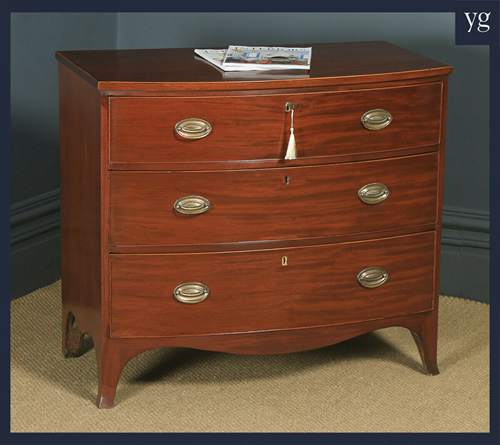 Regency – The Regency furniture hails from the time of Prince Regent George (1811 to 1820). It is a sub-era of the Georgian era. Antique chests of drawers from this era are easy to identify because of the heavy woods used – such as rosewood, zebrawood and mahogany. Other things that set this era apart are the gilded metal accents and brass inlays – both of which make it easy to identify a Regency piece.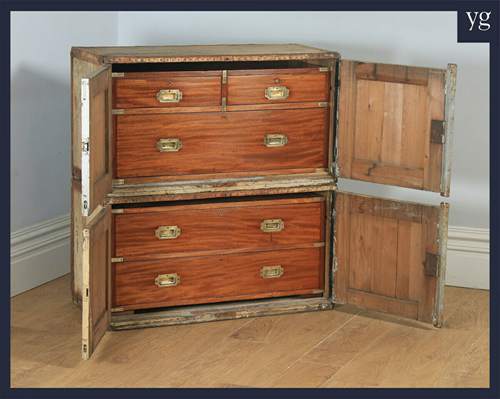 Victorian  – Chests of drawers were among the common pieces of furniture produced in the Victorian era (1837-1901) – which is why they are quite a few out there today. Like most Victorian-era furniture, chests of drawers that hail from this time period tend to be heavy, beautifully ornate, bow-fronted and grand! Most are made from woods such as Mahogany with knobs as drawer pulls.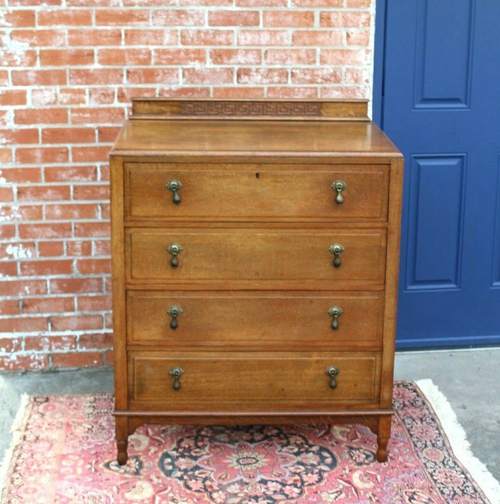 Edwardian – Furniture from this period was made between 1890 -1910, although the actual Edwardian reign started in 1901. The beauty of an Edwardian chest of drawers lies in its simplistic charm and elegant lines. Most chests of drawers from the Edwardian time was made from either walnut or mahogany.
Identification of Antique Chests of Drawers by Designer
There are different styles of antique chests of drawers as per the designers who created the designs and made them. Some of the more valuable and famous of these are:
Chippendale – Chippendale designs are very popular today, and are characterised by graduated drawers, pierced brass handles (pulls), beaded drawer dividers, serpentine front and straight, bracket feet.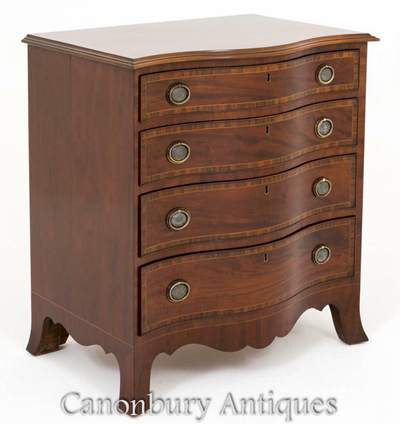 Hepplewhite – Antique Hepplewhite chests of drawers are quite easy to identity, with their distinctive appearance and aesthetic. They usually feature bow fronts, circular brass pulls, straight reeded legs and a delicately graceful appearance. Hepplewhite furniture was mostly made from mahogany.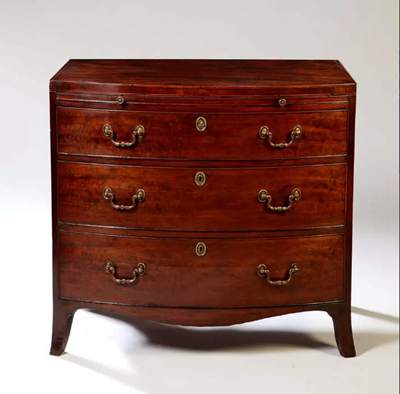 Sheraton – Sheraton furniture is quite exquisite, and this includes antique Sheraton chests of drawers. Mostly made out of mahogany, these feature bow-fronts, a brushing slide and caddy top.
How to Value An Antique Chest of Drawers
Have you seen the perfect antique chest of drawers but aren't certain if the price is inflated for the value? Or you have an antique chest of drawers and would like to sell it to sponsor your retirement?
The first thing you need to do is determine the value of the piece! When it comes to valuing antique chests of drawers, here are some guidelines:
Age: The age of an antique says a lot about its worth! An original William and Mary chest of drawers, while simple and austere, can fetch a lot more than a Victorian or Edwardian piece.
Size: Is the chest of drawers big or small? The bigger it is, the more valuable it becomes. This is because big ones in good condition are rarer to find.
Rarity: Any antique piece is a lot more valuable if it's rare. A one-of-a-kind piece from the Queen Anne era may be worth more than three of the same kind from the William and Mary era.
Quality: Is the antique chest of drawers of good quality? Take a look at the wood. Is it oak, mahogany or walnut? These woods indicate good quality. However, if the insides of the drawers are made from pine, it suggests the quality isn't as good. Furniture made from pine was usually of secondary quality.
Condition: Is the antique chest of drawers in good condition? How would you know? When it comes to condition, there are certain aspects that should tick the boxes. Do the drawers open and close easily?Are the keys to locked drawers available? Are any of the drawers damaged or broken? Does the chest of drawers have scars and gouges that can detract from its value? Was it painted over so that its original sheen has disappeared? These questions help determine if it's in good condition or not.
Handles: Are the handles or pulls of the drawers original? Over time, pulls and handles get replaced, and this can really reduce the value of an antique chest of drawers. A William and Mary era piece with original pearl drop handles will be valued much higher than the same type of chest of drawers from the same era with brass handles (which came later). Usually, one can tell if the handles are original or not by the holes on the inside of the drawer. More nail holes show that the original handle was replaced.
Getting A Professional Appraisal for Your Antique Chest of Drawers
If you have an antique chest of drawers, or you've found one at an antique shop or fair, it could be worth your while and money to get a professional appraisal done: Especially if you've ticked off all the features mentioned above!
Many websites online that sell antiques are willing to check out your photos as well as take note of the back story of the piece you have to give you a ballpark figure of the value. Other ways to get appraisals done by professionals is at antique shops, antiques fairs, antiques roadshows and, of course, antiques auctions.
If you want to get a sense of how to get a proper appraisal for your furniture, you can check out the  Mark Moran video.
Auction Values for Antique Chests of Drawers
Some of the antique chests of drawers that have been valued include:
A Louis XV ormolu-mounted rosewood, tulipwood and amaranth woods with a parquetry marble top was estimated at $56,400.
An Australian cedar secretaire chest, circa 1835 was estimated at $28,800
Jackpot!
Having an antique chest of drawers can give your living room both elegance and opulence! It's also an investment – the value of antiques goes up with time. So if you find the perfect antique chest of drawers that appeals to the eye, go ahead and have it appraised so you can then decide if it's the perfect investment for you!