Antique Butter churns, a device born out of the need to make butter from cream, has remained a staple in many homemade since its invention in the 19th century. This device is yet another valuable antique.
An eight-gallon stoneware, 'Kentucky 1836' labeled, lug-handled butter churn was sold to the Museum of Early Southern Decorative Arts for a record price of $55,200 at a case antiques Inc. auctions & appraisals in October 2010.
In this article, you will be intimated on just how much that your old butter churn is worth, the different types of churns available and their value.
What are Antique Butter Churns
The antique butter churn refers to an invention used to turn cream into butter the old fashion way. Many times, it features a wooden paddle, similar to the size of an umbrella stand which is inserted through a hole in the lid of a barrel used to ruffle the cream.
To churn butter, all you need to do is pour cream into a barrel and plunge it up and down with a paddle. Alternatively, you could use a rotating crank to stir the cream. However, this will depend on the type of butter churn available to you.
The plunging operation aids in making the fat in the cream cluster and turn to butter and depending on the amount of cream poured into this old butter churn, the type of butter churn being used, and the wooden paddle, this process ideally should take about 20-30 minutes.
Here is a video explaining how butter is made using antique butter churns
Types of Antique Butter Churns and their Value
As stated earlier, there are several types of antique butter churns. They include;
Antique wooden plunge churn
Antique wooden barrel churn
Antique Glass butter churn
Antique stoneware butter churn
Antique Wooden Plunge Churn
The antique wooden plunge churn is a simple barrel with a narrow round lining at the top. It is the first type of homemade churn and is sometimes referred to as the plumping churn or the dash churn.
The wooden churn is characterized by an iron that is designed to keep the wooden staves in. This type of antique butter churn is the most basic, requiring no special skills to use.
With this churn, once the cream is poured into the churner, a dairy farmer will proceed to use the extending paddle to move the cream up and down till the desired outcome is achieved.
Due to usage and period, these churns were dominant, it might be hard to find one in excellent condition, but if you do, you are looking at an item that will fetch you nothing less than hundreds of dollars if you sell.
Antique Wooden Barrel Churn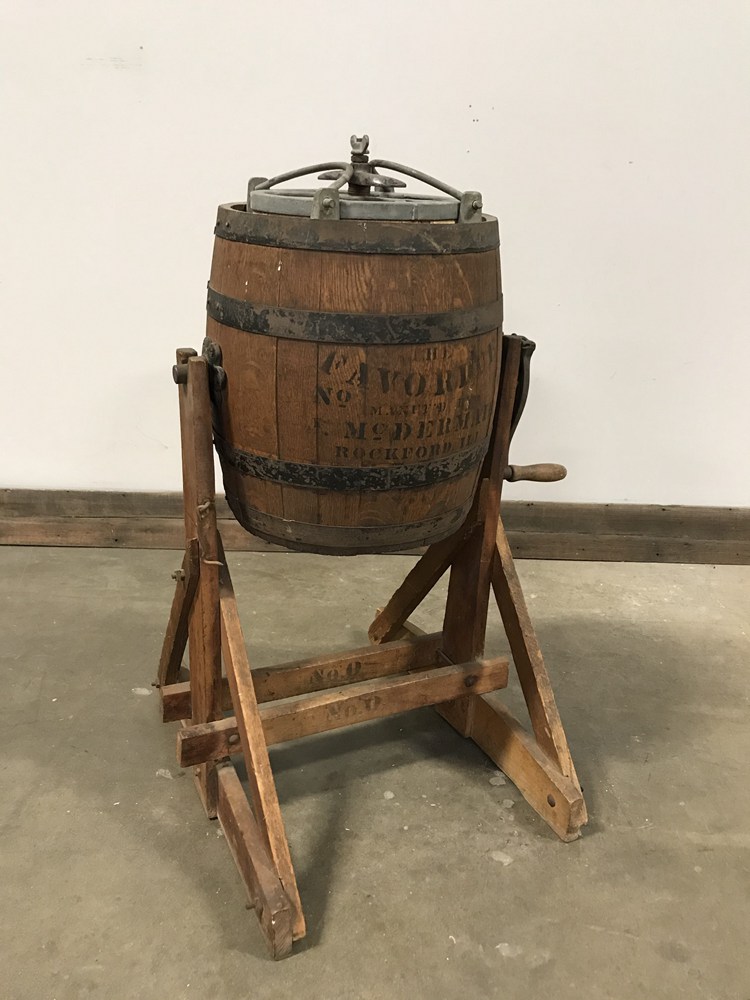 Here we have a butter churner with legs. It is also known as the wooden barrel churn. This churn, although in many ways is quite similar to the basic wooden butter churn, comes with upgrades of its own.
For one it is larger than the basic one and features leg stands. It is also one of the most valuable types of churners owing to its size and ability to churn larger quantities of butter. Also, on its exterior you would find metal bands that hold the barrel in place.
Another factor that makes the barrel churn so valuable is that it is the first type to feature a hand crank. The plunge churn involves more hand and hard work whereas, because of the iron crank usually located by the side of the barrels, churning butter becomes easier.
The antique barrel churn comes in different styles. While some have their wooden staves facing up, others have the paddle by the side allowing the crank to whip the cream into butter. Whichever design you find will be just as valuable.
One 19th-century handmade butter churn in good condition sold on 1stDibs at $1850.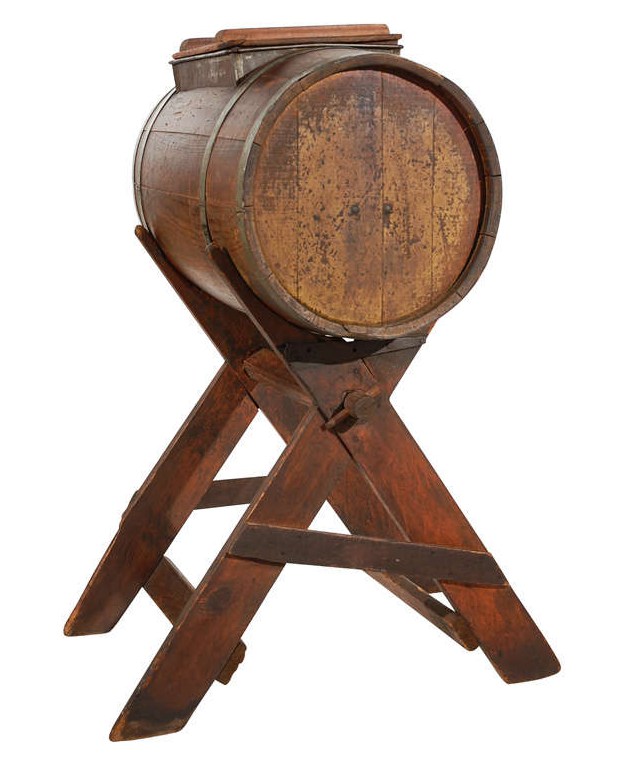 Antique Glass Butter Churn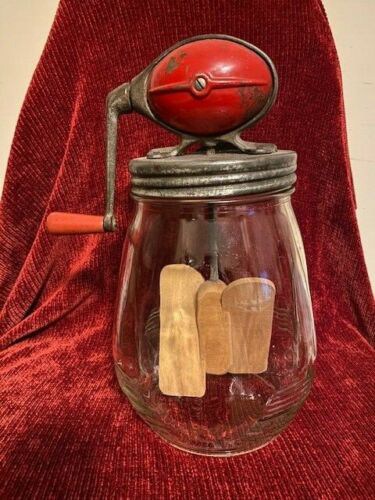 Unlike the butter churns made from wood, the glass butter churn just as its name suggests features a clear glass jar with a metal top. It uses a type of hand-crank churn and on the metal top sits this iron crank. The crank is what turns the cream into churned butter.
The company responsible for making this invention popular is the Dazey Churn Company in the U.S. They no doubt made the Dazey butter churn the most adopted type of butter churn mid1800s.
The first butter churn the Dazey company sold was made from tin and it was much bigger. However, it did not take long before production of smaller glass butter churns began.
At the early production stage, these butter churns were first square shaped, however, by 1912, this changed into a shoulder sloped jar and eventually led to the production of the distinctive red football gear designs .
One of the undoubted benefits of the antique butter churn is that it gives you the opportunity to monitor the churning process since the glass jar is transparent.
Dazey churns, are not always as expensive or valuable as their wooden counterparts because there are more of them in circulation.
To cap it off, since they are quite smaller than wooden churns, they cannot be used to churn large quantities of butter. However, they still sell out faster due to their ease of use.
The Dazey churns extend from sizes as small as a pint jar you can hold to relatively larger glasses that would stay in a corner. As expected, this difference will determine the price the Dazey churns are sold.
Antique Stoneware Butter Churns
Although this type is popular, unlike several other antiques, popularity here does not mean a reduction in value, at least for the type. Value here is based on the design on the stoneware butter churn.
The stoneware is primarily made from pottery, while a wooden paddle is used to ruffle the cream.
There is a major difference between the designs on the antique stoneware and the newer ones. On the newer creations you will find a distinctive red wing design on the stoneware.
The antique designs were hand drawn using cobalt blue and had specific designs. Some of the designs include drawings of a lily, a north star leaf, a ribcage, a butterfly, a bird and a daisy among others.
Several stoneware butter churn takes the form of the plunge churn, however a difference exist between them. While the plunge churn is made from wood, the stone ware's churn is a pottery made churn.
5 Rare Antique Butter Churns for Sale
Below is a put-together table on rare antique butter churn you will find on any specialized site. These pieces have been verified to be antiques, dating back to the 19th century when the original owners first used them.
| | | | |
| --- | --- | --- | --- |
| S/N | Name | Period | Price |
| 1.  | Butter churn crock with salt glaze and blue decorations | 19th century | $995 |
| 2.  | Norwegian green painted butter churn | 19th century | $719 |
| 3.  | Vintage butter churn | 19th century | $590 |
| 4.  | Rustic hardwood butter churn, bentwood legs, hand crank and four paddles | Early 19th century | $595 |
| 5.  | Rare Dazey butter churn | 19th century | $490 |
1. Butter churn crock with salt glaze and blue decorations
Period: 19th century
Price: $995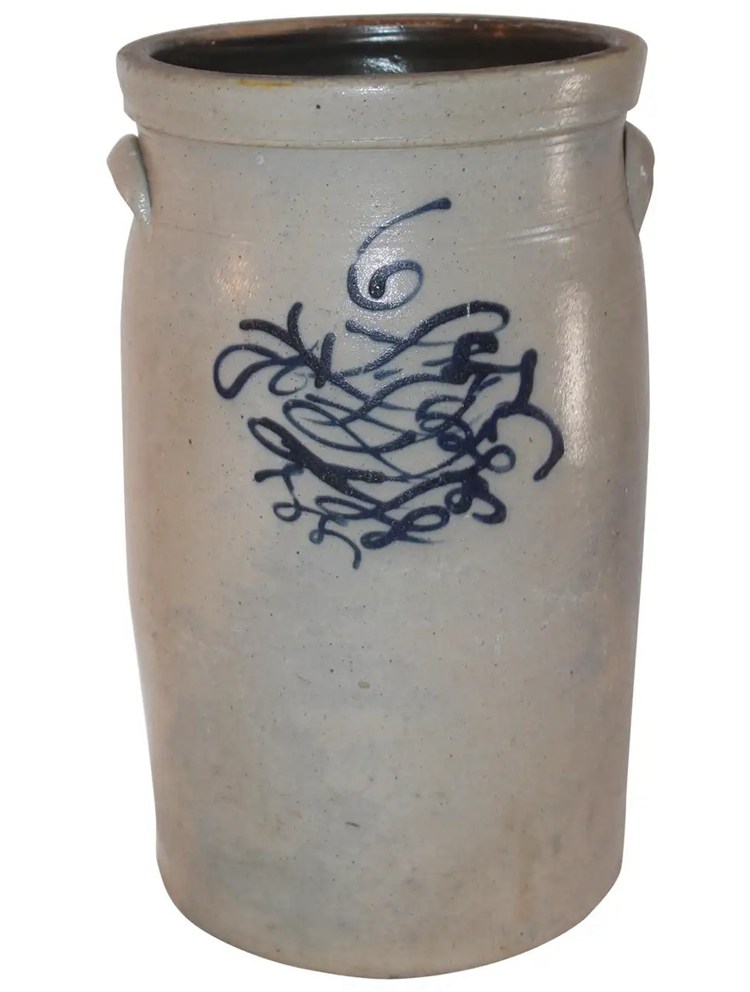 The pottery-made butter churn is a widely unique piece, and because the producers of this churner are quite popular, the quality of the item is assured, accelerating the value.
The pottery butter churn comes with a distinctive design that is attributed to the hand drawn paintings from the 1800s. The butter churn has two handles by the side making it easier to carry.
The cobalt blue-painted decorations in front with a salt glaze and the number 6 boldly written on top is the surest way to identify this item.
2. Norwegian Butter Churn
Period: 19th century
Price: $719
This 19th-century Norwegian butter churn still has its original paint colored green and its iron hand crank. It is bound with an iron band to keep the barrel in place.
A collector will be interested in this butter churn since it still has details from its period. it is one of the smaller types of the barrel churn made in Norway.
3. Vintage Butter Churn
Period: 19th century
Price: $590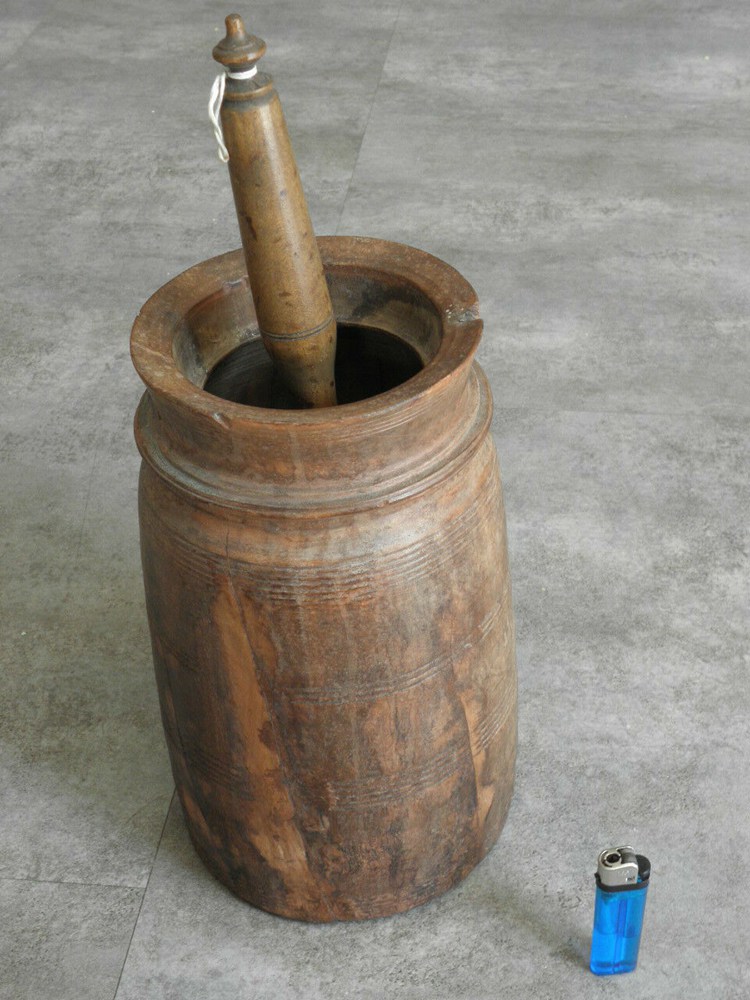 Here we have a much earlier version of the antique wooden butter churn. It is made from primitive wood and is used majorly by countryside folks.
This antique butter churn has French roots and does not feature a lid. Instead it features only a much simpler churn in the form of a small wooden barrel and the staff for churning.
4. Rustic Hardwood Butter Churn
Period: 19th century
Price: $595
This rustic hardwood churn was quite popular in the early 1900s. It is bigger than the basic plunge churn and does not require a table as it already has four bent wood legs strong enough to carry it.
5. Dazey Vintage Butter Churn
Period: 19th Century
Price: $490
This glass butter churn made by the Dazey company features a shoulder slope design that is quite a catch. It is easy to find due to its size and comes in a glass car small enough that it can fit on a table and be used anytime.
Furthermore, on this 1940 original you will notice a metal crank and a lid for covering the churner while the butter churns.
Antique Butter Molds and Value
Antique butter molds refer to stamps used to decorate butter with images and words.
These molds have been in use since as far back as the Tudor times, but it was not until the 19th century that they became incredibly popular when homemade butter churns became the trend.
The molds were carved with wood and sometimes glass. The dairy farmers in this period would use these molds to design the butter made.
Farmers who made quality butter were also quite interested in trademarks that would distinguish their butter from the others, hence their reason for investing in butter molds that helped them achieve this feat.
Eventually, this molded butter became available in the local store, so instead of a consumer tracking down a farmer that makes the kind of butter they like, they could visit the store and check for the mold design of the butter they prefer if it is in stock.
The butter mold was mostly made of wood, but there were some instances of glass molds. The dairy farmers would carve these molds se butter molds would be carved in a specific way for each farmer, so it was almost impossible for two farmers to have the same design.
Types of Antique Butter Molds
Here is a brief description of the different types of these butter molds;
The Single-Piece Flat Prints Molds
These are simple single stamps with designs or the maker's name carved on it. It only requires stamping it carefully on fresh butter to get the results.
The Double-Piece Ejector Molds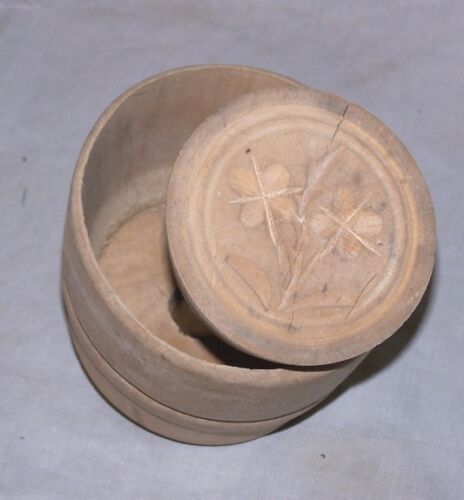 This type has two separate parts called the cylinder and the handle. The design is usually on the lower circled part of the handle and the cylinder is placed around it to shape the butter. The handle is then used to stamp the butter through an opening on top of the cylinder.
The Push-Together Double Piece Molds
These types are usually held together using strings or pegs with their designs on the two sides. It has a handle that is used to push these two pieces together creating an all-round design on the butter.
The Roller Molds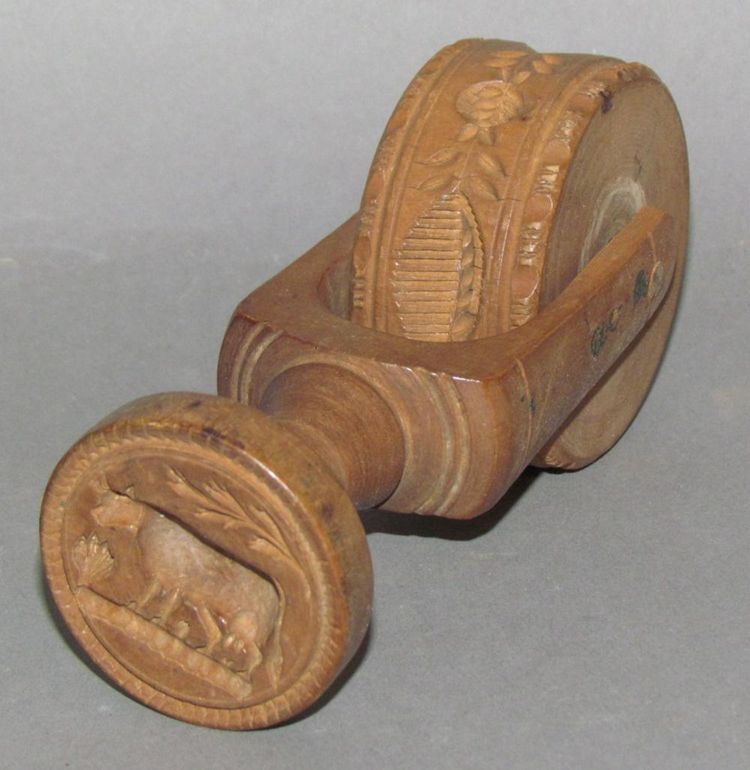 As the name implies, these molds are in the form of a rolling pin with carvings on them. They are mostly used on the sides of the butter to stamp and smoothen it.
The Cup Molds
These molds are made as simple hollow cups made from wood or glass. Their designs are carved inside them and they design and give the butter its own distinct shape at the same time. These types are ideal for mass production.
These molds were sometimes referred to as butter stamps. One would assume that these molds only had designs carved on them but this is not true. Some molds have words carved usually in reverse so it comes out right on the butter.
Below is a video showing how to use the butter mold to shape butter.
Antique Butter Churn Crock
The butter crock is an effective tool that helps keep your fresh butter fresh up to 30 days after the butter churn. This preservation is important, especially if you are not sure you will always have butter stock.
This crock is also known as the butter bell. The butter is placed in this bell and then in the crock filled with water. This preservative device helps retain freshly churned butter's smooth and soft texture.
In identifying antique butter crocks, it is essential to pay attention to details that can confirm that the piece is an antique.
Designs on the crocks are usually old and hand-drawn. The original paint color used is the cobalt blue for the designs. These designs are commonly birds, trees or flowers. Sometimes, you may find numbers written on a crock, this number indicates the size of the crock.
Popular Antique Crock Manufacturers
There are many antique crock manufacturers but some are more popular than others. Below is a list of some of the notable antique crock manufacturers you should know.
Red Wing
This company started manufacturing antique crocks in the late 1870s. The designs when they started were drawn by hand and it was not until 1896 the company started using stamps.
The antique crocks produced only had cobalt blue on its designs. If you find a crock with a red wing on it, it must have been produced post 1906.
Western Stoneware Company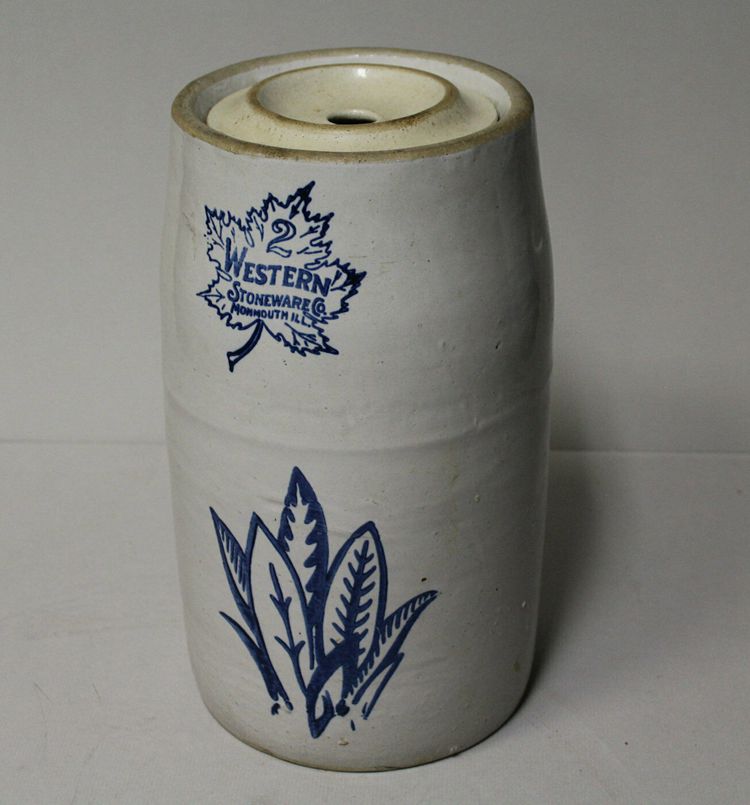 Seven different companies merged together in 1906 to create the Western Stoneware Company. They have seven different plants where they all make stoneware and use the same maple leaf logo with their name at the center.
These stoneware crocks were tagged with one from the numbers 1-7 to identify which of the plants made the stoneware.
Monmouth Pottery Company
The Monmouth Pottery company started making stoneware from 1894-1906 in Monmouth, Illinois. They made use of salt glazes, Albany slip glazes and much later used the Bristol glazes. Their most legendary design is that of two men standing inside a large crock.
The Monmouth company is one of the companies that merged to join the western stone company in 1906. The others were: Clinton Stoneware Co., Weir pottery co., Fort Dodge Stoneware, Macomb Pottery Co. and Macomb Stoneware Co., Culbertson Stoneware Co. and the White Hall Pottery.
Watch how to use the preservative butter crock below
What is an Old Butter Churn Worth?
These days people no longer rely on old butter churns to make butter, as there are now refined ways to make butter, not to mention that butter is available in almost every grocery store. This difference begs the question, 'what is an old butter churn worth?'
It might interest you to know that these old butter churns are still worth lot and are quite valuable, especially those that are still in good shape. It is often used as a conversational piece or displayed for historical purposes.
It is also almost impossible to discuss the rich history of dairy without mentioning the butter churner or what old butter churns are worth. You can find these antique butter churns in antique-style stores or flea markets for sale.
How to Determine the Value and Identify an Antique Butter Churn
There are different ways to determine the value of an antique churn. Some of the most crucial ways we will discuss here;
Date the Butter Churn
A major reason why antique items in general have been attributed to being valuable is because finding one in excellent condition in this day and age can be quite tasking.
The antique butter churn is no different and finding or owning one that dates as far back as the early days of its creation increases its overall value.
The most efficient way to place the period a churner is from would be to check the patent number of the butter churn, which is usually under the barrels. You can then reference this number with the US Patent and Trademark Office to confirm the issue date.
Examine its Condition
The condition of the butter churn is a very crucial determinant of antique butter churns value. If an antique butter churn is in excellent condition, it is expected that this item is valued higher than if it is damaged.
When valuing these antique butter churns, patience is critical. This way you would be able to properly ascertain the condition of the butter churn.
Check for cracks or chips on the wood of the barrels or the paddle. By doing this and looking out for patches on the butter churn, you avoid the risk of investing in a butter churn that will yield low returns.
Additionally, the original paint stain on the butter churn should being in good condition can also increase its value.
Watchout for Maker's Mark
Many antique items are best differentiated using the maker's mark, and this is no different for the butter churn. Butter churn makers like Red Wing have their makers mark on their items, likely increasing the value of a butter churn since they are well known.
The Build Material and Butter Churn Type Also Helps
The material a butter churn is made from also determines its value. You can expect that an old butter churn made from quality wood will be valued higher than any other type.
Also, as discussed earlier, there are different types of antique butter churns made from materials like glass, stoneware and wood, so you can expect these different types to have different costs.
It is essential that you can identify the type of butter churn you want to get. If you can't, pay a visit to an antique appraiser to get an estimated value of your item.
Perform Quality Checks
Butter churns from the 18th and 19th century are off excellent quality. This is one of the reasons why they have been able to stand the test of time.
Rarity
The rarer the butter churn, the more valuable it will be. For instance, unlike the Dazey churns, the wooden butter churn with legs is quite hard to come by because it was not mass-produced,
It is possible to find the stoneware churn or the simple wooden churn in several households. However, the bigger wooden butter churner was owned only by those who made butter in larger quantities, usually to sell.
Final Thoughts
One might find it surprising that in this period, some people still make their butter at home instead of walking into a store and picking one up. Many people still make homemade butter because they prefer fresh butter.
These are some important details you should remember when it comes to the antique butter churn:
The barrel churn is the first type of the hand crank churn
The Dazey churn company popularized the glass jar hand crank churn especially in the United States.
Antique butter churns are made using wood, glass or stoneware.