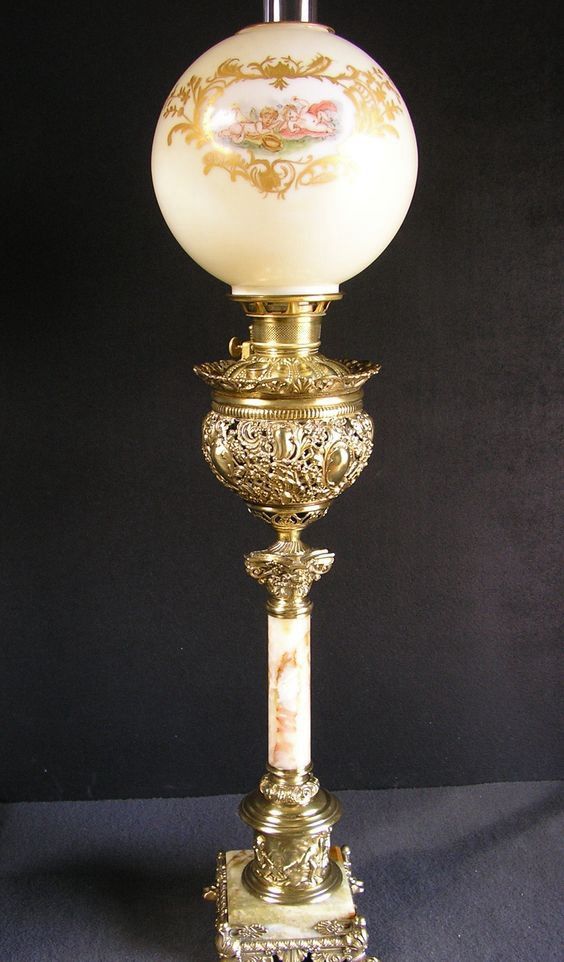 Antique banquet lamps instantly add a stint of the luxurious Victorian era into your living room or desired space. These highly attractive, artsy, and unique lamps have stood the test of time and are now widely desired by many.
The valuable antique lamps can range from $100-$250 depending on their market. However, you can sell your antique banquet lamp for $1000 if it's a rare type and in excellent condition with extravagant designs.
We'll gladly be your guide and lead you through this article, where you'll know how to identify and correctly discover the true worth of your antique banquet lamps.
Antique Banquet Lamp Designs
They were popularly referred to as Gone with the Wind Lamp by antique collectors and commoners since they made their debut in the popular film.
The lamps came in unique combinations of different unique designs, materials, and patterns. However, one thing is constant- the general shape of the banquet lamp is a circular glass shade with extra floral details or decoration.
You'll find antique banquet lamps in brass, milk glass, pattern glass, porcelain, satin glass, cranberry glass, and cased glass materials. Aside from their high functionality, these lamps were also a status symbol for affluence, power, and class in the early Victorian era and extended to the 19th century.
The invention of electricity, however, brought a damning end to the use of antique banquet lamps as smokeless light bulbs now replaced kerosene and coal-powered lamps. However, a few people used the invention well and converted their lamps to electricity.
Makers of Antique Banquet Lamps
These companies ruled the banquet lamp market back in the day, and we'd like to give a bit of their history and journey.
Fostoria
Henry Tremaine teamed up with his brother-in-law in 1897 to establish the Fostoria Incandescent Lamp Company; by 1899, the company began the glassmaking business, and by 1914, they got out of the business of lamp making, but the brand name continued for many years.
Baccarat
Baccarat, a French company, founded in 1765, began operations with soda glass for windows, tableware, and industries and was later acquired by a Belgian engineer in 1817, who then specialized in glass production and crystal.
The company displayed its works at the 1925 Des Arts Decoratifs, which heralded the Art Deco era and are still in operation.
Bradley & Hubbard
One of the most popular banquet lamp makers, the company was established by Walter Hubbard and Nataniel Lyman Bradly, his brother-in-law, in 1854 in Meriden, Connecticut.
They made clocks and bells and struck gold with kerosene lamps that used glass shades in the 1870s. The Charles Parker Company purchased the company in 1940.
Miller
The Miller company began operation in Meriden, Connecticut just like the Bradley & Hubbard in the 1840s by selling Camphene and burning fluid burners then ventured into manufacturing kerosene lamps by the 1860s.
Miller's kerosene lamps were in production and dominated the entire market between 1890 to 1900 including parts for wholesale dealers and other companies- miller parts are sometimes mistaken for miller lamps but only lamps with miller's trademark name on the fount are legit pieces.
Pairpoint
The company began in 1880 in New Bedford as a coffin fitting and metal work company and later merged with Mt. Washington Glassworks, after which they began producing lamps and lamp parts.
From 1895 to 1940, pairpoint became popular for their glass shades which existed in three unique styles- the reverse painted shades, the ribbed painted scenic shades, and landscapes shades. Their website offers valuation and authentications for pairpoint lamps.
How To Identify Antique Banquet Lamps
Before we proceed, the basic features of antique banquet lamps are heavily detailed stems, a decorated globe made from milk, pattern, cranberry and satin glass, a detachable fount and a vase
The following features and steps will answer the lingering question of identification when collecting antique banquet lamps. Check them out below.
Check The Height
What sets antique banquet lamps apart from the rest is their commanding height. They go up to 40 inches tall with a chimney for the smoke to escape. So, if your indoor lamp is unusually tall, has a detachable fount and decorated stems, it's a banquet lamp.
By Their Shapes
You can spot antique banquet lamps by observing their striking upper and lower glass or metal globes. Need a more visual presentation? Then check out the Gone With the Winds movie, and you'll find these lamps in the background of several scenes.
Check Out The Burner
The antique banquet lamp has three burners: the Coronet burner, the argand burner, and the central draft burner. Here's a pictorial guide to what they look like.
There're different types of lamps with burners that help them function well. It's important that you try not to mix them up.
Is Your Lamp Glued or Fused
Old lamps are attached when the glass is hot which leaves little to no residue, while newer models or reproductions are attached with glue. The effect of the glue is obvious, and putting your lamp under a blacklight will reveal whatever technique was used.
Find an Appraiser
The importance of appraisers to antique collectors cannot be overemphasized; they're our ultimate guide to procuring quality items and making the highest returns from their sales. There's no difference in the case of antique banquet lamps too.
Whether you decide to do it first, midway, or as a last resort, appraisers are readily available to supply you with accurate information about your old banquet lamps, help you discover if it's a reproduction, and also identify the maker if you can't find the marks.
Do Your Research
Various websites have been curated to help you understand everything about antique banquet lamps, from their history, makers, and other important information that will help you figure the whole item out.
These websites sometimes have in-house appraisers that can immediately answer your questions on antique banquet lamps.
Find A Group/Forum
Catchy antiques like the banquet lamps usually have collectors form a support group or collecting forum that admits collectors who share common sentiments, offer research support and hold annual exhibitions or trade.
Study the Extra Details
Many new lamps exist in colors, sizes and designs that didn't exist back in the day- this is one of the fastest ways to identify whichever banquet lamp you have in your hand. check out the next step for the correct identification guide that'll show you patterns, colors and size these lamps were made in back in the day.
Readers Are Leaders
Purchase identification and buyer's guides like this one on amazon. They contain different styles of banquet lamps that'll help you easily identify them anywhere you come across these lamps and generally improve your collecting experience.
Here's a video for further identification.
Tackling the Issue of Reproduction in Antique Banquet Lamps
Reproduction is the bane of every antique item, and ignorantly gathering several of them can create a dent in your image as a collector and even reduce profit. However, different effective ways have been implemented to help you identify these reproduced pieces and get a better deal.
The first feature of a reproduced antique banquet lamp is the fusion. Manufacturers joined newer or reproduced lamps with glue instead of being fused through wielding. Place your lamp under the backlight to determine if it's glued together or fused.
The hardware of your antique banquet lamp is also a great way to discover its authenticity. Old metal hardware is usually joined to the lamp glass with plaster. For reproduced pieces, they're always glued.
The final way to check if your lamp is a reproduced piece is to carefully observe the color and size. Through our research, we've discovered that certain shapes and sizes belong to specific times during the production of banquet lamps.
A change in color or size automatically means your antique banquet lamp is not as old as claimed, and you should immediately change your collection route.
We've attached a video below to help you further your collecting journey.
Most Valuable Antique Banquet Lamps
Check below for some sold antique banquet lamps from previous years.
| | | | |
| --- | --- | --- | --- |
| S/N | Name | Release Date | Price |
| 1 |  Antique Nickel Banquet Lamp |  1895 | AU $1,295 |
| 2 | Antique Florentine Copper Banquet Lamp |  1895 | AU $1,150 |
| 3 | Nickel and Marble Antique Banquet Oil Lamp |  1895 | AU $995 |
| 4 | Wallace & Son Center Draft Banquet Kerosene Oil Lamp Cupid Griffins | 1889 | AU $645 |
| 5 | Ruby Glass Banquet Lamp | 1900 | AU $895 |
5. Name: Ruby Glass Banquet Lamp
Release Date: 1900
Price: AU $895
An English lamp true and true with lovely deep ruby colored glass font resting elegantly on a weighty brass stand and girdled column. An antique opalescent shade is detailed with threaded cranberry glass at the edge creating the perfect union.
4. Name: Wallace & Son Center Draft Banquet Kerosene Oil Lamp Cupid Griffins
Release Date: 1889
Price: $645
This lamp is so iconic that it is even featured in the courters books on center draft lamps. It was produced by Wallace & son company and stood tall at 30 inches with a solid cast of griffins at the base and cupids in the fount.
The elegant piece has an onyx stem with a griffin ball shade, making it one of the most decorated banquet lamps.
3. Name: Nickel and Marble Antique Banquet Oil Lamp
Release Date: 1895
Price: AU $995
This elegant banquet lamp boasts intricate details of a marble stem and nickel section with a complete removable slip font. The complimenting color themes on the lamp make it come together nicely.
2. Name: Antique Florentine Copper Banquet Lamp
Release Date: 1895
Price: AU $1,150
This antique florentine copper lamp features a heavy floral pattern on the font holder and extends to the top to reveal a gallery of goat heads and cameos adorning the stem and the cherub faces on the chiseled base.
The lamp is attractive due to its catchy patterns and glossy Florentine copper finish. Its cranberry-colored rim with wretch etched finishing touches puts this lamp ahead of its peers and will light up any space.
You'll find the Edward Miller & Co 'Meteor' removable or 'slip' oil font with the patent dates of 1892 and 1893.
1. Name: Antique Nickel Banquet Lamp
Release Date: 1895
Price: AU $1,295
A grand lamp measures up to three feet tall with a heavy cast base heavily detailed with scrolls, leaves, and cartouches. The rope-style stem gently leads to a font holder doused in swirl patterns with a decorative filigree band in the middle.
For the globe shade, the maker adopts a plain opal glass with its milky white hue nicely with the nickel banquet and doesn't draw attention away from the other heavy details on the lamp's body.
Determining The True Value of Antique Banquet Lamps
As an antique collector or buyer, one of the toughest steps to take is how to correctly determine the true value of your item. So many factors come into play when doing this, and we'll check them out below.
Check the Age
The relationship between age and the value of the antique is as old as the art of collecting itself. The majority of these antique items won't have so much perceived value if they're not as old as they are. Confirming their age helps you work a deserving price around your lamps.
Ask an Appraiser
Contact the services of an experienced appraiser to help check out your antique banquet lamps and curate a precise estimate. Getting an estimate from an appraiser means you're fully equipped to take on the demands of a much larger market and not get ripped off.
What is the Current Condition of Your Antique Lamp
Pay attention to the patterns on your antique lamp and check for their brightness and state- intact and bright pattern equals higher value. Another thing about the condition is if your lamp has all its parts intact and working.
If you own a banquet lamp, ensure you keep them away from reach, dust, and harsh conditions that can affect their main materials and fade their patterns. Condition is a serious prerequisite for the successful sale of the antique object.
The Maker
Miller, Pairpoint, Fostoria, and Baccarat are a few companies that made antique banquet lamps. If you find their products on the market, they'll most likely be more valuable than unnamed or unmarked lamps from unknown companies.
Provenance
The fact that a particular individual has owned your lamp before can increase its value. We encourage you to conduct qualitative background research about your site to discover its source and work with that information accordingly.
Rarity
Rare antique items are the holy grail of the antique world. The chase and attention they attract are what make them much more valuable. Rarity is one of the things you should pay attention to when sourcing your antique lamp.
Choice
The decision to purchase an antique lamp or attach tangible value to it is also tied to the buyer's choice or desirability. No matter how seemingly valuable your antique lamp is if the target audience doesn't see them as valuable, little or nothing can be done.
Online Price Guides
Existing price guides serve as the basis of whatever you decide to set your lamp value at. Do well to examine one or two and let them guide your decision.
Where to Get Antique Banquet Lamps
We've helped you with a detailed list of places you can get your antique banquet lamps now that this article has ignited your passion for collecting them.
Yard Sales
Be on the lookout for the next yard sale in your community, and you may be lucky enough to find one or plenty of pieces of antique banquet lamps. This is because they were a common household decorative item in the 19th and 20th centuries. Therefore, we can't put it past households not to have it.
Auctions
The rare and very intricately designed banquet lamps or those that belonged to nobles, chiefs, and even kings are mostly auctioned off at higher prices; however, we encourage you to do your diligent fact-checking on whichever auction house you choose to go with to confirm if they're legit or not.
Antique Stores
Antique stores are excellent places to find antique banquet lamps; the chances of finding a reproduced version or new model here are very low as these stores stay true to their name, and the bonus is that they come with an in-house appraiser that can further help you clear your doubts.
Thrift Stores
Items in thrift stores are mostly preowned, and it's not unusual or strange to see banquet lamps on their aisle. On your next trip to the thrift store, ask the attendant about the possibility of finding antique banquet lamps; it might just be your lucky day.
Parting Words
These timeless lamps are the perfect accessory for your home, and they'll provide you with that feeling of warmth and history. While we encourage you to take the bold step and get a piece for yourself, we'll also leave you with these tips.
Condition is as important as the item itself; check for the status to not sell yourself short.
Antique banquet lamps are mostly converted to electric-powered lamps to keep them in function; if this isn't your pick, ensure to confirm before purchase.
To easily recognize if your lamp is reproduced or not, check the joints and see if they're fused or glued together- the presence of glue means your lamp is not antique.