Not many quintessential antiques are available for purchase in the old-time furniture category. However, you can seriously consider indoor décor encouragement using an antique armoire. Its genuine pieces can surely introduce an everlasting impression for anyone.
Choosing the righteous antique always requires extreme attention towards authenticity. Scams or frauds may easily find a way to waste your precious investment without knowledge. And we have comprehensive guidelines regarding dependable antique armoire purchases.
History of Antique Armoires
Armoire is a French word to stand for wardrobe. It was more like a luxurious possession for the early rich families. The free-standing furniture remained a great piece to store clothes. Not to mention, armoires are considered to be the predecessor of modern-day closets.
Early versions featured luxurious details with artistic embellishments. It concerns the designs from the 17th, 18th & 19th centuries. Even most of the 20th-century armoires continued the trend. Additional feminine elements demonstrated high-level craftmanship on the time.
However, most Americans preferred to refer to armoires as 'knock-down wardrobe'. Distinctive designs made the household décor from the 1850s to the 1910s. Meanwhile, the chifferobe (French) managed to become popular in American houses by the 1920s.
Chifferobe explicitly held one full-sided column of drawers. Mass production of wardrobes managed to replace the antique-style armoires. In fact, the 20th century observed absolute design transition in no time. Cedar-lined wardrobe remained at the forefront of the change.
Standard Antique Armoire Styles
Different taste of people has to result in distinctive styles for household furniture. But there comes no well-defined category to check the designs. You better consider the following comparison to know the available variations.
1. Rocco vs Gothic vs Natural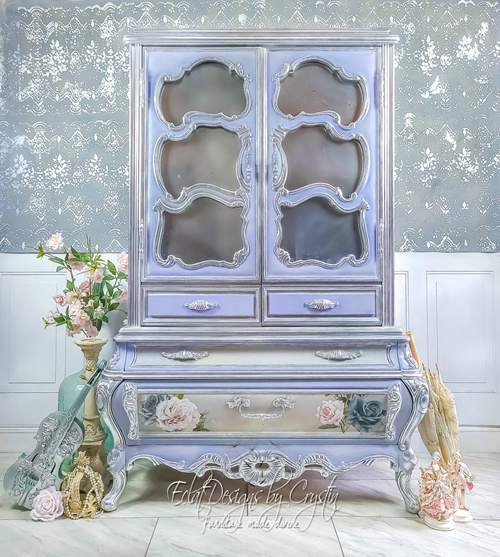 Early French models held either Rocco or Gothic style carvings to induce the appeal. However, it's possible to check several distortions over time. You should check online resources or expert consultation to know a particular style.
However, natural carvings feature simple yet impressive carvings on the exterior portion. Almost all French armoires to have mirrored doors adopted the design. Some classic counterparts might integrate some differences for a definite purpose.
2. Wooden vs Mirrored vs Wire-Fronted
Differences in the opening section define the distinctive styles from the outside. Of course, solid wooden doors should cover everything up. It definitely comes antique without adding any particular décor.
However, wire-fronted doors will allow everyone to check the inside. The transparent entrance looks somewhat aesthetic to a great extent. However, it remains difficult to find a subtle choice within budget.
And there come mirrored doors to feature outside reflection. There's no way to see anything from its covered-up inside arrangement. Likewise, either one or both doors integrated full-size/half-size mirrors.
3. Rustic vs Opulent
Authentic rustic armoires are pretty difficult to manage over limited productions. The label explicitly suffices century-old rural/medium-class storage requirements. The designs used low-quality wooden pieces, minimal décor & no extra components.
But upper-class families to have a good taste of style adorned opulent armoires. Conceivable features coincided with luxurious surface details almost everywhere. Many distinctions in the designs will let you choose from numerous options for décor.
As you can understand, the options are almost limitless with antique armoire. Exploring the options using available resources can allow you to narrow down the list.
How to Detect Antique Armoire Age?
It's daunting to find the exact age of any antique furniture. However, there are expert suggestions for you to look into in greater detail. Following points can help you to determine the approximate age of the intended armoire.
Observe the entire construction to categorize its design, material & size. Inspect the style closely to check for any reproduced repetition.
Examine the built-in hardware to concern holding pieces, nuts, screws & hinges. It should reveal important clues on the probable age.
Larges size, irregularity, hand-forged surface adorned early screws. Presence of ornate hardware is likely to depict full handcraftsmanship.
Take the drawers from its holding slot to check into its interior details. Irregular dovetailing is one feature to remain present in armoires.
Check for any patina on the wood pieces with their joinery. Early handmade or machine-influenced designs must have visible distortions.
Pay attention to the mirror glass for confirming its antiquity. Presence of surface bubbles, cracks, or rusts should suffice the investigation.
Focus on the pattern of surface damage or joinery deterioration. Complete randomness in the aging effect can surely justify the antiquity.
It's important for you to know the difference between reproduction with genuine designs. Deceiving sellers may try damaged modern-day armoire for antiques. However, it's somewhat impossible to manage handmade screws or eventual deterioration.
Antique Armoire for Decoration
There's no need to confine your intended antique armoire application to clothing storage. Modern home settings to allow recycling let you check other possibilities.
Living Room: Antique armoires in the living room should primarily support storage requirements. You can display many small-size collectibles on the open shelves. Also, anything to check occasionally (blanket/pillow) fits the décor.
Bedroom: Another great way to repurpose your antique piece concerns bedroom support. Design to resemble walk-in closets can hold many out-of-season items. Shoes, handbags, purses & even electronics should fit into the age-old design.
Kitchen: Historical houses often go pretty well with free-standing antique armoires. Adding extra shelves or hanging slots can transform the old piece into a functional pantry. Also, you're to consider the integrated hook-rod assembly for storage.
Foyer: Exterior armoire details are clearly superior to standard mudroom bench. And drab foyer or entryway remains one great option to keep the antique furniture piece. Likewise, you're to consider possible options to match its existing appeal.
Assembling or Disassembling the Pieces
Most of the antique armoires hold a solid piece with minimal assembly requirements. However, Victorian armoires featured complete disassembly of the individual parts. The most noteworthy benefit concerns narrow staircase or limited space applicability.
Not to mention, it may give you trouble while putting together. It's better to utilize an extra pair of hands for the assembly. Otherwise, the decorative exterior may receive damaging hits on the task. And you must know everything from the seller to avoid mistakes.
Method to Refinish Antique Armoire
Antique furniture refinishing is popular among common users without satisfying knowledge. And the outcome often ends up reducing the actual market value. Therefore, you must stay cautious to apply the refinish on the antique piece.
The entire process will take considerable time, precision, space, patience & trial and error. Complete attention to every detail can get you a satisfying result.
Some restoration process only requires a simple cleanup. In fact, use dry cloths to wipe the surfaces. Again, you may think of polishing or waxing at some point.
Mild cleansing agent to impose oily soap with water should accomplish the first step. However, you shouldn't prefer any heavy or extreme cleansing agent.
Some finishing agents are directly available in the market. But you must take notes to consult a pro. Applying random agents surely causes surface damage.
Many collectors to use the armoire often decides to paint the exterior. In fact, not every collectible can match the existing home décor. But it requires professional assistance to keep up the actual value. It's important to impose a paint to retain the original value for future trades.
Antique Armoire Valuation
Valuating your antique armoire can range a wide amount from different perspectives. There are different options for you to consider with the price. For example, an open market tag will definitely differ from its auction value.
However, appraisal service remains the easiest way to find the actual value. Many online appraisals are available to evaluate the price within 24 hours. Consult the experts to know dependable options in hand for the job.
Surfing the internet for a good time should enlighten your mind about values. Don't forget to browse online shops along with local stores to trade antiques. You may even find a similar design within a conceivable price range.
(Credit – Furniture and Applicance Mart)
Where to Check Authentic Designs?
Confirmed authenticity is the most troublesome consideration with antiques. Therefore, you can't afford to spend bucks on fancy advertisements.
Online platforms remain the most dependable option to check authentic designs. Not to mention, you can cover too many styles with some clicks.
Keep looking into PAMONO, Etsy, Chairish, eBay & Wayfair to explore genuine armoires. Also, there are other websites available to trade antiques.
And you must consider the policy, service, packaging & delivery. Despite the limited collection, you should check local stores to deal with antiques.
Final Words
Focusing on the details can immediately reduce the chances of encountering reproductions. Keep yourself engaged in relevant community forums. Also, the aforementioned words will offer explicit assistance on proper identification.
It'll definitely take some time to know everything on available antique armoires. But spending the time should suffice your purchase without any confusion. And the furniture piece is likely to multiply the existing décor to a great extent.