Implicit glamor with a historic touch prevails for available antique vanity pieces. Classic vanity eventually becomes a modern-day makeup dresser. In fact, fashionable or stylish ladies can't think of completing the facial gesture.
Anyone to takes a keen interest in antiques must know the identification strategy. Otherwise, you may fall victim to reproduction, married or duplicate pieces. Time to explore the details on antique vanity to suffice your purchase.
Vanity vs Dressing Table – Are Both the Same?
There are too many terms associated with vanity – dresser, lowboy, dressing table & even bureau. And beginner-level collectors often find it extremely difficult to check the distinction. In fact, common people mostly use the aforementioned terms interchangeably.
However, abbreviated 'dresser' simply refers to the short form of a standard dressing table. Meanwhile, lowboy is one popular synonym of vanity among Americans. Again, the bureau is more like a forgotten/less-used synonym of vintage vanity, not dressing tables.
Not to mention, classic vanity is indeed the predecessor of the modern-day dressing table. It features only a limited number of drawers on two sides. And it leaves empty space in the middle to hold the user's legs. And the design integrates a good number of decorative items.
And dressing table differs from vanity with an imposed mirror. There is an additional number of chest drawers in a distinctive pattern. Dresser is the modified, polished, modern version of old-school vanities. Advanced design can perform many exclusive purposes at once.
Brief Timeline of Early Vanity Designs
Changes in vanity design seem more like a continuously evolving trend. Therefore, antique vanity appeal comes with a long history to cope with time requirements. And you must know the particular details of popular, trendy & available ones.
Toilette Table
It's probably the very first official vanity table to gain public attention. French Toilette refers to handkerchief cloths to store cosmetics. Several designs even integrated small-sized water basins for facial clean-ups.
French Table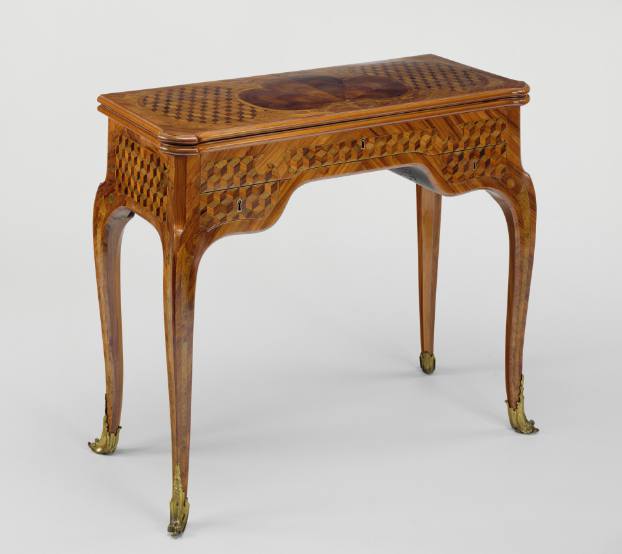 Madame Pompadour, a trusted royal advisor, appointed renowned French furniture designers. And Jean-Francois Oeben made her a famous vanity table. The Rocco-style design holds a marvelous piece of the 18th
Dressing Table
Vanity managed to make its way to England as well as America by the 19th And it eventually takes the 'Dressing Table' tag to become an inevitable bedroom piece. Queen Anne designs held a rage among the well-to-do.
Mirror Table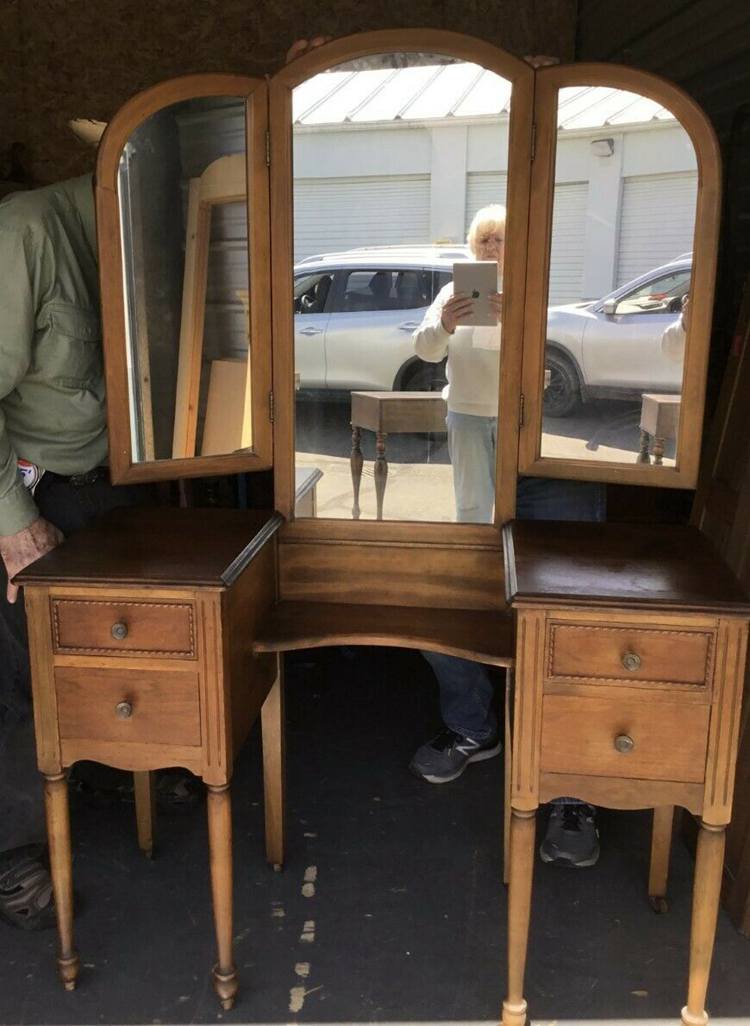 Glass gets to a cheaper tag by the 1900s over industrial improvements. And tri-folded mirror tables immediately became a popular trend. It assembled a central oval mirror to feature two wing-mirror supports on the sides.
Waterfall Vanity
Art Deco movement started to continue in full swing from the 1930s. It developed Waterfall to feature a single yet large circular mirror. The less elaborate design integrated simpler structural details with exotic veneers.
Mid-Century Vanity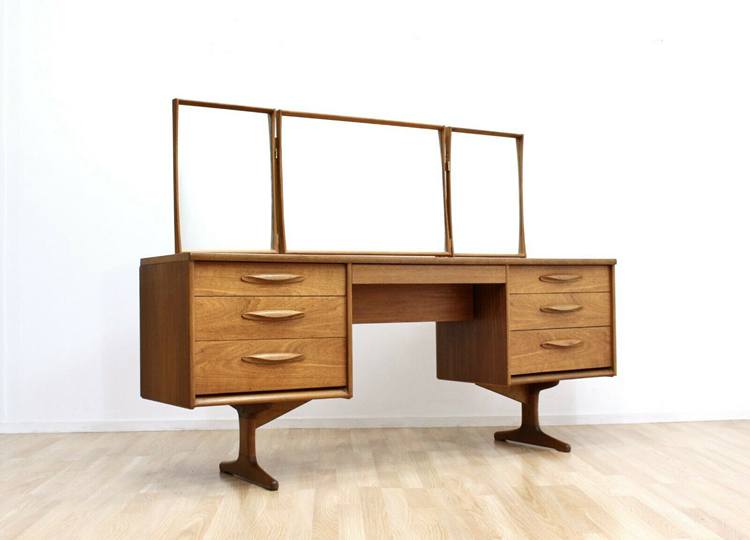 Curvy pieces, rigid materials & clean lining defined modern décor. Adjustable mirrors even allowed swapping with distinctive shapes. Despite its minimal elegance, the sleek look paved the way for modern designs.
Retro Table
Early 1970s literally observed a wild revolution in style & fashion. Manufacturers tried almost anything to check the viability of new designs. But it's difficult to find any plausible vanity design to encourage the indoor décor.
Streamlined Vanity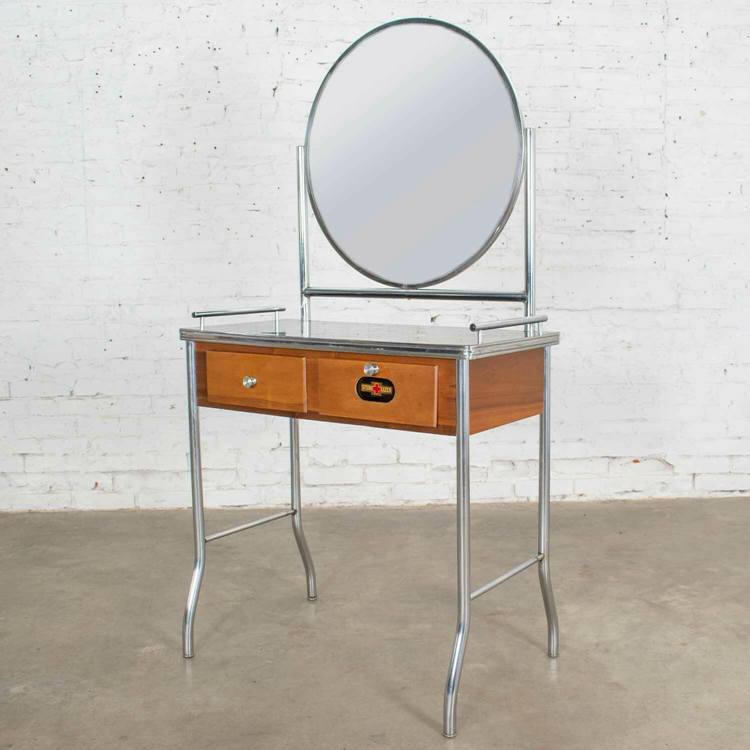 Contemporary design with defined streamlines promoted the vanity's appeal. It introduced different supporting trends – tray, organizer & storage. And brass coating covered almost every design for some reason.
As you may notice, the history of vintage vanity ended up by the 21st century. Of course, you can manage a somewhat newer design easily. But checking authentic designs from the 17th – 20th century will require elaborate research. Likewise, the process will cost you a considerable fortune on the initial investment.
Identifying Antique Vanity by Yourself
Confirming a vanity's absolute antiquity isn't exactly a simple task. It takes precise eyes to check every point on the structure. However, experienced professionals enlisted particular considerations on antique vanity identification.
· Examining the Complete Structural Design
Random irregularity still remains the most important clue to check any furniture's antiquity. You must take a closer look at the joinery. Handcrafted pieces merely feature absolute evenness for the hidden sections. Therefore, pay extra attention to the bottom, back & internal surfaces.
· Checking into Materials for Perfect Match
Small matching elements on the dresser should hold slight distortion in its shape. Not everything can match the style perfectly as it should. It concerns the drawer knobs, opening handles, or attached legs. But machine-made vanity perfectly initiates a setup to match the individual pieces.
· Setting Documentation for Brief Research
Going through the entire structure for any identification sign remains a good idea. Any particular stamp, trademark, or signature can help you to trace the manufacturer. And you're to explore the library for validation. It's essential to confirm the authenticity to avoid a confusing purchase.
· Looking into the Overall Surface Condition
Exterior surface reveals many important clues to judge the viability of any furniture. You must identify the actual wood type to structure the design. Consult experts to check for the repair, refurbish, or restoration marks. Try to settle for well-conditioned designs with minimal/no change.
· Investigating Its Holding Screws on Joinery
Meanwhile, classic screws are literally impossible to find for reproductions. Early handmade screws concerned square/round nail stocks. And early machine-made screws require hacksaw polish for the heads. Therefore, no two screws can resemble an exact or even close appeal on antiques.
· Evaluating Integrated Hardware Accessory
Another similar aged-out hardware concerns brass or simple iron hardware. Molten brass requires sand molds cover the majority of early vanities. Outward polish left pockmarks on the interior sides. Rough texture, basic finish & poor threading denotes the early craftsmanship timeline.
Expert Tips on Antique Vanity Purchase
Of course, you may get yourself an authentic antique for purchase within budget. However, experts advise you to keep looking for additional facts. The intended tricks can help you to retain the value over years of use.
Many collectibles mistakenly take small-scale writing desks for vanity tables. Availability of a matching bench or low-back chair should suffice its authentication.
Check the flat surface to detect any ink marks or writing residuals. Dressing table shouldn't have surfaced marks. However, detection will reveal its writing purpose.
Inspect the integrated hardware for its originality. The pieces should match or at least resemble similarities. Try the imposed marks to find out extra information.
Examine the mounting screws to hold the mirror. Pay attention to detect any sign of the previous removal. Also, closely inspect the screw quality, pattern, and shape.
Look into the mirror glass for anything to mark its antiquity. Previous glasses were merely smooth. Therefore, check the glass for damaging, bubbles or roughness.
Enlist the repairing or restoring options available in hand. You're to deal with cheap, broken, or loose veneers. Go through the design from its inside for purchase.
Additional stains like pleat, fringe, or ruffled skirts may give considerable maintenance trouble. Check the viable options to retain the actual market value.
Approximate Value of Collectible Vanity
Many physical facts directly influence the market value. Two same products shouldn't value an exact price without any coincidence. However, you must retain a good value for holding actual antiquity.
There's no current limit to judge any antique piece without knowing the specs. The tag easily exceeds $5000 – $10,000 or more on auction. Rarity or luxury can instantly push the price upward.
Appointing an appraisal remains the ultimate option to evaluate the price. Several platforms have been offering the service. But you should initiate the primary determination using online resources.
Many books have been published on antique furniture guidelines. You can sharpen your knowledge from popular books. Consult anyone to know the subject for suggestions for the startup preference.
Where to Find Authentic Antique Vanity?
You better check the established online stores to develop a rough idea. Cinoa has a good collection of British & colonial vanities. And Ruby Lane includes designs from Art Deco & Hollywood Regency.
Don't forget to check online auction platforms like Sotheby's. You can manage cheaper options from second-hand stores & antique shops. It'll take considerable time to find vanities on other platforms.
Keep in touch with the concerned community on antiques. Consult experts or customers to judge the overall product quality. Don't forget to explore the offered service, packaging & delivery options.
There are some established platforms to provide assistance. Utilizing the available resources can enlighten your knowledge at once. What you need is determination to cover the details for success.
Final Words
Authentic vanity from early centuries will surely add an impressive décor to the room. And the praise from guests should suffice your precious investment. Of course, you can't afford anything good with a defective, reproduced, or low-quality purchase.
The aforementioned guidelines should suffice your beginner-level quest on antique vanity. You're likely to possess moderate skills in its identification & valuation. Start gathering the available online & offline resources to check the original designs.