American brilliant cut glass was born out of pure artistic genius, love for country, and years of brilliant craftsmanship. If you have a few of these in your possession, consider yourself a part of America's rich and luxurious history.
American cut glass, a collector's favorite, is in high demand. The prices on these collectibles range between $1000 to $100,000.
This guide will intimate you on everything American brilliant cut glass, their striking patterns, and even help you quickly identify and determine their value.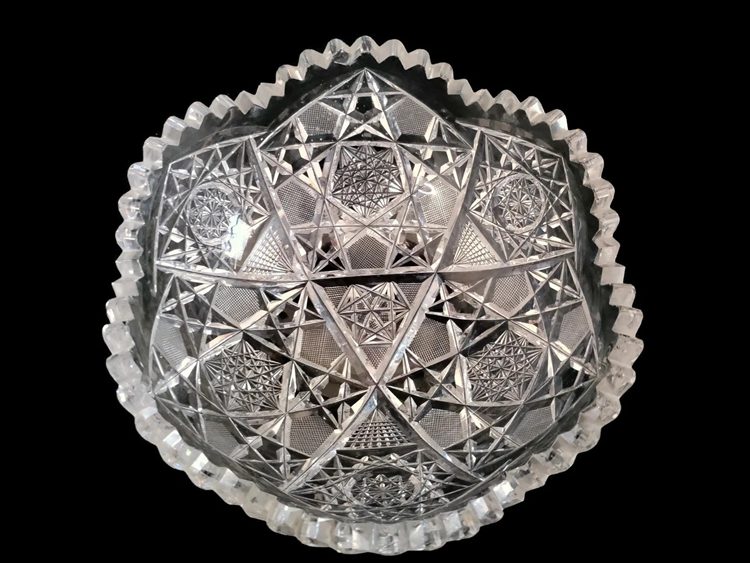 What is American Brilliant Cut Glass?
The American Brilliant cut glass refers to handcrafted and some of the finest quality glass. It features bright illuminating crystals that add to its brilliance. This brilliance is due to the cut glass's high lead content (about 50%).
A Timeline of Events
In 1608, America welcomed its first cut glass industry under the control of Henry William Stiegel, the cologne immigrant. He established the American Flint Glass company in 1771.
This trend continued 60 years later and became known as the "Early Period" for the American cut glass industry. This period featured unique cut glass with patterns that bore a striking resemblance to English and Irish variants.
The "Middle Period" commenced in 1830. By this time, American companies had begun developing their independent, original patterns, and a national style synonymous with America alone began to emerge.
By the time America was preparing for her centurion birthday in 1876 at the Centennial Trade Fair in Philadelphia, Pennsylvania. The style from the middle period had already solidified its place in the heart of many. It evolved to what is now known as the "Brilliant Period.
From 1876 till the outbreak of WW1, American cut glass makers rolled out incredible, unique, and unmatched designs worldwide
Here, Jim Asselstine talks about American brilliant cut glass history and making.
The Golden Years
Two major factors contributed to the success of the brilliant-cut glass industry in America. The newly discovered excess deposit of lead/silica in the United States and the influx of glass artisans from Europe to the west.
However, it is noteworthy that every piece of brilliant-cut glass was hand-made and has passed through expensive cycles. Making it available and accessible to a particular sect of society- the affluent.
The glass quickly became synonymous with class and wealth and only appeared in special events. This factor increased competition in the glass-making industry. They usually sell for twice or three times the weekly wages of the artists who created them.
Numerous glass companies sprung up and sought to dominate a seemingly European market with the advent of the brilliant-cut glass- a very fruitful process.
This glass caught the attention of all and sundry, and sales began to skyrocket, especially after the 1889 Paris exposition, where T.G. Hawkes received the grand prize for the Grecian and Chrysanthemum patterns.
Four years later, at the 1893 Columbian fair in Chicago, Libbey glass company won grand prizes for their Colombia and Issabella patterns, further increasing the demand surge in America.
Brilliant cut glass pieces were made for the crème-de-la-crème, such as the Mexican and Cuban presidents, the king of England, and American socialites. They became the epitome of excellent craftsmanship, standard quality, and unrivaled class with their catchy names and impressive sales campaign.
The Final Days
There's no good without an end. The smooth run of brilliant-cut glass became marred in 1897 as the intense competition led companies into adopting substandard techniques like molding and acid polishing.
These cheaper techniques aimed at decreasing labor and also producing cheaper glass. This process led to inferior and stained glass. By 1908, the companies cutting glass had reduced to about a hundred, and a great crisis slapped the once-booming industry.
Out of this rubble came the "Flower Period", arguably the most progressive era that welcomed the emergence of complex geometric patterns with naturalistic twists and elements. The majority of the cut glass during this period was acid-washed and had high-end pieces signed by their manufacturers.
By 1914, one of the primary ingredients (Lead) became highly needed to make bullets for WW1. The ripple effect is that brilliant-cut glass fell terribly from grace and the populace pursued a more affordable décor material as the economy plunged.
By 1920, nobody could salvage the situation. So finally, every last standing cut glass company caved to the pressure and shut their doors forever.
How is American Brilliant Cut Glass Made?
The makers of cut glass introduced new techniques, added fresh ingredients, and adopted new patterns styles. The new adjustments ushered in a never-before-seen era in the cut glass industry.
The first adjustment was the switch from using a coal-powered firing system (Furnace) to natural gas. The natural gas used produced cleaner glass and ensured a controlled and more straightforward process for melting glass.
Additionally, the emergence of powered electronic instruments replaced the old, crude, and manual equipment used for production.
The cut-glass companies took a significant step by introducing high-grade silica and 50% lead to the formula. This is also known as lead crystal.
Here's a step-by-step guide on the making of regular cut glass:
Step 1: The artist begins by taking an uncut piece of glass and pressing it against multiple spinning wheels, imprinting patterns on the glass.
About a thousand shops were responsible for turning these thick and bland glass pieces into objects of beauty.
Step 2: The next step involved polishing the patterns; note that the default color is a milky to white hue after cutting the glass. Polishing it restores the clear appearance and shine. The techniques used to polish the cut glass in earlier times include;
Hand polish
In the early period, polishing of brilliant-cut glass was by hand; they would do this by pressing the rough-cut pattern against a polishing wheel. The result produced sparkling, clear, illuminating glass.
This process was simple and effective, and hand-polished pieces are more valued than acid-polished glass pieces.
Acid polish
From 1905, glass companies figured they could polish rough-cut shapes by immersing them in a strong acid mixture. This process was cheaper and faster; they could even dip multiple pieces in the mix at once.
However, a downside came with it as the glass pieces looked dewy and watery against the sharp color of hand-polished pieces. In addition, poor acid baths caused blisters or uneven lines on the designs.
How to Identify American Brilliant Cut Glass Patterns
Have no clue on how to identify your brilliant-cut glass patterns correctly? Don't sweat it; this section has all the tips and tricks you need to make it happen.
The video below throws more depth into the American glass pattern identification process.
Examine the cutting techniques, details and accuracy
One simple way to identify an actual American cut glass pattern is by examining the cutting technique and accuracy of the cuts.
Cutting was done on a steel wheel, and a stone wheel wiped off the marks left behind. This cutting was done evenly and followed a definite pattern, so a line of intersection remained.
Their hobs are of the same size and uniform shape. For bases with rays, they must join at the center and be of equal length. The finest brilliant-cut pieces usually have a silvery and shiny outlook. Look out for these details to recognize legit pieces.
The glass's timeline
Another way to identify an authentic American cut glass pattern is by understanding the disparity in age and manufacture dates.
As years passed, patterns and designs on brilliant-cut pieces evolved and became complex. The early period glass designs bore a striking resemblance to England and Ireland pieces- they had motifs everywhere shaped like Strawberries, fans, and other patterns.
Early period patterns displayed impeccable artistic process, fine craftsmanship, and accurate symmetrical balance with their designs. (Stars met at the same point, diamonds and triangles had the same size).
The middle period patterns (1895-1910) were more complex and had extra flair. They had a dash of unique twists on their designs with a combination of unique swirls, starbursts, circles, and gothic characters.
The brilliant period designs (1910- later) were transitional and straightforward. It featured most of the patterns from the previous periods replaced by less complex ones. Floral shapes took center stage, coupled with geometric patterns and blanks.
Getting familiar with unique themed patterns
You can also determine the authenticity of a pattern by gathering knowledge on special themed patterns.
American brilliant-cut pieces with unique or celestial patterns are highly demanded and go for impressive on the market. Coupled with the fact that these patterns are now relatively scarce and expensive.
10 Most Common American Brilliant Cut Glass Patterns
These are some of the most famous American cut patterns. These patterns dominated the scene in the brilliant period, and the chances are high that you'll find them more than once in a pile of American brilliant cut glass pieces.
Artisans and glass cut companies often named these intricate patterns after popular places, cities, people, plants, and other significant phenomena. So, try not to be startled when you hear these unique names.
| | | |
| --- | --- | --- |
| No | Pattern Name | Release Date |
| 1 | Aztec by Libbey | 1901 |
| 2 | The Princeton Pattern | 1894 |
| 3 | Aberdeen by Jewel Cut Glass Company | 1911-1912 |
| 4 | Chrysanthemum by T.G. Hawkes | 1890 |
| 5 | Assyrian by Sinclaire | 1909 |
| 6 | Rosella by Libbey | 1900 |
| 7 | The Devonshire by T.G. Hawkes | 1900 |
| 8 | Russian by T.G. Hawkes | 1897 |
| 9 | Grecian by T.G. Hawkes | 1897 |
| 10 | Isabella by Libbey | 1892 |
1. Aztec by Libbey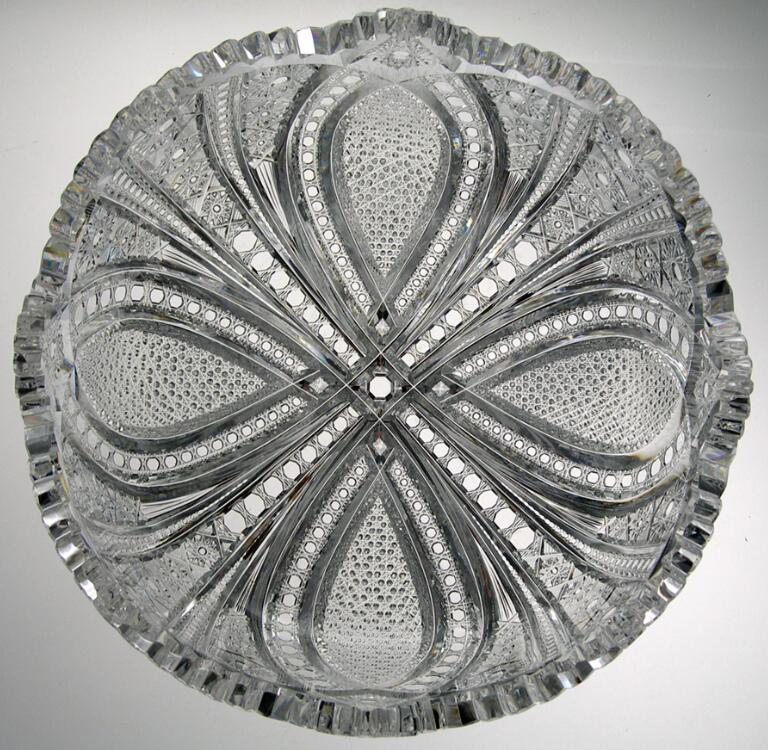 The Libbey glass company adopted this elaborate motif at the height of the brilliant-cut glass period, and people sought it highly. Four spiral loops stand at the sides to intersect in the middle.
2. The Princeton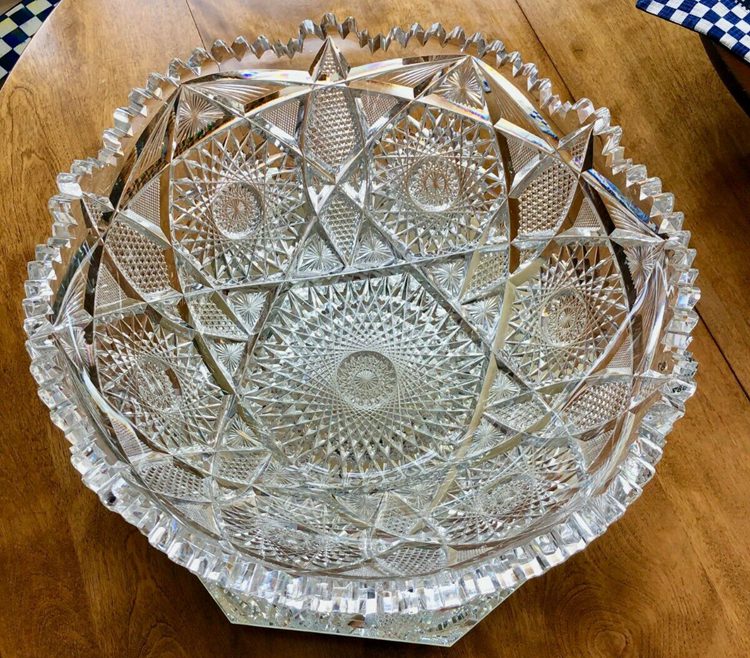 This pattern was cut in 1894 by the Mckee Bros Glass Company. Its first appearance was on a punch bowl that served as a prize to a contestant at a local regatta.
3. Aberdeen by Jewel Cut Glass Company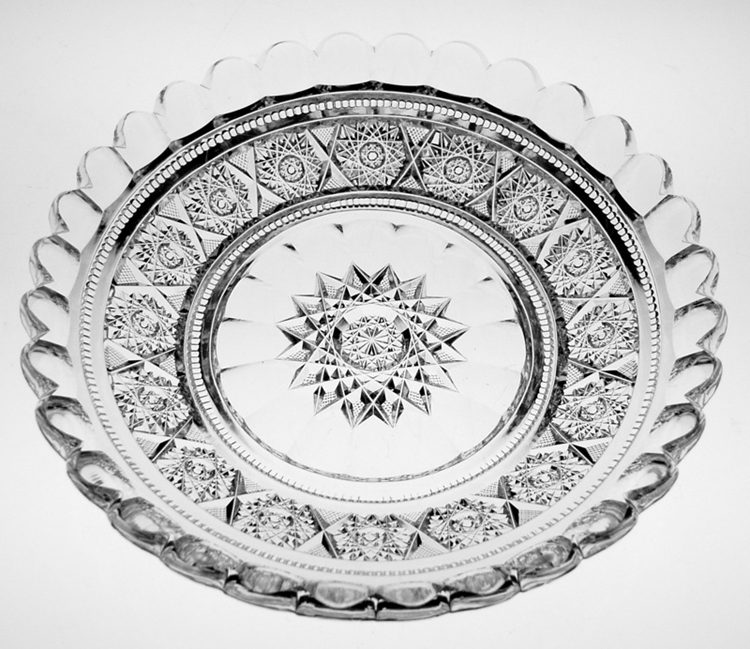 Here is an expertly cut and very rare pattern from the stables of Jewel Cut Glass Co. The rows of crystal button hobstars with each crosshatching form a web, and the concave flute cutting creates a gorgeous optical illusion.
Another layer surrounds the existing band of hobstars. It alternates with rows of clear scalloped patterns that form a pretty backdrop for the entire set-up.
4. Chrysanthemum by T.G. Hawkes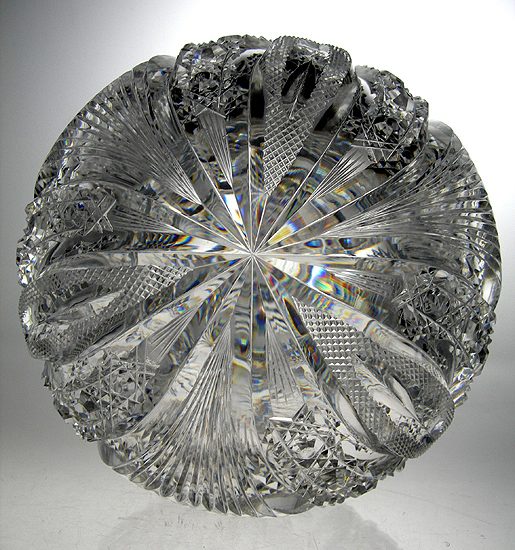 Along with its Grecian counterpart, this pattern won the gold prize at the 1887 World's exposition in Paris. It was patented on November 4, 1890.
This intricately designed masterpiece by Hawkes remarkably translates a naturalistic subject, precisely a flower, into something abstract – the more you look, the less you see.
A prominent central figure with radial leaves and flowers between the outer layers of the leaves formed the chrysanthemum.
5. Assyrian by Sinclaire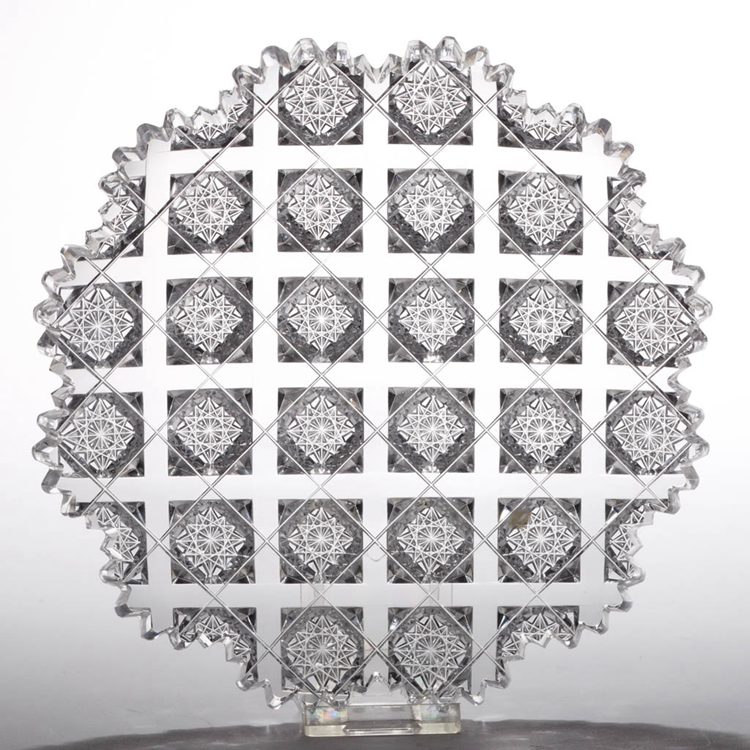 Assyrian is one of Sinclaire's geometric masterpieces. It imitated a checkerboard concept, and Henry P. Sinclaire released it on August 3, 1909.
6. Rosella by Libbey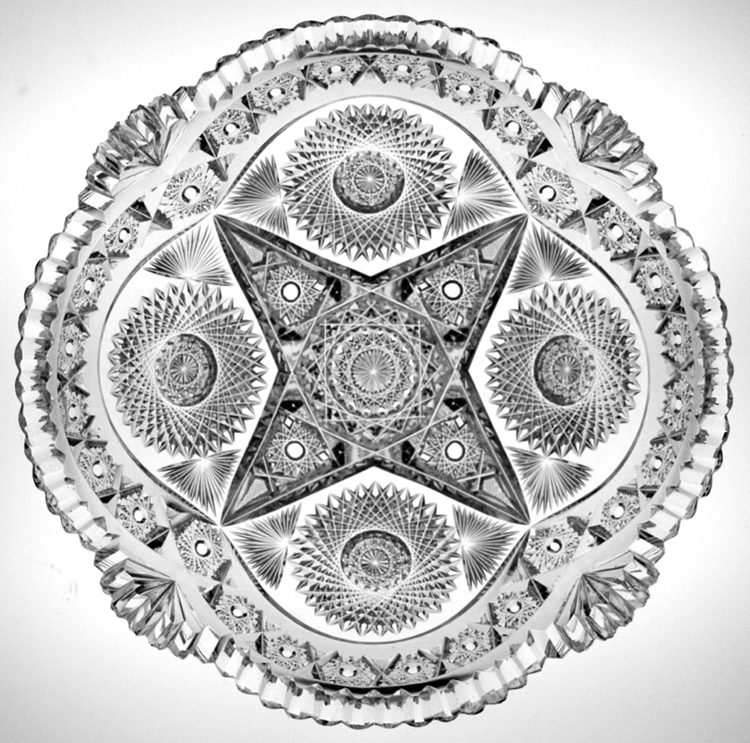 William C. Anderson created this masterpiece, and it rose to become Libbey's most expensive pattern. It features a chain of clear button hobstars in loops and a four-button hobstar around a big, bold star.
7. The Devonshire by T.G. Hawkes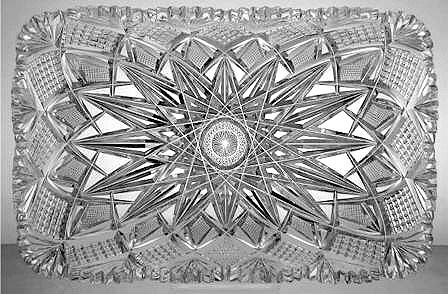 Think of a simplified version of the Cobweb pattern; this pattern was introduced in 1900 and is regarded as a border design; the border exists separately from the hobstar pattern at the base.
8. Russian by T.G. Hawkes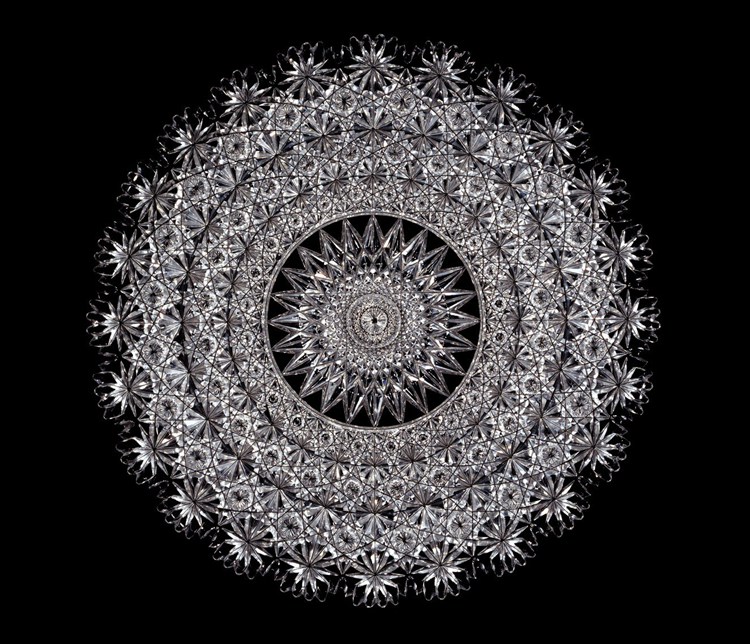 Undoubtedly one of the most popular patterns to grace the brilliant period. The Russian by T.G. Hawkes was cut in 1887 and graced the table of prominent and non-prominent citizens.
It was a regular visitor at the white house from 1891 and cut across England and Scotland. The pattern seemed to be culled from the existing Grecian pattern.
9. Grecian by T.G Hawkes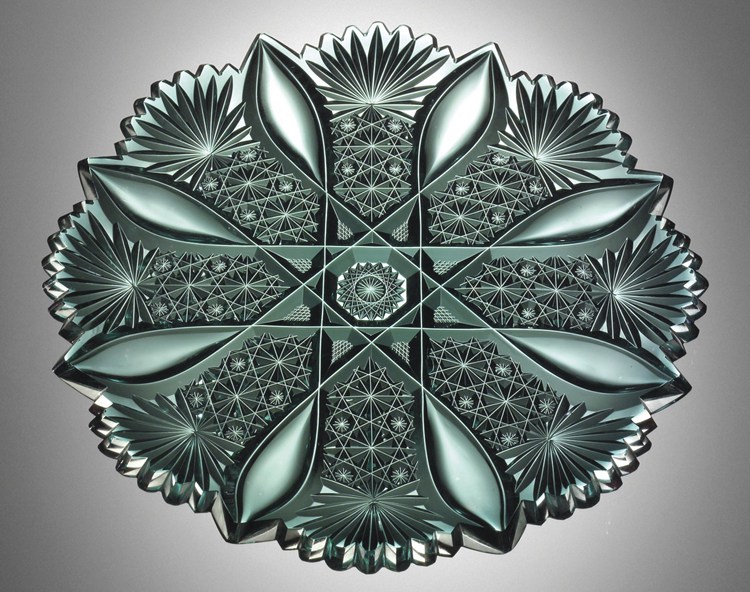 T.G. Hawkes unveiled this Grecian pattern at the 1887 Paris exposition. It received widely acclaimed fame and set the ground running for American brilliant cut glass and T.G. Hawkes himself.
10. Isabella by Libbey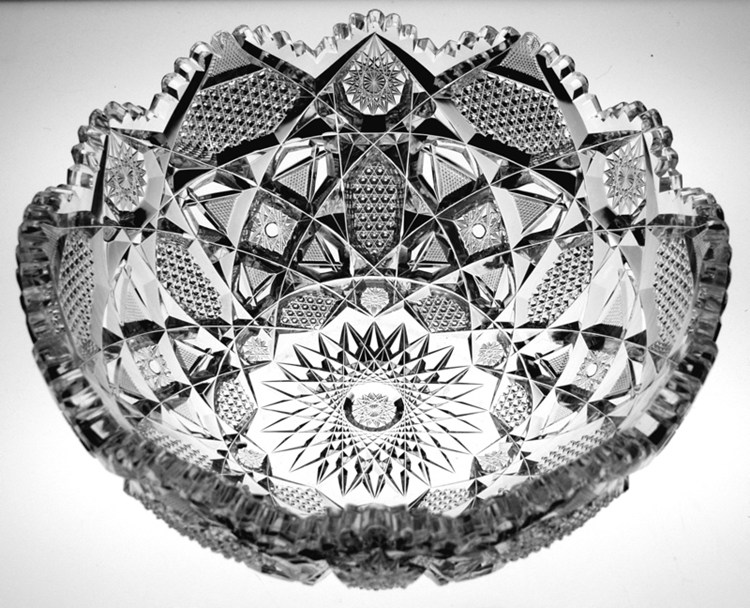 The Isabella pattern is one of Libbey's finest cutting. Extended hexagonal batches of hobnail surround the central part of the pattern.
This central portion consists of a triple miter, clear-button hobstar. Again, Isabella is the only pattern in the entire Brilliant Period with this motif-if you see it anywhere else; you're looking at a piece of Isabella.
American Brilliant Cut Glass Makers Marks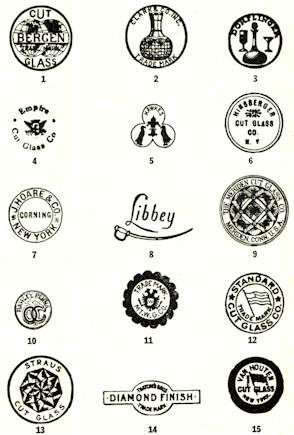 The image above depicts some American brilliant cut glass makers' marks. Many of the rolled-out brilliant-cut glass for purchase and collecting were either Signed or unsigned. Although most of these pieces were not signed, perhaps due to the nature of the glass, or they wore off as they aged.
For brand recognition, the companies stamp the glass pieces with acid-coated markers that leave a frosty engraving on their bodies- usually the base.
Brilliant Cut glass pieces from the Libbey Glass Company, especially in 1896, had the "Sword" logo on their bodies.
The "Straus Cut Glass" inscription stands boldly on the company's pieces.
For signed Dorflinger pieces, you'll find three images of glass pieces surrounded by "Dorflinger".
Tuthill's brilliant-cut glass is usually acid-etched, with the "Tuthill" written in varying fancy fonts.
Pieces rolled out from 1880 to 1885 didn't have the acid-stamped signature. It's important to state that this doesn't affect the quality of the glassware.
American Brilliant Glass Companies
Here are some of the most famous American brilliant cut glass companies from back in the day. They include;
G. Hawkes of Corning, established in 1880, and Steuben (a conglomeration of T.G. Hawkes and Frederick Carder).
Libbey Glass Company in Ohio, Dorflinger of Pennsylvania, Sinclaire, Tuthill, Egginton, and Meriden, H.C. Fry of Rochester, PA.
Pitkin Brooks, J. Hoare of Corning, Mt. Washington, Pairpoint company of Massachusetts, Olivier Effington started his cutting shop, which ran from 1896-1918, to mention a few.
Over a thousand companies producing brilliant-cut glass existed. Still, the ones mentioned above were the most prominent, appeared in publications and journals, and rolled out spectacular pieces that flooded the market today.
How Do Identify a True American Brilliant Cut Glass?
When in doubt, do these two tests to confirm the authenticity of a brilliant-cut glass specimen
The Black Light Test
Conduct the famous black light test to establish the authenticity of your glass. You must place your glass piece under a black light; it must show a lime-green tint. However, other tints such as orange, purple, and pink may also reflect under the light.
Some specific patterns, such as the Hunt's Royal pattern and Meriden's Alhambra pattern, don't reflect tints when run under the black light.
Listen for a Ring
To confirm the authenticity of your brilliant-cut glass, gently tap it with a stick or your fingertips so it produces a "ring" sound. The absence of the "ring" means your glass is cracked somewhere or an imitation and lacks the required high lead content.
Check the Signatures
Look for the logo stamped on the base to identify the maker of your glass piece. This will help you know who and what you have in your hands. However, numerous pieces were not signed, so do well to use this method as an addition to others.
To check for signatures, place the piece under a bright light and use a lens, as you can easily miss these marks due to the transparent nature of the brilliant-cut glass. Then, look at inside the brilliant-cut glass, center, ears, base, or rim for these marks.
Check Catalogs, Online portals, and Libraries.
Updated knowledge of your brilliant-cut glass is needed to help you with proper identification. Take a visit to the library, surf the web and check publications to provide you with necessary and accurate information.
Check out this video for a visual illustration of how to identify your American brilliant cut glass.
How to Determine the Value of American Brilliant Cut Glass
Here are a few points that'll help you correctly determine the correct value of your American brilliant cut glass. Follow them religiously, and you won't get ripped off or cheated on the market.
Get familiar with the big names
Some companies, such as Libbey and Hawkes, were famous for rolling out expensive and tasteful pieces for influential people. These famous names directly affect the prices of the glass cut pieces on the market and demand by collectors.
So, the next time you have a ware in your hands, checking for the maker's name should be on your priority list.
Find the weight
Any American brilliant cut glass piece should be heavy when carried- this is primarily due to the high lead content in the glass. If you notice a seemingly lightweight, that is an imitation, and it isn't worth your money.
Consider the condition of your cut glass
We understand that due to the extinct state of brilliant-cut glass companies, it's most likely that you'll only find semi-used or fairly-new glassware.
For your ware to add value, you must ensure that the signs of wear are not dominant, as it'll reduce the aesthetics and affect demand. In addition, be very careful when handling your glass pieces. A broken, defective, or chipped glass will never generate the needed attention from your target audience.
Visit an appraiser
Your best bet to determine the value of your brilliant-cut glass is to seek the service of an authorized appraiser. An appraiser must help you study your ware, consider the age and predict possible pricing options on the market.
Here you'll find a list of appraisers you can choose.
How to Clean American Brilliant Cut Glass
Knowing how to clean your American brilliant cut glass properly helps restore the shine. However, specks of dust, grease, and loose particles of all kinds are some of cut glass's biggest enemies, which is why you need a mild detergent strong enough to cut through dirt.
First, fill a tub with warm water and add the detergent; your glass might break or crack if the water is too hot. Next, get your pieces in the water and gently scrub; pay extra attention to areas and lines between the cuts and patterns to remove hidden dirt.
Rinse your glass with pristine water and dry with a soft fabric. We advise that you put on a pair of gloves when drying to prevent dirty fingerprints. Also, watch out for your hands, as most of these pieces have sharp edges and could cut you.
Parting Words
Be rest assured that you have all the information you need in your hands on American cut glass. However, here're a few points you must remember in your bid to bag a few pieces.
Check out as many auctions, yard sales, and exhibitions as you can to get familiar with American cut glass and make the right purchase decision.
Don't be quick to jump to a conclusion regarding identifying their marks. Most American brilliant cut glass pieces are unsigned. So please take a step further in confirming their authenticity.
When identifying cut glass pieces, check for heaviness and the "ring" sound.